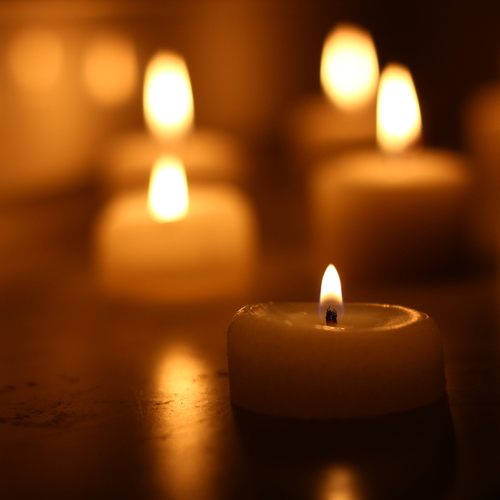 Continuing Traditions
Whether you are away from home as a first-year freshman or a fourth-year senior, it is always comforting to know that you can carry on your religious traditions and worship customs at school.  Besides being able to continue your faith at school it is also a great way to meet other students. UNF is a very diverse campus. At or around UNF, there are places to worship, regardless of your students' faith. In addition to the on-campus religious organizations, Jacksonville has many places of worship.  Here is a list of the religious organizations on or near campus at the University of North Florida.
On-Campus Worship
Jewish Student Union – The Jewish Student Union (JSU) is a student organization that provides programming for Jewish and non-Jewish students at the University of North Florida.  Located on campus at 1 UNF Drive or email for more information jsu.unf@gmail.com
Jewish Ospreys – The UNF Chabad Jewish Student Center provides educational, social and recreational programming for students and faculty. Students can turn to Chabad for everything from homemade chicken soup Friday night to Torah classes, counseling or talk
Campus Outreach – An on-campus ministry focusing on leadership development.
Baptist Collegiate Ministries – Hosts Sunday morning worship gathering, weekly on-campus outreach, community groups and sends college students around the world working with their global mission partners.
Closer to Love Movement – An on-campus Christian club that connects college students to the church and community.
SFC Campus-Based at UNF – This is a part of the CFC Family Ministries (Couples for Christ) whose aim is for the renewal and strengthening of Christian family life.
Pinky Promise UNF – This organization is a safe place for women to get together to honor God with their life and body.
Chi Alpha Christian Fellowship – A coed Christian organization. Contact chialphaunf@gmail.com for information
The Awakening – A student-led campus ministry centered on Jesus Christ. Gathers weekly for worship, biblical teaching, and life-groups. Socials, service projects, and mission trips.
Muslim Student Association – Faith-based student organization providing educational, social and spiritual activities. Open to non-Muslim students and faculty who wish to learn about Islam and its cultures and beliefs. Contact unfmsa@gmail.com
Osprey Episcopalians Birds of Pray – Student club for the Episcopalian Church at UNF.
Interfaith Center – A program on campus whose mission is "to engage the UNF campus around religious pluralism, support the religious and non-religious identities of students, and provide distinctive programs and services for students to voice values, engage with others, act together, and lead others to do likewise."  Click here for a list of chaplains.  For more information call (904) 620-2527.
Catholic Ospreys– The Campus Minister for all schools in the Jacksonville area works out of the Catholic Student Center.  The minister can be reached by phone at 904-998-9005 or by email at staugustineccm@gmail.com.
Krishna Club – Open for everyone looking for spiritual exploration and discussion. Club meetings involve musical medication, readings and discussions surrounding karma, yoga, self-realization, and God-realization. For more info, contact unfkrishnaclub@gmail.com
Navigators – A Christian ministry on-campus at UNF.
For additional spiritual UNF organizations click here.
Off-Campus Worship
Baptist
Kernan Baptist Church Located near campus with daily study groups at 9:00 am.
4000 Kernan Blvd Baptist Church, Jacksonville.
Maranatha Baptist Church – 2927 Leon Rd, Jacksonville – Groups for different ages including teens and adults.
Catholic
St Ephrem Syriac Catholic Church – 4650 Kernan Blvd S. Jacksonville Sunday afternoon mass at 5:30.
Blessed Trinity Catholic Church – 10472 Beach Boulevard, Jacksonville.  Daily morning mass at 8:20 weekdays, or 8:00 weekends.
Holy Family Catholic Church and School – 9800 Baymeadows Road, Jacksonville.  The Holy Family Soup Kitchen group prepares and serves dinner to the homeless on the Second Friday of every month at Mission House Soup Kitchen in Jacksonville Beach.
Christian
Christ Church East – 12000 Alumni Drive, Jacksonville.  Christ Church East meets at the UNF Adam W. Herbert University Center every Sunday morning at 10:30 am.
Jacksonville Church of Christ – 6118 Bowden Road, Jacksonville.  Non-denominational church.
Trinity Deliverance Christian Church – 3980 Southside Blvd #108, Jacksonville. Services Sunday morning and bible study Wednesday evening.
Chinese Christian Church –  2110 Corporate Square Blvd, Jacksonville.  Website is available in Chinese or English and study groups and services in both languages as well.
Episcopal
Redeemer Episcopal Church – 7500 Southside Blvd, Jacksonville.  Many services to choose from and a food pantry on Wednesdays.
St Barnabas Anglican Church – 2140 St. Johns Bluff Road South, Jacksonville. Very large church with a wide variety of study groups and events to choose from.
Jehovah Witness
Kingdom Hall of Jehovah Witness – There are several locations near UNF.  Click here to find a convenient location for you.
Jewish Synagogues
Congregation Ahavath Chesed 8727 San Jose Blvd, Jacksonville.  Large reform temple that offers services Friday night and Saturday morning.  The temple has a separate program called Temple 20's for members in the 20s to socialize.
Jacksonville Jewish Center 3662 Crown Point Road, Jacksonville.  An inclusive temple that has a mixed age group.  Offers something for everyone regardless of faith.
Islam
Baymeadows Islamic Center – 8225 Dix Ellis Trail, Jacksonville.  Located a short distance from the UNF campus.
Lutheran
Victory Lutheran Church 4651 Kernan Blvd South, Jacksonville.  Sunday mornings have worship sessions and bible study.
Shepherd of the Woods Lutheran Church and School – Two different locations in Jacksonville to choose from 7860 Southside Blvd & 6595 Columbia Park Court.
Presbyterian
Church Christ East – 12000 Alumni Dr, Jacksonville.  Sunday worship can also be heard on live audio.
Hodges Boulevard Presbyterian Church 4140 Hodges Boulevard, Jacksonville.  A diverse and inclusive church that offers worship session at the church and also live audio.
For more great tips, read through our other blogs at haveuheard.com, follow us on Facebook and Instagram and share with other parents you know. New to HUH, here is how to use the site.