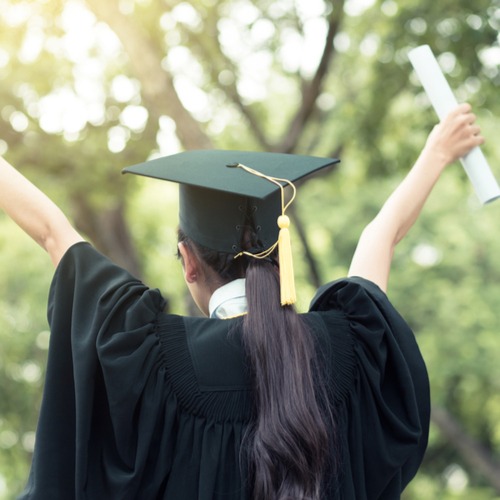 Graduation at USF
I know what you are thinking.  Didn't we just go through the angst of high school graduation, waiting for acceptance, moving out of the family home, and letting go even more?  It sure is crazy how fast four (or more) college years go by. And now your student is living in the adult world, about to receive their college diploma.  I'm not trying to scare you, and it sure is a time for celebration, but there is some planning involved if you are going to attend the Commencement ceremonies.

USF holds Fall, Spring, and Summer Commencements.  They are held over a weekend at different times/days for the different colleges.  The first thing you should do is book your hotel if you are from out of town. By now you probably have your go-to hotel choice in Tampa, so check their policies about canceling rooms.  Here's why: you will undoubtedly have last minute requests for the family to join you, so booking multiple rooms is a great idea. Grandpa may decide he doesn't want to make that long car ride, but Aunt Susie may decide that she wants to be there too.  It is a lot easier to cancel a room than to find one at the last minute (again, check the hotel's cancellation policy). Another tip is to put the rooms in different names. Depending on the hotel, if you have to cancel a room, they may cancel the entire reservation under that name, instead of just one room.  

Fall and Summer graduations may be a tad less crowded and easier to book but be diligent.  You also have students moving out in December so that makes for a lot going on. USF's next graduation date is August 4th from 9-10:30 a.m..  Check the website for which time and day your student's commencement will be on as it goes by degree level and their specific college.  Ceremonies for the Tampa campus are held in the Sun Dome and last about two hours. There are no tickets needed and seating is on a first-come, first-served basis.  Doors open 90 minutes ahead, so if you have a large group, you may want to get there when the doors open. For parking information and directions, click here.

If you cannot make Commencement, the ceremonies will be live streamed on USF's web page, as well as the Commencement site. You can find that here.

And, most importantly, make sure your student has met all of the requirements.  They will have a checklist of things to do, but it doesn't hurt to ask about them.  It would be awful to show up to a commencement only to find out your student has not fulfilled ALL requirements.  

Other Reservations
Remember to make your restaurant reservations as well.  Due to the crowds, you will definitely want a reservation, so I recommend you calling the restaurant and asking them how far in advance you need to book it.  Check out our Restaurant blog for ideas, and keep in mind that May graduation is the largest, and many restaurants may require a non-refundable deposit that will get applied to your bill.  

I know you are going to want some great photos.  There are students that will advertise their services for photos around campus for a reasonable price.  There are the iconic photos of grads at the Bulls statues at the Marshall Center, and at the entrance to the school.  Some grads even get together and split the cost of the sessions. I advise booking these sessions before graduation, as popular locations on campus will be crowded with families trying to get their cap and gown pictures.  

We personally have only used one photographer. Darin Crofton Photography does beautiful work and they use locations to their fullest.  We could not be happier with the results. There will be no shortage of photographers advertising their services near graduations. Check the parent Facebook pages for recommendations as well.
For more great tips, read through our other blogs, follow us on Facebook and Instagram at haveuheard.com and share with other parents you know.