HaveUHeard.com includes links to third-party websites and advertisements for third-party products and services. Product and service-specific opinions mentioned within the content of our blogs are entirely the opinions of the HaveUHeard.com team and its staff. It is our hope that you will find value in the products and services these third-party organizations represent, and patronize these businesses. Such advertising and marketing partnerships help make our efforts at HaveUHeard.com possible. Thank you for your support and ongoing interest. For additional information, please read our full HaveUHeard.com Disclosure Statement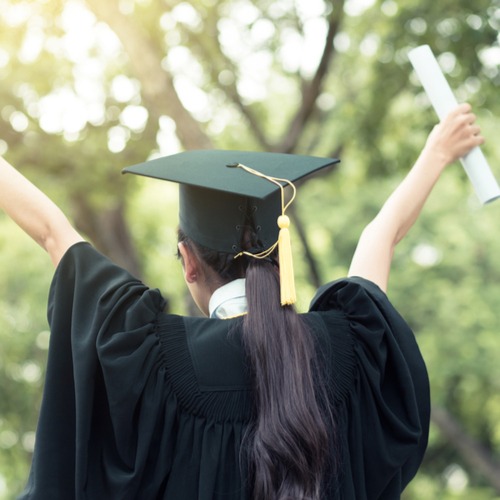 Where Did the Time Go?

I know what you are thinking.  Didn't we just go through the angst of high school graduation, waiting for acceptance, moving out of the family home, and letting go even more?  It sure is crazy how fast four (or more) college years go by. And now your student is living in the adult world, about to receive their college diploma.  I'm not trying to scare you, and it sure is a time for celebration, but there is some planning involved if you are going to attend the Commencement ceremonies. The next graduation ceremonies are the weekends of December 13, 2019, May 7th, 2020 and August 8, 2020 (tentative).

USF holds Fall, Spring, and Summer Commencements at the Yeungling Center.  Doors open 90 minutes before each ceremony and seating is first-come, first-serve (no tickets required). They are held at different times/days for the different colleges.  For parking information and directions, click here.
The first thing you should do is book your hotel if you are from out of town. By now you probably have your go-to hotel choice in Tampa, so check their policies about canceling rooms.  Here's why: you will undoubtedly have last-minute requests for the family to join you, so booking multiple rooms is a great idea. It is a lot easier to cancel a room than to find one at the last minute (again, check the hotel's cancellation policy). Another tip is to put the rooms in different names. Depending on the hotel, if you have to cancel a room, they may cancel the entire reservation under that name, instead of just one room.  

Fall and Summer graduations may be a tad less crowded and easier to book but be diligent.  You also have students moving out in December so that makes for a lot going on. Check the website for which time and day your student's commencement will be on as it goes by degree level and their specific college.   

Handicapped/Special Needs Info
There is no pre-assigned seating for guests with disabilities. Wheelchair seating is available and these spaces are given on a first-come, first-served basis. Please be aware that the Yuengling Center does not have wheelchairs or other equipment to loan or rent. Disabled parking is located in parking lot 6, on the north side of the Yuengling Center, by Gate C and D. Deaf or hard of hearing guests may sit in Section 113, close to the stage, as interpreters will be provided near this location.
Cap & Gown Isn't Cheap
Several companies may try to sell caps and gowns. To be certain that you are getting the USF-approved regalia, please order from the USF Bookstore. Advance ordering of regalia for bachelor and master recipients is available online and during Grad Stampede. Regalia will be on sale at the USF Bookstore beginning the week before finals. Prices start at $65 for bachelor's set (cap/gown/tassel). Students can order honor society sashes and medallions. Students must apply for graduation through OASIS by the deadline to receive their diploma and have their name printed in the program.
HaveUHeard that the color tassel your student wears depends on their major? They are as follows: Apricot — Nursing; Black — Independent Studies; Blue (dark) — Philosophy, African Studies, Economics, History, International Studies, Medical Sciences (doctorate), Political Science, Psychology, Sociology, Women's Studies; Blue (light) — Education; Blue (Peacock) — Public Administration; Blue (Rhodes) — Audiology ; Brown — Visual and Performing Arts ; Citron — Social Work, Criminology, Rehabilitation and Mental Health Counseling ; Crimson — Mass Communications; Drab — Business ; Green — Medicine ; Orange — Engineering; Pink — Music ; Salmon — Public Health ; Violet — Architecture ; Silver — Speech Communications ; Teal — Physical Therapy; White — Arts and Letters and Humanities, including American Studies, Applied Linguistics, Classics, English, Foreign Language, Interdisciplinary Social Science, Liberal Studies, Linguistics, Religious Studies; Yellow — Anthropology, Biology, Bio Medical Sciences, Chemistry, Communication Sciences and Disorders, Environmental Science, Geography, Geology, Gerontology, Information Technologies, Medical Sciences (Masters), Medical Technology, Mathematics, Marine Science, Physics, Speech Pathology; Yellow (lemon) — Library Science
Yellow (pineapple) — Hotel and Restaurant Management
If you cannot make Commencement, the ceremonies will be live-streamed on USF's web page, as well as the Commencement site. You can find that here.

And, most importantly, make sure your student has met all of the requirements.  They will have a checklist of things to do, but it doesn't hurt to ask about them.  It would be awful to show up to a commencement only to find out your student has not fulfilled ALL requirements.  

Other Reservations

Remember to make your restaurant reservations as well.  Due to the crowds, you will definitely want a reservation, so I recommend you calling the restaurant and asking them how far in advance you need to book it.  Check out our Restaurant blog for ideas, and keep in mind that May graduation is the largest, and many restaurants may require a non-refundable deposit that will get applied to your bill.  

I know you are going to want some great photos.  There are students that will advertise their services for photos around campus for a reasonable price.  There are the iconic photos of grads at the Bulls statues at the Marshall Center, and at the entrance to the school.  Some grads even get together and split the cost of the sessions. I advise booking these sessions before graduation, as popular locations on campus will be crowded with families trying to get their cap and gown pictures.  

We personally have only used one photographer. Darin Crofton Photography does beautiful work and they use locations to their fullest.  We could not be happier with the results. There will be no shortage of photographers advertising their services near graduations. Check the parent Facebook pages for recommendations as well.
Finally, we've got some great graduation gift suggestions including diploma and tassel frames.
Pass on these great tips, tell your friends and like us on Facebook,  Instagram,  Twitter, and Pinterest. Sign up for other great tips at haveuheard.com. New to HUH, here is how to use the site.