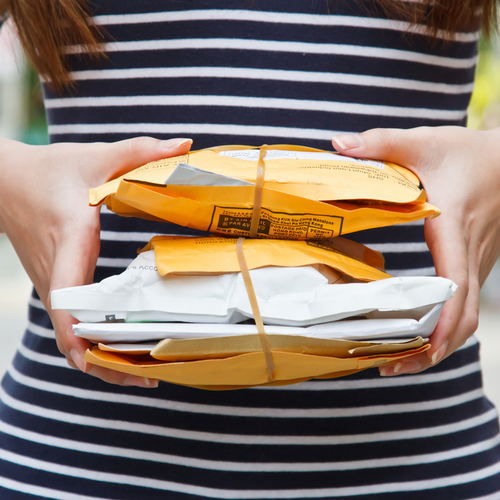 Make Sure Your Package Gets There
Whether it's an Amazon Prime delivery or a care package from a loved one, there are many reasons students receive packages while living on campus.
Priority Mail Express that is received on Saturday morning will be made available to the residents between the hours of 8:30 a.m. and noon at the Forest Hills Station. Residents may call 813-935-3375 prior to driving to the Forest Hills Station to retrieve the Priority Mail Express. Forest Hills Station is located at 11800 North Florida Ave, Tampa Florida 33612. Priority Mail Express that is not retrieved during this time frame will be delivered on Monday to the USF Post Office.
Priority Mail Express will not be available on holidays. If your student lives on campus, they have the option of renting a mailbox, which they may do when filling out their resident information via the housing portal. If your student is not utilizing a mailbox, there are still several options for package pick-up. USPS mail is processed through the airport facility and then processed for pickup by the USF mail facility. After the mail is processed and sorted, students will receive an email indicating that their package is ready for pickup at one of the many mail locations on campus.
For in-state shipping, UPS typically arrives in one day at no additional fee (barring any weather issues). If you are sending packages purchased or fulfilled through Amazon, you might want to consider having them sent directly to an Amazon Locker. The closest one is located at 5601 E Fletcher Ave, at 7 Eleven.  Sometimes picking it up from Amazon is easier than having to navigate the package delivery to dorms. It is free with a student Prime Membership.
Student Residents receiving mail should use a correct address format and may obtain their own personal address from Housing and Residential Education. Inaccurately addressed mail will be delayed, missent or returned.
Here is an example of the proper way to address mail being sent to the dorms:
Resident Name (Required)
1 – 999 Argos Complex (no leading zeros)
Tampa, FL 33620-0001
To verify your student's mailing address, click here and use the Look Up Your Mailing Address located at the bottom of the page. If you're wondering what you should send your student on various occasions, check out our care package blog!
Pass on these great tips, tell your friends and like us on Facebook, Instagram, Twitter, and Pinterest. Find out more about how to use HaveUHeard as a great resource. Sign up for other great tips at haveuheard.com.