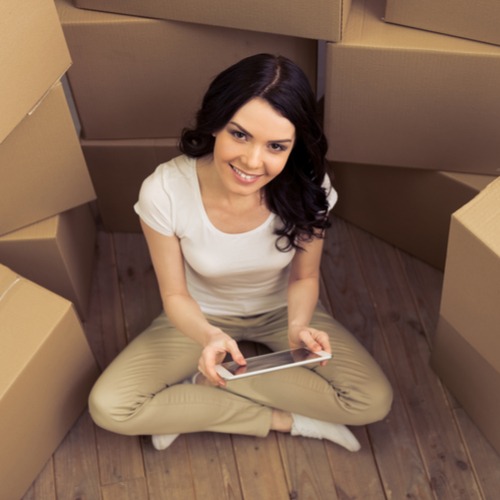 Moving Out
There is so much anticipation and prep involved with moving our kids INTO college, but not as much thought about moving them OUT. Moving them in has a feeling of excitement, but no one wants to get excited about packing all of that stuff up and moving it again. I know for me, when it was time to move our daughter out of the dorms for the summer, we dreaded it.  Plus, where was all of that dorm stuff going to go? So, I definitely recommend a thought-out plan. Ask yourself: do we have somewhere to put everything? Do we want to move it all again in a couple of months? Is there a place in our budget for storing it all somewhere?
Some parents don't mind that round trip, packing up the car, or cars, and bringing it all home to store for the summer. An unused bedroom, or spot in the garage is fine to store your student's stuff. But others have found that renting a unit in a storage facility is worth the hassle of moving.  It's even better if a couple of friends get together to share the rent of the unit.
The best thing that made the move-out process easiest for everyone was to start with small "chores" about three weeks before the move-out day. I texted my daughter a list for the week of things she needed to do. For example, purge things you no longer want/need. Her dorm has extra garbage bins and donation bins placed near the end of the year, so she got rid of extra unwanted school supplies, things she thought she couldn't live without but didn't want anymore, and general trash. I told her to start organizing and packing things that she did not want/need for the next few weeks. So, when it came to move-out week, there was less for her to do; and that was also exam week, so that helped take off the pressure as well.
There are companies that will provide boxes and other packing materials and schedule pick up and storage for students and return in the fall. One company is called DormRoomMovers. The cost to use this type of company can add up; however, it does include materials and storage so factor that in if you decide to use a company that handles almost an entire move (your student must pack up the boxes). Right now, they are offering a 10% discount if you sign up.
Another important thing to finalize is the date of their last exam in relation to the last move-out date.  Hopefully, they don't have an exam on that last day and can have a day or two to move out. This is important if they are having friends helping them move as well. Again, coordinating everyone's schedules is important. No one wants to be looking for help at the last minute, only to be swamped alone.
Reminder: when moving out for the summer, an RA must inspect the room and it must be completely empty and free of any trash. The RA's will be very busy checking everyone out, so don't plan on an exact time to leave the dorm for the last time, as you could have to wait a while for your turn. Save a copy of the inspection sheet so if any strange charges show up, you will have that sheet to reference. You should have saved the move-in inspection sheet as well, so you know exactly the state of the room when you moved in.
Finally, take 100 pictures, then take 20 more time-stamped. You could be charged for damages to the dorm room and if you have not documented everything, prepare for those charges. My daughter burned her desk chair with a hair appliance and you better believe we were charged for that.
Apartments
If your student is moving out of an apartment or subletting his/her room, you may need to pay a moving company if any furniture is involved.  This is the more expensive way to go (and one of the reasons I recommend renting a furnished apartment). When moving into an apartment, there is a checklist of things that are turned into the office noting any damage, chips in the paint, or things not working. There will also be one for moving out, so be sure you keep all copies.
Movers & Storage
For storage, I highly recommend the climate-controlled units. There is nothing worse than finding your bedding, towels, and clothes have turned moldy due to the intense Florida summer heat. Many storage facilities have 24-hour access which can be a good thing since, during finals week, student's hours may not be normal. Finally, please discourage your students from going to their storage after dark or alone. Safety first! And, ask for a student discount; some will give one, but only if you ask.
Here is a list of movers and storage facilities near USF:
2 College Brothers – 813-922-1528 – They give free quotes and move things anywhere in the Tampa Bay area. They also have Borrow-A-Brother where you can "rent" a guy to help build furniture, move things from one place to a truck, and any other labor you may need in moving.
Golden Movers – 813-714-8119
College Hunks Hauling Junk & Moving – 813-280-3349
Strong College Students Moving of Tampa – 813-333-2468
Life Storage – 813-971-8496, 815 E. Fletcher Ave., Tampa, FL 33612, With a unit rental, they will give you a truck to use for free to move.
Compass Self Storage – 813-280-5011, 14529 Bruce B Downs Blvd., Tampa, FL 33613
Public Storage – 813-280-0374, 13611 N. 15 St., Tampa, FL 33613
Public Storage – 813-280-0364, 10402 N. 30 St., Tampa, FL 33612
Pass on these great tips, tell your friends and like us on Facebook, Instagram, Twitter, and Pinterest. Find out more about how to use HaveUHeard as a great resource. Sign up for other great tips at haveuheard.com.