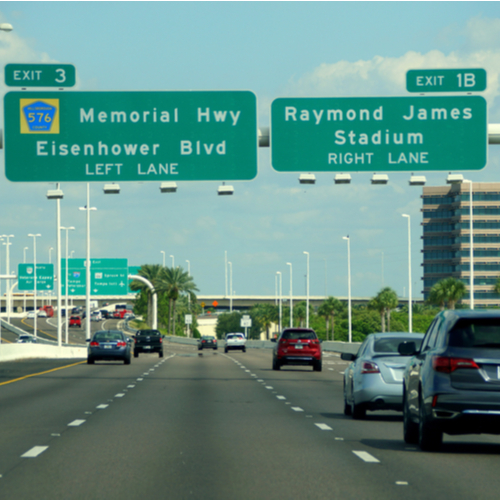 A Guide to Ray Jay Stadium
Everyone should attend at least one USF Football game! There are only 5 colleges in the US that play their home games in an NFL stadium, and USF is one of them. HaveUHeard what that means? It means comfort and all the bells and whistles that NFL stadiums offer. Everyone gets their own seat without having to squeeze into an imaginary space. That alone is awesome since no one wants to be a leg on a leg with someone when it's 90 degrees and 80% humidity. Cup holders are on almost every seat, and yes, they serve alcohol.
One of the keys to making your visit to Ray Jay even better is to know where to sit. For instance, the blazing sun can make a big difference in the fun factor of a game. Here are some thoughts about the best seats for football games.
Raymond James Seating
Luckily, most games are in the evening, but that still means times of full sun and not a lot of shade. The lower bowl does not have any shade, but the middle bowl has some since the upper bowl covers about 10% of the seats. The USF team bench is on the West side of the stadium with home team fans having most of the Westside seats as well. The USF band sits in the middle of the North end zone, under the Pirate Ship, along with the student section surrounding them on each side.
Here are some specifics:
The USF sideline is in front of sections 109, 110, 111, and 112.
The visiting team sideline is in front of sections 134, 135, 136, and 137.
Row X and above in section 215 are covered and offer some shade.
Row X and above in section 218 are covered and offer some shade.
Rows 1 and above in the Hall of Fame Club are covered.
Perhaps you would like even more of a comfortable seat.
Stadium Club – The Buccaneers Stadium Club seating zone is located on either side of the field in sections 205-216 and 230-241. The Club seats are slightly bigger and cushioned. These seats allow access to the air-conditioned club with different food and beverage options, along with nice bathrooms and TVs throughout. When our daughters were young, it was so nice to have access to the Club level and get them out of the heat, change diapers in air conditioning, and to have a place for them to run around when they got antsy.
The Student sections cover the entire North end of the stadium. They are sections 102-106, 140-151, 201-206, 240-245, and 341-344. So, if you want to sit near your student, look for sections that flank these areas. There really isn't a bad viewing area in Raymond James Stadium. Believe it or not, there is less seating in this NFL stadium than some other college stadiums. But remember, each person gets their own seat with a back on it, there is no bench seating, and Ray Jay provides a lot of other perks that college stadiums don't provide.
You may want to check out some of our other blogs pertaining to football because, frankly, seating is just one part of Game Day. Check out Are You Ready for Some Football or Where to Pre-Game, and of course Game Day Outfits before you head to the game.
Pass on these great tips, tell your friends and like us on Facebook, Instagram,  Twitter, and Pinterest. Sign up for other great tips at haveuheard.com. Are you new to HaveUHeard? Here is how to best use the site.