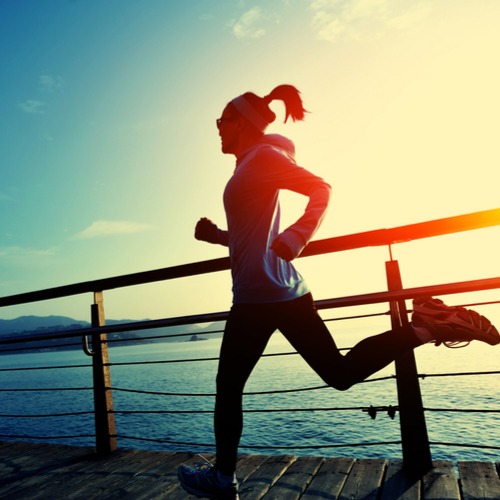 Staying Fit
There is so much to gain in college; new friends, experiences, knowledge, and yes, sometimes even weight.  I remember hearing about the "Freshman 15" when I was in college, and I thought, surely that would never happen to me.  Well, after eating horribly and very late at night, not getting enough sleep, and wanting to sleep more than I wanted to exercise, I managed to put on about 10 pounds my first year.  We did not have a student gym on campus and I truly believe that eating right and exercise was not at the forefront of most people's minds "back in the day."

Fast forward to today, and students are still facing the same challenges that we did.   On top of poor choices, the stress and expectations of today can make students gain unhealthy weight.  But, I do see more students taking advantage of all that colleges offer towards a healthy lifestyle. On USF's campus, you will see kids running, doing yoga, climbing the steps of the soccer stadium, and making their way to the beautiful gym on campus.  I'm amazed at what is available to students of today. There is no shortage of ways to stay fit and healthy.

The Campus Recreation Center is free to students and is a state-of-the-art fitness facility.  It is 28,000 square feet consisting of two gymnasiums, an indoor track, racquetball courts, an indoor heated pool, and dozens of group fitness classes.  There is the outside, heated fit pool as well. It is resort-style, so you'll probably see more students sunbathing than doing laps. Would you like personal training sessions? Or want to get certified in the many fitness genres?  You can do that at the Rec Center. The Rec Center also houses outdoor sports facilities including 13 football and soccer fields, 16 tennis courts, and so much more. Sports clubs and intramural sports are also run out of the Rec Center.  

If an off-campus gym is what you are after, there are many choices.  For CrossFit, try CrossFit Gaspar. They offer a student rate of $125/month as well as smaller packages.  For Orange Theory lovers, there is an excellent studio in New Tampa. Crunch Fitness, LA Fitness, Youfit and the New Tampa YMCA are also close by.  If your child had a membership at any of these gyms, they can transfer it to these in Tampa.

Finally, USF does offer running trails and there are plenty of paths in the surrounding area.  Of course, it is always advised to run with a buddy especially if you are running in the early morning or at dusk.  Safely should always come first.

For more great tips, read through our other blogs, follow us on Facebook and Instagram at haveuheard.com and share with other parents you know.