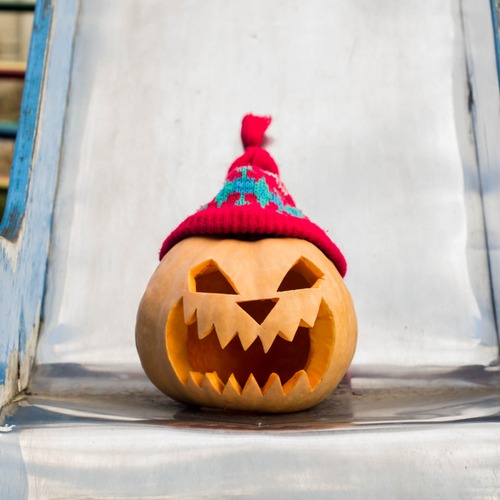 Trick or Treat
Halloween is the first holiday that your student will encounter since leaving home.  With their new status as adults, the holiday takes on a different meaning. When I was at USF, it meant a night to go to a party and dress up.  So many organizations and fraternities/sororities hold parties and, as you can imagine, some are just good old fun, and others are pretty outrageous.  

Many of us grew up in a household where Halloween was observed by carving pumpkins, putting up some decorations, making our own costumes, and trick or treating throughout our neighborhood.  We ran in packs, sometimes without parents, and came back when we were done. With our own children, we never left them alone, watched for cars, and checked their candy (and even snuck some too).  Now, they are on their own to have fun and start their own Halloween traditions.

When my daughter left for college, I did send her a Halloween care package.  It was nothing fancy; just some dollar store decorations, and some candy for her to share with her suitemates.  If you really want to get creative, Pinterest has thousands of Halloween care package ideas, and you can check out our blog on care packages here.

Our Campus Market has great ideas for holiday care packages.  They occasionally run specials and have coupons, so check their site often.  

Wicked Good Cupcakes.I first tried this company this month for my daughter's birthday. They are a little pricey but she loved the birthday box. They do offer Halloween cupcake jars including reverse chocolate boo-day, pumpkin spice, reverse vanilla boo-day and many other flavors. Click here to get free shipping (some restrictions may apply).
Just remember that students must be present at the time of delivery to receive food deliveries if they live in a dorm.

Locally, Zbaked on Fletcher Ave. has delicious choices for delivery or pick up.  They have some cute packages for holidays too. Delivery is free (but they ask that you tip the driver).  Cold Stone Creamery will deliver ice cream, yes, ice cream treats through Uber Eats. You can design a Halloween treat, especially for your student.

Don't wait until the last minute so you can avoid hefty shipping prices.



Now for Some Fun!
The most popular Halloween fun in Tampa is Howl-O-Scream at Busch Gardens.  It is a separate ticket from park admission and is scary (at least to me it is).  The park is transformed into terrifying themes and decorated spooky. It is open select nights in October.  Check out student discount rates here.
On campus, there is a Trick or Treat with the Greeks event at the end of October.  This is a free, family-friendly event where kids can go door to door in the Greek village and participate in various activities.  Most sororities and fraternities participate, so your Bull may be a part of this.

There is a Trick or Trot 5K Costume Fun Run held on the USF running trails.  They have a costume contest and all proceeds go to Hope for the Homeless.  Lots of Bulls love this event.

USF's Relay for Life has a Trick & Treat Social with food, games, drinks, and music.  All proceeds go to the American Cancer Society.

Lastly, Tampa's Riverwalk (downtown) has a Trick or Treat Along the River with over 20 points along the river with food, snacks, and drinks.

For more great tips, read through our other blogs at haveuheard.com, follow us on Facebook and Instagram and share with other parents you know.



The ads and links that appear on our blogs may be partners of HaveUHeard. All opinions and products mentioned in our blogs are 100% our own.
We hope you will patronize these businesses. Partnerships like these make HaveUHeard possible.