HaveUHeard.com includes links to third-party websites and advertisements for third-party products and services. Product and service-specific opinions mentioned within the content of our blogs are entirely the opinions of the HaveUHeard.com team and its staff. It is our hope that you will find value in the products and services these third-party organizations represent, and patronize these businesses. Such advertising and marketing partnerships help make our efforts at HaveUHeard.com possible. Thank you for your support and ongoing interest. For additional information, please read our full HaveUHeard.com Disclosure Statement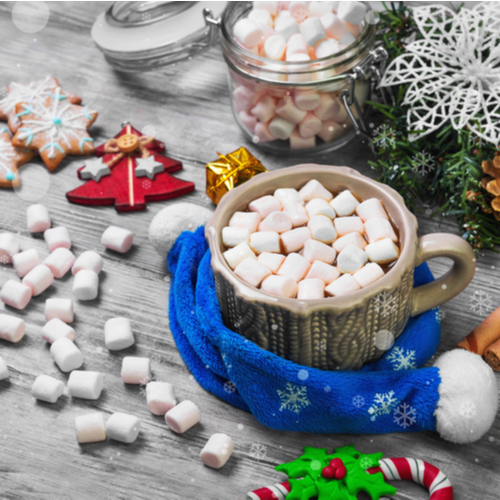 Charcuterie Creations For The Holidays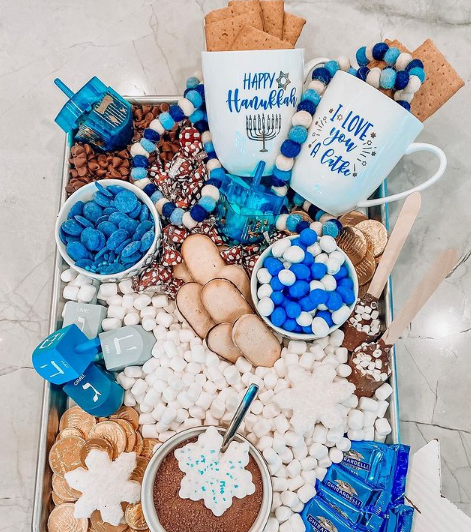 I am not sure if you noticed, but charcuterie boards are the latest popular item of the year. My young adult daughters have been making charcuterie boards on Thanksgiving for years. Even my nephew has one almost every Friday with wine, and he'll tell you it's one of his biggest accomplishments. In fact, I recently bought him a large bamboo cheese board with serving tools to up his charcuterie game. If you search #charcuterieboard on Instagram, you'll find some exemplary works of art. Most charcuterie boards consists of mainly meats and cheeses, but it doesn't stop there. The "fancier" ones can include bread, fruits, nuts, and condiments such as honey or mustard (or even honey mustard), pickles, and olives.
The latest trend is holiday charcuterie boards. You'll find images all over IG with some of the sweetest, most decadent chocolate and candy masterpieces. I recently ordered a Winter Holiday themed hot cocoa charcuterie tray from a local company in my hometown called The Hodge Podge Baking Co. , and it was incredible. Even if I didn't have my daughters living with me right now, I could 100% devour it on my own. Because treat yourself, right? They also have a Christmas Hot Coca Charcuterie Tray.

I don't think the French (honestly, had to Google this) will mind that we have taken the traditional charcuterie board and given it a sweeter version. Who doesn't love a huge spread of marshmallows, chocolate, candy canes, and hot cocoa bombs. You could even have a charcuterie board themed get together with friends and family (carefully, of course). There's some great inspo on IG.  If you want to be creative and make your own, all you will need are the items below. This one is Hanukkah themed, but you can make some quick substitutes to fit Christmas, Kwanza, New Years, or anything you celebrate!
(Pro Tip: HaveUHeard that it is less expensive to look for boy baby shower candy than holiday candy?):
Looking for a little salt and sweet combo? Add in some pretzel rods and candy melts along hot chocolate bombs if you want to be fancy.
Side Convo: What's a Hot Chocolate Bomb?
If you haven't heard of a hot chocolate bomb, it is the latest fad, and I hope it stays around. It's essentially a sphere of chocolate that you create in a silicon mold with melted chocolate chips. They are filled with hot cocoa mix and miniature marshmallows. When you place it in a mug with either warm milk or water, the chocolate shell melts, opens, and BOOM – you have a decadent and delicious hot chocolate. You can make them yourselves by purchasing a chocolate sphere mold, hot chocolate mix, and any other items you may want to use. This may take some trials, so be patient! We found instructions to help guide you through it all. Sometimes it's a little more exciting to just have them already done for you, so check it out and purchase yours here!
Not sure where to get your holiday treats for your charcuterie creation?
Check out Wondershop at Target for some holiday treats such as, chocolate dipped hot cocoa spoons, peppermint hot cocoa mix, chocolate coated pretzel rods, and we LOVE their Ghiradelli Hot Cocoa Bar Gift Set.
If you're making a Christmas board, try using red and green M&M's, Hershey's Kisses, Peppermint Bark, chocolate covered pretzel rods, chocolate covered oreos, mini marshmallows, sprinkles – wherever your imagination takes you. If you are making this a family event, consider getting a holiday-themed mug for each person to keep. Plus, this makes for less dishes to clean AND allows for each individual to have their own cup (Covid-friendly).
I'm loving this trend and already thinking about making my own on Valentine's Day. Let me know if you try you're own this holiday season!