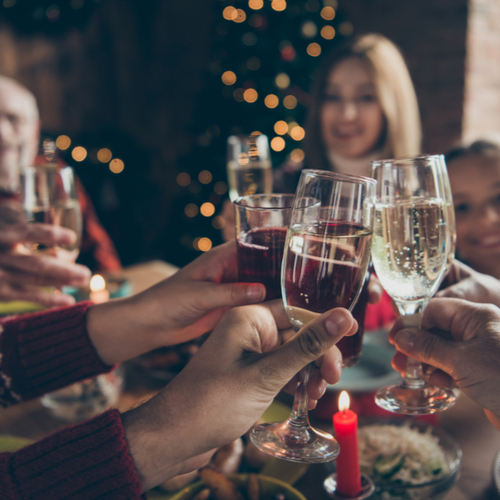 The Holiday Season – 2020 Version
We are approaching what is considered to be the happiest time of the year, the holiday season! From Thanksgiving, to Christmas, Hanukkah, Kwanzaa, and New Year's, it is a time of joy, reflection, and family. However, the holidays can also be a very difficult time for those who are alone and those who have lost someone. Ever since I was young, my parents always included friends and extended family to share in holiday celebrations This year is different. Covid has everyone redefining what their celebrations will look like. I have had numerous conversations with my mother on how we can be together as a family while also protecting our family matriarchs (my mom and aunt).
November and December have always been my favorite months of the year. Thanksgiving week consists of meal prepping for dinner for 30, going out shopping in the wee hours of the morning on Black Friday, and watching our favorite college football rivalries on Saturday. And of course watching the Thanksgiving Day parade on tv (seeing it in person has been on my bucket list forever) while we start the Turkey. My favorite part of the holiday, besides the wonderful food, is being able to spend time with my large family.
Thanksgiving just marks the start of the season. In comes December,… more holidays, more family get-togethers, my birthday, and our family vacation to a snowy destination. We love heading out to the rockies to enjoy the Winter season and the mountains along with roasting s'mores and skiing. As some one raised in Florida, it is one of my favorite things to get to see snow. Although, after one week, I am ready to head back to the Sunshine State.
What does this year mean for us?
Considering the fact that Thanksgiving symbolizes a time to be grateful for all the blessings in our lives. this is first a time to appreciate what we do have. For me, it's having my daughters and my family healthy, along with food on the table and shelter. Like many families, we will reduce the number of guests at dinner. Rather than the usual 30, we will only be having local family, making 8 total guests. For those who usually travel in town for the holiday, we have a Zoom link set up so others can jump on when they are free.
One of our other traditions has been going out on Black Friday, but that is clearly not on the calendar this year. Instead, I will spend the day with my daughters in a different way – watching romantic comedies and snacking on Thanksgiving leftovers.
Side Note:
HaveUHeard how Black Friday got its name? It's first recorded use applied to the U.S. gold market crash on Friday, September 24th, 1869. Most people think it goes back to the day that retailers went into the black because holiday shoppers spent so much money. As much as it makes sense, it's actually incorrect.  The actual story behind Black Friday has more to do with the Army-Navy football game in Philadelphia. I'm still in for the discounts though, right?
Shopping Pro-Tips
Between Black Friday, Small Business Saturday (love supporting small businesses), and Cyber Monday, it is best to be doing most of the shopping, if not all, online. It's not even November, and I have already seen stores promoting holiday shopping. I definitely suggest getting your holiday shopping done early! Between delays in shipping, and making sure everything arrives as needed, you want to leave yourself plenty of time. When you do go shopping, make sure to check online for coupons and check out your credit card points! We might as well all be savvy as we sit behind the computer monitors scouring for gifts, right?
How Do I Find the Holiday Joy this Year?
I know this year is tough, but here's what I plan on doing to feel festive this holiday season:
Decorate your home:

 I absolutely love decorating for the holidays! Every year, I try to add an additional item. One of my finds this year was a unique item I found at Walmart. Who knew a thermometer could be part of the decor? Thermometer. I also found these fun reversible woodblock signs which you can switch up for all different holidays. Last but not least, my daughters and I had a Hanukkah tree this year as our new item! We found a frosted artificial Christmas tree on Amazon, and decorated it with blue and white lights and Hanukkah ornaments. It was honestly my favorite part of the decorations this year!

Take a family photo in matching pajamas
Plan a driving trip

2020 has been the year of the road trip. If you have the time, try and schedule a getaway that is within driving distance. Whether you want to head to the beach or the mountains, GetYourGuide will help you book the best and most safe vacation.

Local events

We have several places nearby that are doing drive-through festive light shows. There are also some retailers that will have a socially distanced Santa (him and the elves will be wearing masks and be behind plexiglass). Totally up to your comfort level, but is a great way to let the young ones get to see their holiday friend!  Eventbrite will typically show current events in your city.

Cooking

Nothing says the holidays are here more than the scent of baked cookies or a holiday meal. So why not get in the kitchen and virtual cooking class? I've already signed up for the vegetarian cooking demonstration by Sur La Table. You can also get the family together to make a gingerbread house and holiday cookies.

Volunteer

It is important to step back and realize that there are many others who aren't going to have a house to go to for the holidays. That said, many local charities could use a hand packing food baskets and serving Thanksgiving Day meals. If you can't make it to a charity, maybe consider purchasing a holiday gift for a child in need.

Donate

This year has been hard for most, but if you are able to donate, I have compiled a few here..

Pick-A- Word Project

Many years ago, I saw a feature on a company called My Intent.  They take any word or phrase and hand stamp it on a bracelet. I recommend picking a word that has meaning to you. In the past, I have used strength and thankful, and it was always a pick me up to look down and see an inspiring word around my wrist.  I've been buying these for my girlfriends for years, and they love them! Make sure to check out the Little Words Project this holiday season.
May the holidays bring you many blessings!