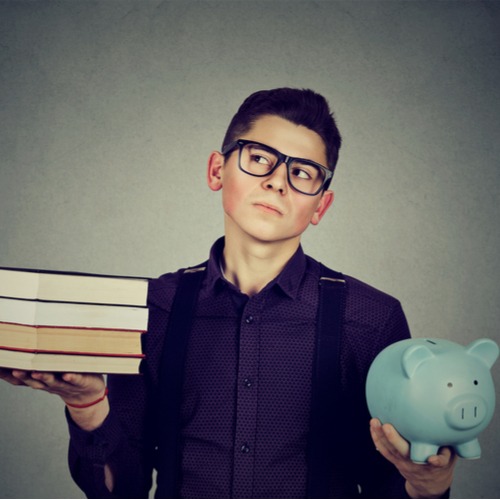 What are your options?
When I attended school back in 1979, my Dad had four of us in college at the same time. It was through student loans that my parents were able to manage the costs of all four of us attending school along with some parental financial support. Unfortunately, as far back as I can remember, many students including myself, have used their student loans for entertainment, shopping, vacations, etc.
The Department of Education loans money for school and it is imperative for your student to understand that student loans should not be used for frivolous spending. Trust me, I learned the hard way. The loans and interest (depending on the type of loan you have) add up very quickly. Repayment of said loans can be a huge monthly cost; therefore, understanding all the terms of student loans is, in my opinion, essential.
In all cases, you must begin with filling out the Free Application for Federal Student Aid (FAFSA) Form. The FAFSA opens up in October and I encourage you to read our blog on this process as it is on a first come first serve when it comes to student loans.
Through the Direct Loan Program, the U.S. Department of Education provides the following loans to eligible students at participating schools:
Direct Subsidized Loans
Direct Unsubsidized Loans
Direct PLUS loans
Direct Consolidation Loans
You may receive more than one type of loan under the Direct Loan Program. Each loan type has its own terms and conditions, such as interest rates. You repay your Direct Loan to the U.S. Department of Education. The terms and differences in the types of student loans are summarized below. You can read more on this topic and get a better understanding of these loans.
Student Loans clarified.
What is the difference between Direct Subsidized Loans and Direct Unsubsidized Loans? In short, Direct Subsidized Loans have slightly better terms to help out students with financial need.
Here's a quick overview of Direct Subsidized Loans:
Direct Subsidized Loans are available to undergraduate students with financial need
Your school determines the amount you can borrow, and the amount may not exceed your financial need
The U.S. Department of Education pays the interest on a Direct Subsidized Loan:
While you're in school at least half-time
For the first six months after you leave school (referred to as a grace period*)
During a period of deferment (a postponement of loan payments)
Here's a quick overview of Direct Unsubsidized Loans:
Direct Unsubsidized Loans are available to undergraduate and graduate students; there is no requirement to demonstrate financial need
Your school determines the amount you can borrow based on your cost of attendance and other financial aid you receive
You are responsible for paying the interest on a Direct Unsubsidized Loan during all periods
If you choose not to pay the interest while you are in school and during grace periods and deferment or forbearance periods, your interest will accrue (accumulate) and be capitalized (that is, your interest will be added to the principal amount of your loan)
There are annual limits on both types of loans. There are also requirements as to hours enrolled; the interest rates, the maximum period of time you are eligible to receive loans and loan fees charged. In addition, there is now a required Entrance Counseling obligation as well as signing a loan contract referred to as a Master Promissory Note, agreeing to the terms of the loan. Direct Plus Loans. You can read our blog on entrance counseling.
You can borrow up to the school's cost of attendance (determined by the school), minus all other financial assistance you receive. Your school will determine the actual Direct PLUS Loan amount that you are eligible to receive. Here's a quick overview of Direct PLUS Loans:
The U.S. Department of Education is your lender
You must not have an adverse credit history
The maximum loan amount is the cost of attendance (determined by the school) minus any other financial aid received
For more information on Direct Plus loans.
Direct Consolidation Loans are very uncommon and somewhat complicated. A Direct Consolidation Loan allows you to consolidate (combine) multiple federal education loans into one loan. The result is a single monthly payment instead of multiple payments. Loan consolidation can also give you access to additional loan repayment plans and forgiveness programs. But there are some cons including a longer payback period and losing out on loan benefits you may already have in place. Before considering this type of loan, get a full understanding of the pros and cons. It is my opinion that understanding the different types of student loans, requirements, and, most importantly, repayment terms will help you and your student plan for school costs and budgeting.
Another great resource for understanding student loans is the Consumer Financial Protection Bureau.
Pass on these great tips, tell your friends and like us on Facebook, Instagram, Twitter, and Pinterest. Find out more about how to use HaveUHeard as a great resource. Sign up for other great tips at haveuheard.com.