HaveUHeard.com includes links to third-party websites and advertisements for third-party products and services. Product and service-specific opinions mentioned within the content of our blogs are entirely the opinions of the HaveUHeard.com team and its staff. It is our hope that you will find value in the products and services these third-party organizations represent, and patronize these businesses. Such advertising and marketing partnerships help make our efforts at HaveUHeard.com possible. Thank you for your support and ongoing interest. For additional information, please read our full HaveUHeard.com Disclosure Statement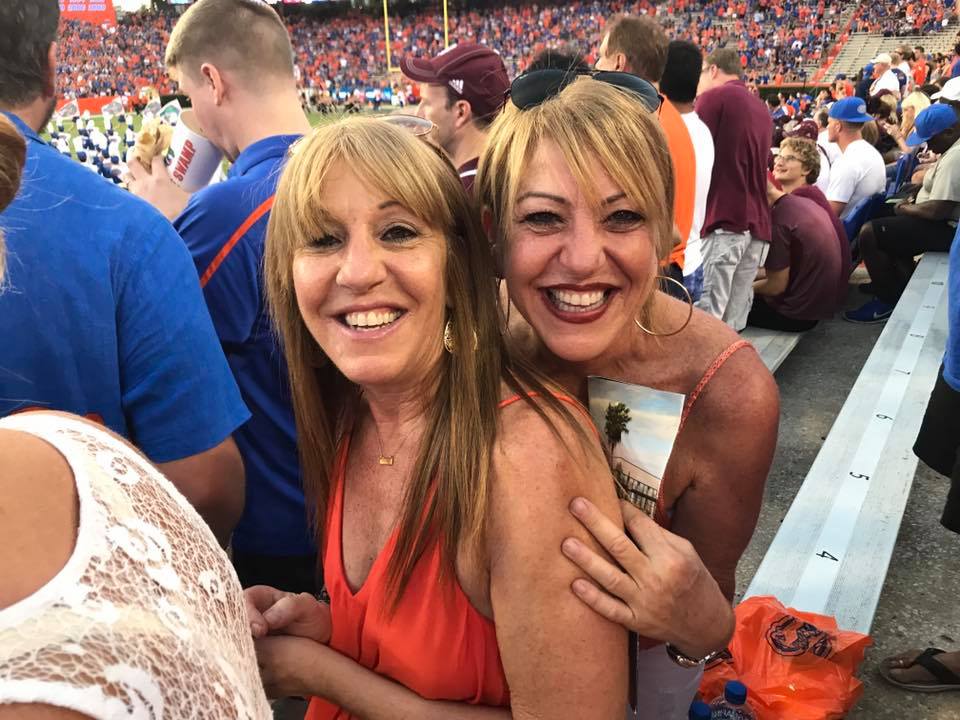 I Bleed Orange & Blue
Okay, I readily admit, my blood is not really orange and blue. In fact,  I would not wear orange and blue together if I was not a huge Gator fan.  If you look in my closet, there is a small-ish section filled with Florida Gator tops, dresses, and sweatshirts.  It's in my blood. Even my Gator chomp is on point.
Whenever I see another Gator fan, clearly identifiable by some Gator apparel, I can't help but say "Go Gators." My favorite Gator ad campaign was Go Gators… Gator Nation is Everywhere.
We Are a Gator Family
Our family has 13 Gator grads representing three generations.  My uncle was the first to attend UF back in the 40s when it was an all-boys school. He was a first generational college student and worked his way through, graduating with a degree in Design & Architecture. To this day, there is a $2000.00 scholarship in his name – the F. Louis Wolff Scholarship.
My three sisters and I all went to UF, all influenced by our uncle. We grew up in South Florida and my parents gave us a choice of colleges to attend… all in Florida. Inasmuch as I wanted to go out of state, they had three of us that would be in college at one time and one who just graduated. Even back then, college was costly. But, I loved my time at UF. To this day, I meet up with several of my sorority sisters for a football game and a weekend of reminiscing and having fun.  Missing out last year was tough but I am sure we will make up for it this year… hopefully.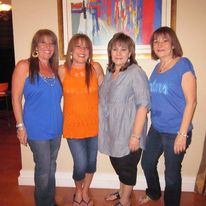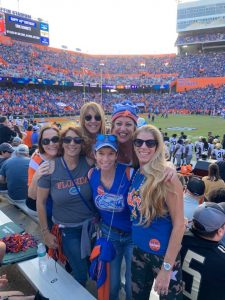 When it came time for my daughters to apply to college, both had UF as their first choice. Naturally, I was ecstatic when both were accepted.  My older daughter got her degree in Business Marketing in 2014. Her sister graduated with a degree in Advertising in 2019.  I share plenty of advice for parents of college students. We all loved our years in Gainesville and continue our support as alumnae. I am a Lifetime Member of the UF Alumni Association and my daughters are both annual members. Staying involved with UF is one of the many bonds I share with my family.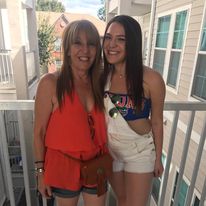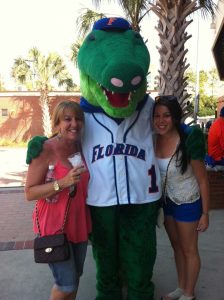 I continue to support UF through donations as a way to pay it forward.
Meeting A Gator Great
So you know I love Gator football. My years were filled with more losses than wins but the championship years were amazing. But watching them win the National Championships in 2006 and 2008, one year under Tim Tebow reinforced my being a huge Gator fan.
Funny story. My daughters and I went on a mother-daughter trip to NYC in 2011. The games had been canceled due to a player lockout. We were sitting a block from Herald Square when my 18-year-old daughter saw on social media that Tim Tebow was at Macy's Herald Square for Jockey. I was on the phone and immediately ended the call. I literally dragged my daughters in a sprint to get to Macy's and we ended up meeting Tim Tebow.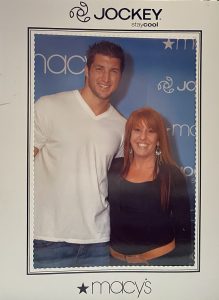 Talk about fangirling.
Gator Fan Attire
As I said at the beginning, I have a smallish collection of orange and blue. Some are just the colors but some are Gator merchandise. I think the best in authentic college clothing, accessories, and fan gear is Fanatics. They carry brands such as Jordan Gear, Vineyard Vines, Stance, Columbia, Dooney & Bourke, Tommy Bahama, Vera Bradley, Orca, Southern Tide, College Row One Shoes, Johnnie-O Clothing, and Peter Millar Clothing.
I'm also a huge fan of the vintage Gator line at American Eagle. Of course, I have to add in my game day bag from SCORE! The Official Game Day bag (you even get a 15% discount- get code by clicking on the link), cute orange and blue earrings and my Gator face tattoos! Complete the look with fan footwear as if there is a question of who the most real fan is.
It is never too early to start putting together your fan attire. There are really great Gator outfits that are easy to put together at the following shops, whether for yourself or the Gator fans in your life.
Gator Tickets
As a longtime Gator Alumni, I know that experiencing a Gator game is well worth the visit…and the sweating. You could try to nab a ticket outside of the stadium (read about my experience here), or you could buy on StubHub. Yes, they are pricey, but at least you'll know where your seats are. The better the Gators do, the higher the prices go. You could take your chances and wait out some of the season, but prices are based on supply, demand, and a winning season. I say — pick a game and go for it. And, try to catch any of the other sporting events. My daughter and I caught a baseball game and it was great. Even better were the tickets were very reasonable.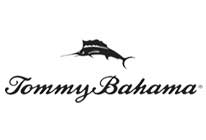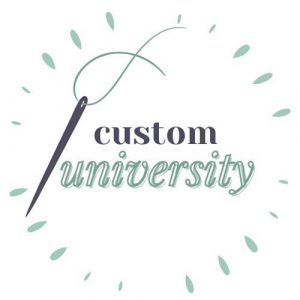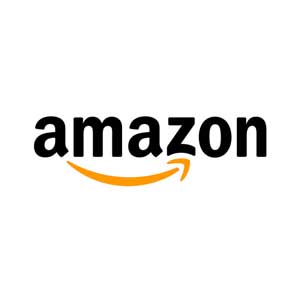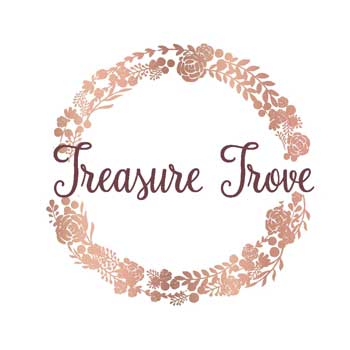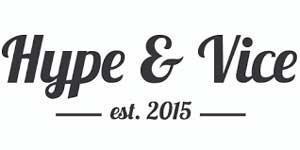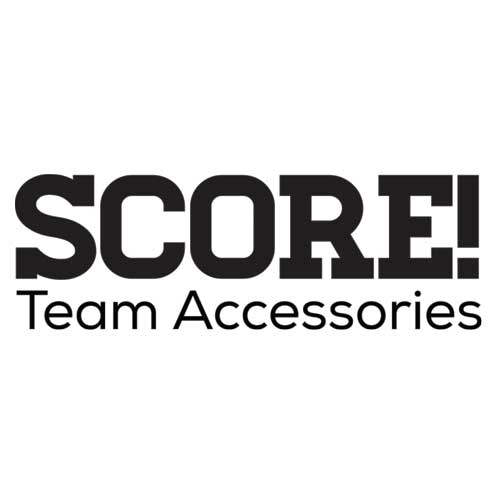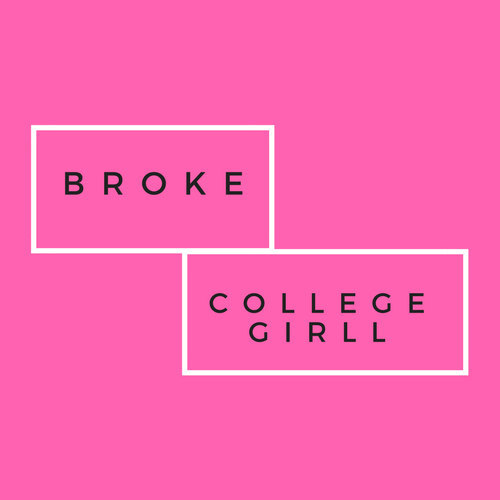 Pass on these great tips, tell your friends and like us on Facebook, Instagram, Twitter, and Pinterest. Sign up for other great tips at haveuheard.com.