HaveUHeard.com includes links to third-party websites and advertisements for third-party products and services. Product and service-specific opinions mentioned within the content of our blogs are entirely the opinions of the HaveUHeard.com team and its staff. It is our hope that you will find value in the products and services these third-party organizations represent, and patronize these businesses. Such advertising and marketing partnerships help make our efforts at HaveUHeard.com possible. Thank you for your support and ongoing interest. For additional information, please read our full HaveUHeard.com Disclosure Statement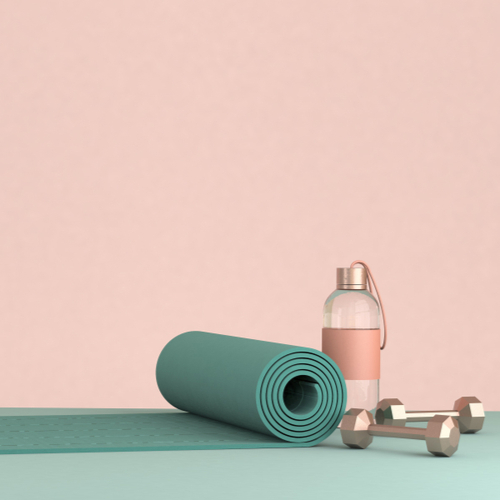 Great Gear for Home Workouts
Are you doing any home workouts during this at-home time? I've been living with my young adult daughters since March 2020 after having been an empty nester for the past few years. They're really into working out but without their gym, we've learned to make the best at home. Between them training me on workouts and following some workouts on Instagram, I've been able to lose some of the unwanted weight that crept up.
If it's one thing we've seen an overabundance of during quarantine (besides banana bread), it's home workout videos. I know we're all trying to avoid the Quarantine-15 by working out inside, but how do you get the motivation to get the body moving? New workout weights, resistance bands, yoga mats, and clothes, that's how! With all the current sales, we have your best options for upgrading your workout wardrobe!
My friends that have purchased the Peloton swear by the bike but one waited over two months to receive the product. You can purchase an individual Peloton Digital Membership, just $14.99 a month, and use it for all different fitness programs. Another friend decided to go with the Bowflex bike because she could get it a lot quicker and it is a lot less expensive. She uses the Peloton app with the Bowflex.
In April 2021, I ordered a Peloton bike. It was delivered in two days and I've been riding since. I took advantage of their promotion with Chase Sapphire Preferred or Reserve card. I earned 5x total points on my bike purchase and I am getting up to $60 back on my digital membership. The offer expires on Dec. 31, 2021 so if that is your motivation, take advantage of the bonus points.
Yoga
Have you gotten into a yoga practice over the last couple of months? Keeping the mind and body at peace throughout quarantine is beneficial during these trying times. To make the most out of your practices, we suggest having a few essential items. You'll notice how calm and relaxed you feel without even purchasing a membership!
Items we love for a yoga space: If you don't have a room in your house or outside for these items, don't fret! Even with just a couple of these items, you will notice an increase in your mood after your practice.
Yoga Mat: No matter where you're practicing, you'll want to make sure you have a mat. Throughout your poses and movement, it is important that you have support under your body. Yoga Outlet has a nice selection of mats at a reasonable price. Feel free to get creative and use one that matches your personality or the tone of your practice. Manduka mats are the most expensive but they are also great mats. You want one that doesn't cause slippage while you are in a pose, especially if your feet get sweaty (ugh, yeah we get it). I bought my daughters a yoga theme present for the holidays that included a new yoga mat, block, resistance band, and balance ball.
Blocks: Many people who practice yoga use blocks to aid in support of their flow. They are not completely essential, as you can use household items such as cans or water bottles to give you the same feel. If you do want to purchase blocks, we recommend purchasing two to ensure your body is balanced throughout your practice. We love these from Yoga Outlet or these colorful ones from Dicks.
Yoga Towels: The one challenge I have had is that sometimes my hands and feet will slip on the mat; I like the Manduka yoga mat towel which helps make my mat a little more slip-resistant. I also love these great designs for yoga towels from Society6.
Candles/Plants: Adding a calm sense of scenery to your yoga space is always a great way to put you in that calm state of mind. Items like plants and candles are easy and reasonably priced and can fit in any outside or inside space. We have more ideas for you and feel free to tailor based on the amount of space you have to work with.
Essential Oils: Having the right aroma during your practice can enhance your mood. How do you pick which scent to have on hand? If you're feeling stressed, maybe you choose lavender. If you're looking for a little bit of a mood booster, we suggest trying peppermint. Using these at the end of your practice either on a towel you use on your forehead, or spray them in the air, will definitely put you at ease.
Last, but not least – apparel and accessories! I don't know about you, but we're big believers in the adage "look good, feel good." That's why we love a good yoga outfit that will have you start your yoga practice feeling cool and confident. When it comes to picking your outfit, dress to match your mood! Whether you like solid colors or patterns, there are so many options out there! Our favorites are Athleta or Fabletics and Aerie by American Eagle ⅞ leggings for their comfort, maneuverability and they hold up well in the wash.
We also love good hair accessories and fun water bottles to make you feel like you're headed to your favorite yoga studio. Etsy has some great and colorful options to keep your hair out of your face during your practice. We also recommend looking at insulated water bottles to keep your water fresh no matter if you're practicing inside or outside. Our favorites are Hydroflask and S'well.
HaveUHeard of Adriene Mishler? I've been doing her 30-day challenge for 2021 (BREATH) and I have to say, I am really loving it.
Running/Active Workouts
If you're focusing on those outdoor runs or workout videos, apparel is going to be your main focus. We love Athleta as you can find many different options based on the styles you like to wear! Based on your workout style, you may have already found yourself researching the proper sneakers to wear. If you're procrastinating doing that, we have the starting step for you!
Let's talk about sneakers. I personally have two pairs that I rotate since I work out regularly (walking and running). Wearing a good pair of sneakers is super important, especially if you have any knee issues. My go-to's are Brooks and Nike Zoom. My daughters have different foot needs (one has a very high arch and one has flat feet) so they like Brooks or HOKA's. Try to look at sneakers as an investment. There is nothing worse than an injury that derails the benefits of your exercise program.
Running: When it comes to running, you want to make sure you pick a shoe that is lightweight, but also supportive. Our favorite picks are Brooks, Nike Zoom, and HOKA's, but it is important to remember that everyone is different. Make sure you read about the shoe before hitting purchase and keep in mind that a running shoe is an investment. Check out Dicks for tons of options and colors! You can even check out local running routes on mapmyrun.
Training: When doing high-impact workouts,  make sure that you have a supportive shoe to refrain from injury. Our friends at Dicks have plenty of options for you, but again remember to read about the product!
Walking: It seems like we're all going on long walks outside more than ever just to get some Vitamin D. When it comes to walking, comfort is key. We love these Brooks shoes that offer just enough support to get you moving around the neighborhood.
Hiking: Are you in an area where you're able to hike some hills? Make sure you're wearing the proper shoes to give enough stability around those inclines and turns. We love these for style and for comfort!
We hope this helps get you moving!
Jordan Weinsoff, UF Alumnus
Janice Weinsoff, Founder, HaveUHeard
Pass on these great tips, tell your friends and like us on Facebook, Instagram, Twitter, and Pinterest. Find out more about how to use HaveUHeard as a great resource. Sign up for other great tips at haveuheard.com.