HaveUHeard.com includes links to third-party websites and advertisements for third-party products and services. Product and service-specific opinions mentioned within the content of our blogs are entirely the opinions of the HaveUHeard.com team and its staff. It is our hope that you will find value in the products and services these third-party organizations represent, and patronize these businesses. Such advertising and marketing partnerships help make our efforts at HaveUHeard.com possible. Thank you for your support and ongoing interest. For additional information, please read our full HaveUHeard.com Disclosure Statement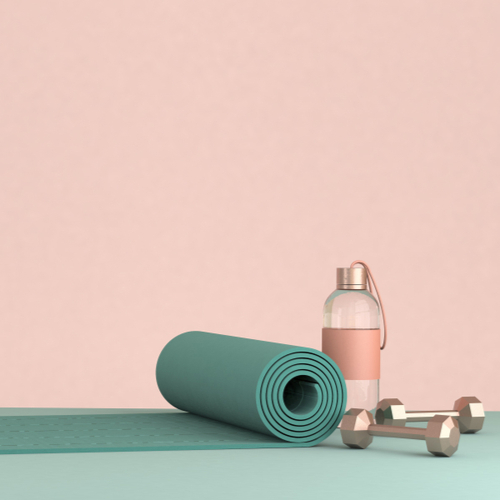 Great Gear for Home Workouts
Are you doing any home workouts during this at-home time? I created a home gym when my young adult daughters lived with me during the pandemic. This is after having a gym membership for over 20+ years. I've never looked back. I love my home workouts. I weight train three times a week, bike two times a week, and take a yoga class once a week.  More and more, we know the health benefits of moving, stretching, and exercising, especially as we get older.
Weight Training
In lieu of having a gym membership, I replaced my older hand weights with new ones. Living in Florida, I typically work out on my patio. It's hard not to be motivated when everything you need to work out is in your house. I added weights, resistance bands, yoga mats, and clothes.
It's pretty easy to find free workouts online. I work with a trainer that designs a weight training schedule based on my personal needs and some limitations.
Peloton
In 2021, I purchased a Peloton bike which I keep in a hidden hallway. With the Peloton Digital Membership, you use it for all different fitness programs. I typically use it just for riding, which is a wonderful cardio workout.
Yoga
Have you gotten into a yoga practice over the last couple of months? Keeping the mind and body at peace benefits one's overall health. We suggest having a few essential items to make the most out of your practices. You'll notice how calm and relaxed you feel without purchasing a membership!
Items we love for a yoga space: If you don't have a room in your house or outside for these items, don't fret! Even with just a couple of these items, you will notice an increase in your mood after practice.
Yoga Mat: No matter where you're practicing, you'll want to ensure you have a mat. Throughout your poses and movement, you must have support under your body. Everyday Yoga has a nice selection of mats at a reasonable price. Feel free to get creative and use one that matches your personality or the tone of your practice. Manduka mats are the most expensive, but they are also great mats. You want one that doesn't cause slippage while in a pose, especially if your feet get sweaty (ugh, yeah, we get it). I bought my daughters a holiday theme present that included a new yoga mat, block, straps, and towel.
Yoga Towels: The one challenge I have had is that sometimes my hands and feet will slip on the mat; I like the Manduka yoga mat towel, which helps make my mat a little more slip-resistant. I also love these great designs for yoga towels from Society6.
Candles/Plants: Adding a calm sense of scenery to your yoga space is a great way to put you in that calm state of mind. Items like plants and candles are easy and reasonably priced and can fit in any outside or inside space. We have more ideas for you. Feel free to tailor it based on the space you have to work with.
Essential Oils: Having the right aroma during your practice can enhance your mood. How do you pick which scent to have on hand? If you're feeling stressed, maybe you choose lavender. If you're looking for a mood booster, we suggest trying peppermint. Using these at the end of your practice, either on a towel you use on your forehead, or spraying them in the air, will put you at ease.
Apparel & Accessories
Last but not least – apparel and accessories! I don't know about you, but we're big believers in the adage "look good, feel good." That's why we love a good yoga outfit that will have you start your yoga practice feeling cool and confident. When it comes to picking your outfit, dress to match your mood! Whether you like solid colors or patterns, there are so many options out there! Our favorites are Alo Yoga, Zella, and Aerie by American Eagle ⅞ leggings for their comfort and maneuverability. They hold up well in the wash.
We also love good hair accessories and fun water bottles to make you feel like you're headed to your favorite yoga studio. Etsy has some great and colorful options to keep your hair out of your face during practice. We also recommend looking at insulated water bottles to keep your water fresh, no matter if you're practicing inside or outside. Our favorites are Hydroflask and S'well.
HaveUHeard of Adriene Mishler? I've been doing her 30-day challenge for years.
Running/Active Workouts
Apparel will be your main focus if you're focusing on outdoor runs or workout videos. We love Athleta, as you can find many different options based on the styles you like to wear! Based on your workout style, you may have already found yourself researching the proper sneakers to wear. If you're procrastinating doing that, we have the starting step for you!
Let's talk about sneakers. I personally have two pairs that I rotate since I work out regularly (walking and running). Wearing a good pair of sneakers is important, especially if you have knee issues. My go-tos are Brooks and Nike Zoom. My daughters have different foot needs (one has a very high arch, and one has flat feet), so they like Brooks or HOKA. Try to look at sneakers as an investment. Nothing is worse than an injury derailing your exercise program's benefits.
Running: When it comes to running, you want to make sure you pick a lightweight and supportive shoe. Our favorite picks are Brooks, Nike Zoom, On Cloud, and HOKA, but it is important to remember that everyone is different. Make sure you read about the shoe before hitting the purchase, and remember that running shoes are an investment. Check out Dicks for tons of options and colors! You can even check out local running routes on mapmyrun.
Training: When doing high-impact workouts, ensure you have a supportive shoe to avoid injury. Our friends at Dicks have plenty of options for you, but again remember to read about the product!
Walking: It seems like we're all going on long walks outside more than ever to get some Vitamin D. When it comes to walking, comfort is key. We love these Brooks shoes that offer enough support to get you moving around the neighborhood.
Hiking: Are you in an area where you can hike some hills? Make sure you're wearing the proper shoes to give enough stability around those inclines and turns. We love these for style and comfort!
We hope this helps get you moving!
Jordan Weinsoff, UF Alumnus
Janice Weinsoff, Founder, HaveUHeard
Pass on these great tips, tell your friends, and like us on Instagram,  TikTok, and Pinterest.