HaveUHeard.com includes links to third-party websites and advertisements for third-party products and services. Product and service-specific opinions mentioned within the content of our blogs are entirely the opinions of the HaveUHeard.com team and its staff. It is our hope that you will find value in the products and services these third-party organizations represent, and patronize these businesses. Such advertising and marketing partnerships help make our efforts at HaveUHeard.com possible. Thank you for your support and ongoing interest. For additional information, please read our full HaveUHeard.com Disclosure Statement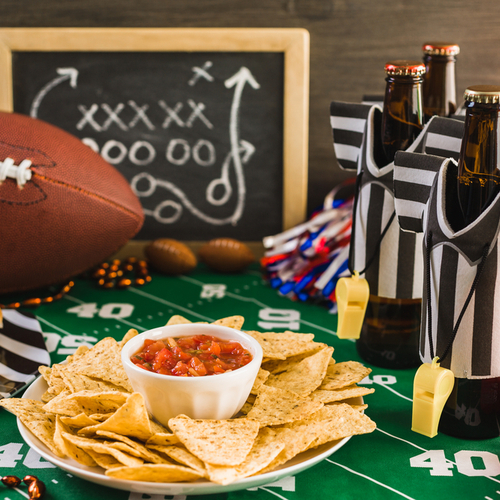 Your Friends Need These
From Super Bowl recipes to the decorations, it's all about the big game. But, like everything else this past year, expect some changes. With only six of us, I will still serve game-winning food.
It has been a while since I hosted, my friends may be in for a little surprise. That's because I follow a fairly strict Mediterranean-style diet. And I am also a pescatarian which means I will look to make party foods that are mostly healthy. Some will be plant-based, some vegan but there will be few processed foods. I'm fairly strict about my diet but I do not force my choices on anyone else. I'd prefer to view it as expanding their palates.
Super Bowl Recipes
I have experimented with a lot of different recipes, making changes to ones that I feel will taste just as good. In a non-pandemic world, I would prepare many appetizers and finger foods but since we will only be about 4 or 5 people, I will pick just a few dishes to make. Here are my top Super Bowl re
Ahi tuna sliders – The original recipe came from Chew Out Loud and I have made it many times. It is one of my favorite burger recipes. The adaptations I made were swapping out the lean ground beef for ahi tuna. You can dice the tuna, which I do, or grind it in a food processor. I also use Tamari instead of soy sauce which is gluten-free. I also use organic cane sugar and Gourmet Garden ginger paste.
For the sriracha mayo, I wish I could tell you that I substitute the mayo but I don't. You could substitute with avocado oil mayo (I am sadly allergic to avocados) or greek yogurt but I don't. For the cabbage coleslaw mix, I typically buy the Asian mix at the grocery store but don't add the dressing, wonton noodles, or almonds. I love Ciabatta rolls and will scoop out the extra dough which creates a vessel for the burger but sometimes if I am trying to be extra careful, I will also use butter lettuce. For my super bowl get together, I will make these into sliders instead of full size.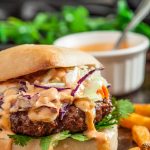 Salmon burger sliders – I have a subscription to NYT Cooking which is only $40 per year but you can find this recipe by Mark Bittman on other websites.  While at the Farmer's Market, the booth I buy my fresh seafood from had some scraps of cubed salmon. It was perfect for my salmon burgers. Put ¼ of it in the food processor with the mustard and then added in the shallots and remaining salmon. I try not to grind it up too finely. You then add in the bread crumbs (day old bread is perfect if you prefer to make your own), capers, and salt and pepper, shape them into sliders (you can also do this ahead of time, and refrigerate the burgers until you are ready to cook them.
You can serve this with lettuce, tomato, and red onion toppings. I ate mine on butter lettuce but you can put out slider buns or again, use a Ciabatta roll or a nice, fresh crusty french bread.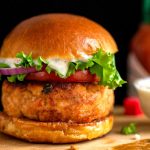 Ahi Tuna Poke Wonton Nachos – I have made these for dinner but these can also be served as a side dish. They are a little labor intensive but worth every single minute of time spent. For the ahi tuna, I typically will buy the 7 oz. wild sashimi tuna steak from The Fresh Market. I try to buy them when they are on sale for $4.99 and ask for the frozen ones so I can stock up.
Instead of using canola oil, I will typically use either grapeseed oil. Cooking olive oil or you could even use coconut oil – all oils that are suitable for high-heat cooking. Olive oils are generally better for lower smoke points but a cooking one has worked well for me in the past. This recipe uses a spicy mayo mixture which is mayo, lime juice (use fresh when possible), and Cholula.  To save time, you can do some of the meal prep the day before or hours earlier by dicing up the tuna, cucumbers, and scallions ahead of time.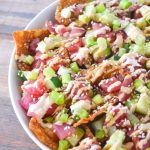 Eggplant Meatballs – One of my dearest friends used to make sweet 'n sour meatballs in a crockpot for her Super Bowl parties. I got her recipe and used to make them all the time. Since I no longer eat meat, I made Anthony Contrino's eggplant meatball recipe. You could substitute the Italian breadcrumbs for panko and I would definitely use a different oil than vegetable oil but they are delicious. I have another recipe from a restaurant that closed but personally, I prefer this version. Add your own sauce on the side and make them appetizer size.
Salsa and Chips– I make my own salsa, dicing up tomatoes, jalapenos, red onion, garlic, chopped cilantro. For a large amount, I would use 4 medium tomatoes, seeded and finely chopped, 2 small red onions finely chopped, 1 cup roughly chopped cilantro, 2 jalapeno's, halved lengthwise, seeded, and chopped (you can half this or omit entirely if spice is not your thing). Our favorite chips to use are Siete tortilla chips.
Charcuterie – who doesn't love a good charcuterie board?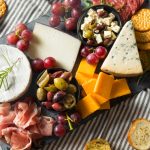 Fresh fruit salad – who doesn't love some fresh fruit and so many are in season right now (living in Florida, we get great fresh fruit year-round).
Did Someone Say Chocolate?
Homemade Vegan Twix Bars – My daughter and I just made this healthier version and they were AMAZING. I am not big on chocolate or candy.  But give me dark chocolate and sea salt and throw in some caramel and… well, you got me at dark chocolate and sea salt. The only adjustment we made to this recipe from Rachaelsgoodeats is we used 1 cup of almond flour because we did not have coconut flour. I highly, highly recommend making these bars that are also GF, Dairy-free, and refined sugar-free.
If you're cooking, grab your favorite team's accessories from tumblers and can coolers to bbq sets.
What are your go-to Super Bowl recipes? I love seeing healthier takes on Super Bowl recipes.
Pass on these great tips, tell your friends and like us on Facebook,  Instagram,  Twitter, and Pinterest. Sign up for other great tips at haveuheard.com.