HaveUHeard.com includes links to third-party websites and advertisements for third-party products and services. Product and service-specific opinions mentioned within the content of our blogs are entirely the opinions of the HaveUHeard.com team and its staff. It is our hope that you will find value in the products and services these third-party organizations represent, and patronize these businesses. Such advertising and marketing partnerships help make our efforts at HaveUHeard.com possible. Thank you for your support and ongoing interest. For additional information, please read our full HaveUHeard.com Disclosure Statement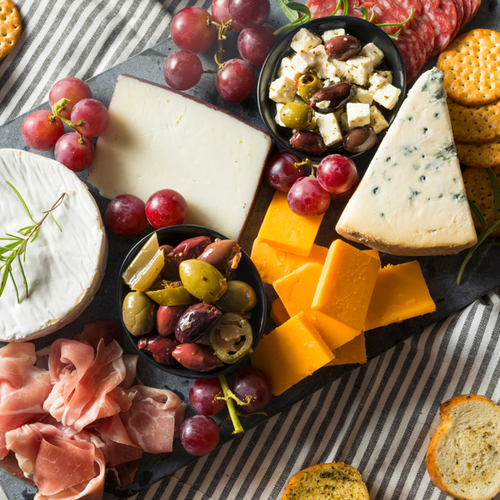 Just in Queso You Didn't Know
When my daughters mentioned making a charcuterie board for Thanksgiving a few years ago, I admit I was rather surprised. Back in my twenties never heard of a charcuterie board but apparently, charcuterie boards are "a thing" amongst the Millenium and Gen-X sect. They can be put together on a moderate budget or you can go all out. In fact, my nephew makes charcuterie boards on the weekly and posts them on his IG stories. And, charcuterie boards for Thanksgiving are now a part of our family tradition.
HaveUHeard where charcuterie boards originated? I am sure my daughter hadn't either, but it is rather interesting. A typical charcuterie, the word derived from the French words that mean flesh and cooked, consists of mainly meats and cheeses. These boards have progressed to commonly include bread, fruits, nuts, condiments such as honey or mustard, pickles, and olives, or, in my daughter's case, a lovely bowl of gummy worms, carefully placed between the prosciutto and figs. They are completely customizable and it seems that college kids are doing just that; modifying them to fit their tastes and budgets.
A charcuterie board usually starts with cheese. Trader Joe's, Whole Foods and Publix, all have a nice selection of cheeses (and cured meats) at various price points. Try to mix up the texture of cheeses by using a hard cheese, a semi-hard cheese (we like Manchego), and a soft cheese like Brie. When you get to the meats; (a simple salami or pepperoni will do) it is less expensive to buy them whole and slice them yourself as opposed to the pre-sliced packages. Then the fun begins when you get to choose the accouterments; the foods that enhance the flavor of the cheese and meats. Often used are olives, nuts, jams, and dried or fresh fruits. You certainly can't forget the-bread and crackers. We love a good ciabatta.
It is important to note that there are no real rules here. Therefore, if your roommate is a vegetarian, you can certainly change it up a bit to accommodate. You can surely create a spread of sweet, savory, and salty without meats. It's all about the good nibbling. What to prepare the charcuterie board on is a whole other story. It can be as simple as an unfinished wooden tray or a fancier wooden tray that will be one of the things, they can keep from their college apartments and take to their after college home. Etsy has many beautiful ones as does Uncommon Goods (This is the one I bought my nephew as a just-because-you-love-charcuterie-boards gift).
Not a DIY'er? You Can Buy Charcuterie Boards
Now that charcuterie boards are all the rage, HaveUHeard that Hickory Farms also has some great gift baskets priced from $34.99? You can gift a cheeseboard serving set or splurge for the Ultimate Charcuterie Experience Gift Basket.
Now that I know that my kids appreciate it, I may send a curated gift box for her next celebration. We have heard great things about these gourmet gift boxes and cheese plates and this one even comes with a wooden board. Many local places make charcuterie boards now too. They can easily be delivered via Instacart or Shipt.
And then there is the wine to go with it…if they are over 21, of course. They can even have that delivered too from just about anywhere they choose through Drizly. Pass the crackers and cheese, please.
As if charcuterie boards could not get any better, there are sweet charcuterie boards that are easy to make for holidays. We bought one for Hanukkah and are planning on making one for Valentine's Day too!
Pass on these great tips, tell your friends and like us on Facebook, Instagram, Twitter, and Pinterest.  Sign up for other great tips at haveuheard.com.