HaveUHeard.com includes links to third-party websites and advertisements for third-party products and services. Product and service-specific opinions mentioned within the content of our blogs are entirely the opinions of the HaveUHeard.com team and its staff. It is our hope that you will find value in the products and services these third-party organizations represent, and patronize these businesses. Such advertising and marketing partnerships help make our efforts at HaveUHeard.com possible. Thank you for your support and ongoing interest. For additional information, please read our full HaveUHeard.com Disclosure Statement
Italian deliciousness
When you need your fix of spaghetti and meatballs, there are some great recipes for vegan meatballs and vegan tomato sauce. I have made them with eggplant, quinoa, and black beans. Search online and you will also find some plant-based recipes that use cauliflower, brown rice, oats, mushrooms or walnuts. For those who need their Italian fix, these different adaptations will have you saying that'sa vegan meatball.
Eggplant meatballs
I've made eggplant meatballs following two different recipes. The first one is from a restaurant that has since closed.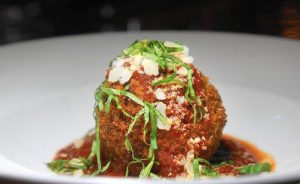 Carline Jean/Sun Sentinel
3/4 cup blended oil 90/10 – this usually combines extra virgin olive oil and either canola or vegetable oil. It allows for a higher smoke point. I often will just use cooking olive oil
3 pounds Sicilian eggplant, about 4 eggplants, peeled and diced ½-inch
2 tablespoons minced garlic
1 tablespoon black pepper
½ cup grated parmesan, plus more for garnish
¼ cup chopped basil, plus more for garnish
2 cups Panko breadcrumbs, plus more for rolling
2. Transfer cooled eggplant to a large mixing bowl. Add pepper, salt, parmesan, and basil, mixing to combine. Gradually fold in breadcrumbs.
3. Line a baking sheet with parchment paper, set aside. Portion eggplant mixture into 7 balls, about 7 ounces each. Preheat oven to 500 degrees F. Roll eggplant balls in Panko bread crumbs to coat. Place on prepared baking sheet and cook for 12 minutes.
4. To serve, place 1/4 cup marinara sauce in the bottom of serving bowls. Place one eggplant ball on top of sauce and top with 2 tablespoons marinara sauce. Garnish with parmesan and basil.
Other Eggplant Meatball Recipes
There are a few other vegan meatball recipes that I make that are equally as delicious, if not better.
I just made these vegan meatballs last week and they are amazing. An added benefit is that all of their recipes fall into three categories: 10 ingredients or less, 1 bowl, or 30 minutes or less to prepare.  Simply click on the image for the recipe.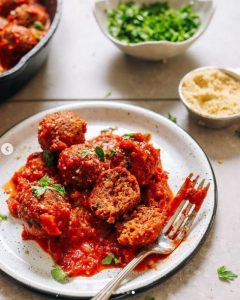 I first saw these eggplant meatballs made on The Today Show back in 2019 and they were just as good as the first recipe I share. Again, you can make substitutions that work for you. For instance, I do not cook with vegetable oil. I recommend a blended oil or using Cooking Olive Oil. You could also use Grapeseed Oil.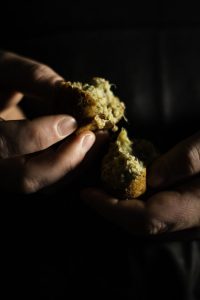 … Don't Forget the Tomato Sauce
Everyone seems to have their favorite Italian sauce whether it comes from a jar or is a family secret recipe. TBH in the past, before I came to appreciate great homemade food, I used jarred sauces. And, don't get me wrong, sometimes you cannot go wrong with that approach. Some of my favorite jar sauces are Rao's or Classico. But, if you have an extra 30 minutes to spare and you like your sauce sweet, I challenge you to make the Easy 1-Pot Marinara Sauce from the Minimalist Baker. Definitely follow the recipe including adding in the tomato paste and nutritional yeast.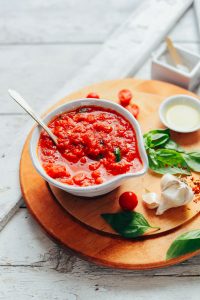 Pass on these great tips, tell your friends and like us on Facebook, Instagram, Twitter, and Pinterest.  Sign up for other great tips at haveuheard.com.