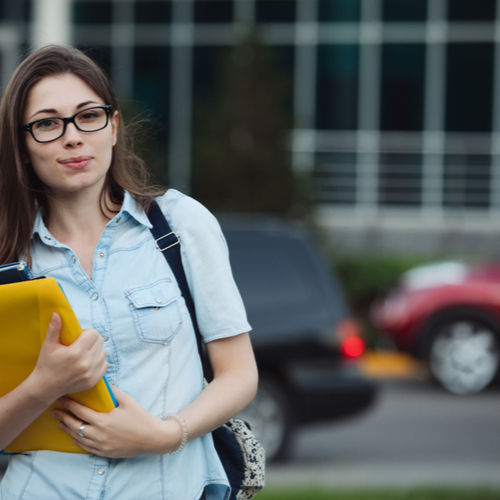 Can You Get by Without a Car?
Yes, you can get by at FSU without a car. There are actually countless perks to not having a car on campus and unlimited resources to help with your commute – not to mention the avoidance of FSU's notorious parking tickets. If you know for sure you will not have a car with you throughout the school year, it is probably in your best interest to consider housing close to campus. This should be no problem as there are plenty of options (Onyx, College Town, Catalyst, the list goes on… actually you can check out our blog on off-campus apartments here). Additionally, College Town is not only a great location close to campus but also is in the heart of West Madison's restaurants, bars, and shopping which are all walkable. Walking-distance housing will make it more than possible for you to get to all of your classes by foot while simultaneously helping you to prevent or work off the freshman fifteen.
If you are living somewhere that does not have a walkable commute to your classes, you will see a growing amount of students using scooters. Many parents tend to be opposed to this option but students find they offer many advantages. Scooters have many benefits when it comes to making your way around FSU. Though the price of a scooter may initially seem intimidating, keep in mind that if it is taken care of, you can make back the money you invested by selling it when you graduate. Additionally, scooters more or less allow you door-side parking that cars do not offer. Scooter parking is not only significantly easier to find, but almost always has closer proximity to the building. If the scooter route is not for you, try considering FSU bus services.
The FSU bus system has both on and off-campus routes and even offers all students free transportation around Tallahassee via StarMetro with proof of a valid student ID. Additionally, if you are looking to save money and avoid Uber or Lyft after a night out, the FSU bus also provides transportation with the "Seminole Express Nite Nole" which runs 8 pm-3 am, M-F, during the fall and spring semesters. Without a doubt, it will not be long until you have made a core group of friends at your new school that will also hopefully be more than happy to aid you with transportation. They will also probably share with you about how they can never find parking and have accumulated a stack of parking tickets.
Check out our blog on other ways to get around and to and from campus here.
These were just a few suggestions based on our experience and hope it will bring a productive conversation for you and your Nole. Whatever you decide, we definitely recommend trying out FSU's transportation options.
Avery Hinchman, FSU Intern, HaveUHeard
Pass on these great tips, tell your friends and like us on Facebook, Instagram, Twitter, and Pinterest. Find out more about how to use HaveUHeard as a great resource. Sign up for other great tips at haveuheard.com.