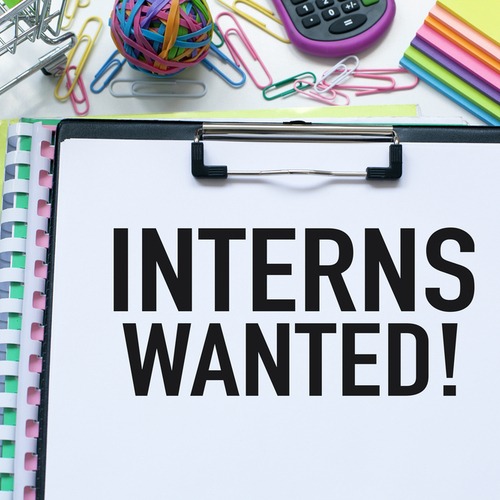 Get some experience, get an internship!
What better way to learn about a prospective field or career than to do an internship? What better way is there to get some experience that will beef up a resume for that real job someday? Obviously, I am a big believer in internships. It allows students to learn, but it also helps them decide if that is actually a career for them. Internships help students figure out, while still in school, whether the career they envisioned for themselves all along may (or may not) be just what they wanted? The question is how to find one.
I'm not going to lie….if you know someone, now might be the time to put the word out there that your student is looking. Internships, full or part-time, in just the right field can be difficult to find. If it is possible, tell your student to offer to work for the semester or summer without pay. Their experience is their paycheck and can be worth far more when they are looking for a job after college. Don't worry; many internships do pay though.
FSU runs various career and internship fairs throughout the school year. These are a great resource. Check out the Seminole Futures All Majors Career & Internship Fair for the dates and the STEM Career & Internship Fair for those dates. FSU provides a complete listing of the various career and internship fairs. You may want to remind your students to dress professionally when they go. We post the most current dates on our calendar page.
If you are applying to a particular agency or brand, get familiar with their work prior to the interview. It impresses interviewers when you name-drop a campaign and can iterate why you find it effective and how you can learn from and contribute to it. 
In addition, always have 3 things that set you apart from the crowd and try to incorporate them into the interview. Even if you aren't asked "tell me about yourself," you can find a way to weave these 3 personal strong-points into your responses.
The Moellership Program provides undergraduate and graduate students at Florida State University the opportunity to focus 8 – 12 weeks of their summer on service at a non-profit agency anywhere in the world. Students receive a stipend of up to $4,000 for participation in the program.
There are also many websites that list potential internships. Internships.com, as most of the sites do, allows students to put in their city and field of choice and even whether or not they are looking for paid and/or unpaid internships. From there a proper cover letter and resume would be the next step. Occasionally a skype interview may be requested. Using sites like Indeed or SimplyHired may be worth a try, but spending a lot of time on these to simply hit the "apply" button and having their resume sent into a black hole generally doesn't prove too successful as most of these positions get filled by students with a more personal connection. Handshake FSU is one of the largest networks of career services. Finally, ask your advisor and professors. They can be a wealth of knowledge in this department.
Some websites, like Internmatch.com, allow students to sign up to get daily notifications for new postings about jobs that may be of interest to them. Glassdoor.com and YouTern.com are also useful websites to find an internship. FindSpark.com is better known for its more creative internships and entry-level jobs in NYC.
LinkedIn can be an excellent resource. Perhaps your student saw a position at a company they are interested in one of the above sites and then by scouring LinkedIn they can make a connection. To search for internship listings, be sure they have a detailed and updated LinkedIn page ready to go, then go to the jobs tab at the top of the page and put "internship" in the search box. Refine your search by filling in the boxes on the left side of the page.
Finally, many students are creating their own videos or websites to show off all they have done and are capable of. It can be better than a long portfolio that may exceed the amount of space for uploaded information. These are generally used for more majors like graphic design or advertising, and not finance. Look at Wix, GoDaddy, and WordPress for tips on creating your own online website.
Should your internship take you out of state, click here to learn about housing options.
HaveUHeard offers real information like this to help you have the best college experience possible. We glean great tips from our own experience and the experience of real parents and students from the schools we present. Pass on these great tips, tell your friends and like us on Facebook, Instagram,  Twitter, and Pinterest. Sign up for other great tips at haveuheard.com. Are you new to HaveUHeard? Here is how to best use the site.