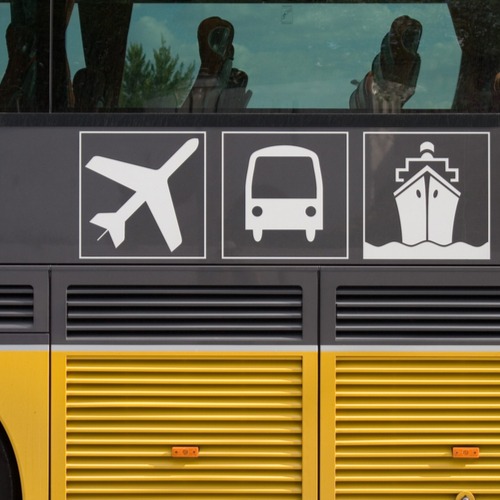 Trains, Planes, and Automobiles…Transportation to Tallahassee
Freshman who brings their cars will quickly learn that parking during the fall and spring is at a premium and will most often not want to move their cars should they nab a great spot. Sure many will state the convenience of having their car (which will require a parking permit yearly) for multiple reasons, but having financed many parking tickets for my poor student one year, you may want to think twice or give them fair warning. You see the trick occurs when they come home late at night and want the closest spot possible. The problem arrives when that same spot is no longer legal after 8 am and they forget to wake up and move it….four days in a row…four tickets later and what could have been enough gas money to get her to Miami. Never mind, I think you get the point. (And if you are wondering why I paid them when it should have been her problem, please note that they cannot get their grades or register for new classes with outstanding tickets.) I recommend using the car very little around campus. There is plenty of public transportation available., our new favorite of which being Capitol City Pedicabs. Read our blog about parking here and don't forget to download FSU Tranz – this app is great if your student has a car. Believe me, it helps when students are rushing to class and can't find a parking spot (I assure you those parking tickets can add up.) This free parking app shows how many spaces are available at that moment in all the on-campus parking garages. It even includes a map with each garage labeled. Students should check the app before heading to campus so they aren't attempting to use it while driving.
Bicycles and Scooters
Another transportation option is having your students either bring their own or rent a bicycle through the reCycle Bike Program. Bike racks are available all over campus. All Seminole Express and StarMetro buses are equipped with bike racks too. University Cycles are available for sales and repair.
Many students use bicycles or scooters in lieu of a vehicle. It is strongly advised that your student not only registers these modes of transportation with the University Police but also that they familiarize themselves with the bicycle or scooter rules. I only have one other thing to say here: HELMETS.
In mid-October Tally will be piloting a 3-month program testing out rental scooters all over the city. There are about 1000 electronic scooters hitting the streets. This may be a great way to get around during football season when the traffic can get outrageous. FYI Scooters can be ridden on sidewalks and on city streets. Either way, remember those helmets. You can read more about the pilot project here.
Commuter Services
    Find a ride: (888) 454-RIDE (7433)
Capital City Pedicabs is now serving the FSU community with routes around downtown, Gaines Street, the All Saints District, Railroad Square, and College Town. Each pedicab is powered by a well-trained, certified and licensed driver. Rates vary, generally $5 on campus to as little as $10 off-campus. (850) 296-2786.
Airport
Tallahassee International Airport is the major airport if flying is your means of transportation. It is truly called an international airport, but I have to say, the first time I was there, I was surprised. With all the delays and mayhem that goes on in larger airports, this airport is a real treasure. There are far more airlines from here now including American Airlines, Delta, United, JetBlue Airways, Silver Airways, British Airways, KLM, Korean Air, Aeromexico, Air France, Iberia, Avianca, Virgin Atlantic, WestJet, Air Dialog/Linear Air.  The flights can be limited and very costly. Some students will drive to Jacksonville, Florida for more options and better prices. It is approximately a two and a half-hour drive to Jacksonville. Of course, by flying out of a larger airport, you then have to consider the cost to either get yourself to that airport including long-term parking fees. One company that offers rides from Tallahassee to Jacksonville and Jacksonville to Tallahassee to Jacksonville is Red Vans Transportation. The cost is $45 each way. You can book online but we would recommend planning in advance to make sure there is enough space. For those that perhaps live in South Florida, there are few direct flights, but most flights require connecting.
Note: Flights are often far more reasonable if flown from Jacksonville. Red Coach now has bus service from Tallahassee to Jacksonville too.
Bus Service
Other options include taking a bus or renting a car if you do not have an automobile. Red Coach brands itself as a luxury bus line with complimentary Wi-Fi (additional fee), no fee for the first two bags, reclining seats, standard power outlets, and other amenities. The bus does make frequent stops so plan on the time being substantially longer than if you were to take your own vehicle. My daughter became fond of the route that left Tallahassee at around midnight. She would set an alarm on her phone, get cozy leaning on her backpack and go to sleep. I would pick her up at the FL. Turnpike stop about nine hours later. It's not the ultimate, but it is far cheaper than flying. GMG Transport is FSU's official partner providing bus service every weekend to central and South Florida and it is a more economical alternative. Students can also check out  Zimride, a social network for ridesharing or rides to the airport.
Students should add the app Rider which uses their location on campus to tell you the nearest bus stop and when the bus will be arriving. You can even set alerts to when the bus is arriving five minutes before. Students have found it to be very helpful and reliable, easy transportation.
Carpool
Students with cars are often looking for people to share the drive. There is a Facebook group, monitored by an administrator, that connects students looking for rides. As a matter of fact, the group is for most of the Florida colleges. Students post if they are looking for a passenger or are looking for a ride. The group has over 8900 members.
Renting vehicles just became more convenient!
Enterprise Rent-A-Car is now open on the first floor of the Call Street Parking Garage, 520 W College Ave, Tallahassee.
 Available weekdays from 7:30 AM to 6 PM and 9 AM to noon on Saturdays, Enterprise Rent-A-Car's new location will service the University community with a variety of vehicles, complimentary "We pick you up" services (from main and SW campus with 24-hour advance notice), 24-hour roadside assistance, and pricing available for both business and leisure travel.
Red coach has partnered with FSU and they are now giving a student discount where students can get 10% off the lowest rates available! For schedules, routes, or to book their trip visit. Directions to receive the 10% discount are as follows:
Send an email with a picture of their student ID and your phone number to students@redcoachusa.com
The student will receive a confirmation email within the next 48 hours with a personalized code.
Enter your code when filling out the passenger information section by changing the ticket type from "Adult" to "Student"
Many parents rave about Busy Bee, on US Highway 129 in Live Oak, FL. It is a convenient stop for gas and food on the way to Tallahassee. The bathrooms are clean and the people are friendly.
When driving back to school after a long holiday weekend or break, like Thanksgiving, Winter or Spring break, make note that there is a lot of traffic and a normal drive is often extended by hours. Some students will leave a few days prior to avoid this traffic. Parents, while you hate to see them go, it is far more comforting to know that they are not going to be on the road all day stuck in traffic.
Should your student have car problems – broken down, a flat tire – they can call Road Rangers at *347.  They will come and assist them for free.
Pass on these great tips, tell your friends and like us on Facebook, Instagram,  Twitter, and Pinterest. Sign up for other great tips at haveuheard.com. Are you new to HaveUHeard? Here is how to best use the site.