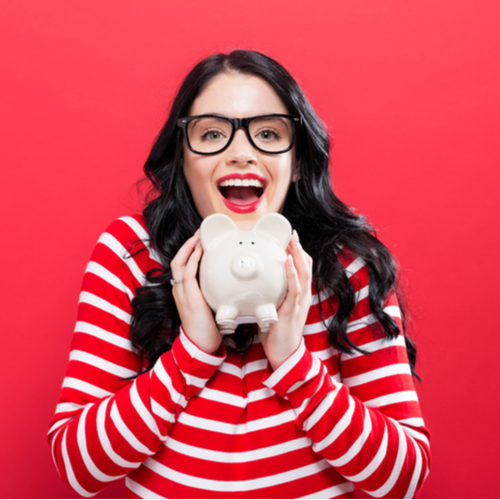 This is a budget lesson that will serve you in the future!
Going to college is beyond getting your degree, and learning about your future job. College is most students' first time living completely on their own. With college, comes a lot of learning about responsibility and daily life obligations. Being able to budget is one thing that college students should probably learn on the quicker end before they drain their bank accounts!
Whether a student's parents help them out with money on a weekly basis, or students have a job and pay for themselves, budgeting is important with every situation. At orientation we were inundated with information about all sorts of things; from forms to meal plans. No one ever really elaborated on the best way to handle finances when it came to spending money on a weekly and monthly basis. Perhaps this is because it will vary based on need, ability, preparedness to handle the responsibility, what an allowance should cover, and so on.
First things first, what should students weekly allowance cover? Some parents choose not to pay for alcohol. At the end of the day, most kids drink alcohol in college but that doesn't mean parents have to pay for every single thing they choose to do and not do. Most students do have a part-time job while in school to pay for extra things like going out with friends, shopping, hair, and nails. Students may want to have a discussion with their parents to see if they ever have enough money to eat out, or they should stick to the meal plan, which most students do by the way.
There is also the Crimson Card, which can be used in dining halls, campus restaurants, and grocery stores. If you are putting money on there, perhaps parents will give less in their students' allowance. To come up with a weekly dollar amount, we polled other parents whose students also didn't have a meal plan, but had a kitchen, and $75 was right in the middle of the census. If students choose to use her allowance up on pedicures and sushi, then peanut butter and jelly can help to balance her budget. The point here is that we are not looking for our students to suffer but to teach them the most proficient way to handle money.
Some Good News
The good news is that there are plenty of places around IU's campus that make sticking to a budget possible. There are also a few good tricks. For instance, if your students have a meal plan, encourage them to bring back a few snacks from the dining room for later. There is nothing wrong with leaving with a banana, apple, or hard-boiled egg. Check the weekly ads; Kroger often runs great specials throughout the week. Many places around campus have microwaves to heat food up too. Packing a meal is generally less expensive than going out and often healthier too.
Check out apps like Pocket Points, Zupp, and Stealz. They all offer discounts, alert to specials, and help students find good deals in one way or another. Tell them, too, to check out some of their favorite places to see if they give a student discount, money off if you check in on Facebook, or have weekly specials. There are many other places to eat around campus that are budget-friendly too. Some restaurants have a reward system; points can add up quickly.
Aldi is a super affordable grocery shopping center; students just need to bring a quarter to use a shopping cart and bring their own grocery bags. Eventually, students will find all the deals out there and, when they can manage their money after college, they will thank their parents. Well, they probably won't thank you, but knowing they are eating and sticking to a reasonable budget is thanks enough for this mom.  And by the way, don't expect them to take you to these budget-friendly places when you visit. That is when they will be hoping for a meal at all the restaurants they presently can't afford.
Obviously, none of this is set in stone. It all depends on your family's personal choices and financial decisions. Perhaps your student has a job while at school and won't ask you for a thing. Maybe that job is to pay for the extras; like nights out, a spring break cruise, or next semester abroad. Maybe your student despises PB & J; although tuna fish makes a fair alternative. Remember, of course, that other than meal plan options, which have to be adjusted early in the semester, things can be changed if they don't seem to be working.
Consider having your students get their own credit cards.  It is a great way for them to start learning how to budget themselves while building their credit for when they are out on their own. These are our credit card recommendations for students. Pass on these great tips, tell your friends and like us on Facebook, Instagram, Twitter, and Pinterest. Find out more about how to use HaveUHeard as a great resource. Sign up for other great tips at haveuheard.com.