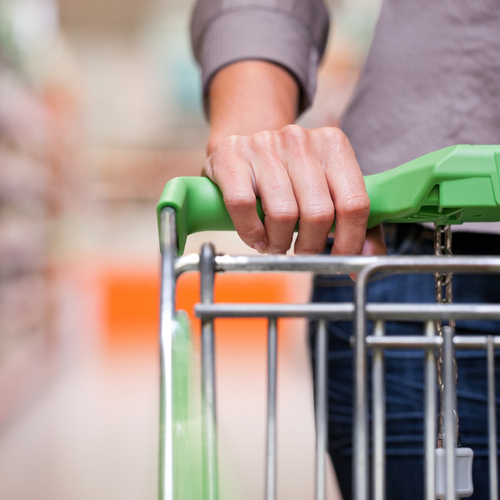 A Kids Gotta Eat, Find the Grocery Store!
Does your student know where the grocery store is located? Whether your student lives on campus or off, they will need groceries. Bloomington has plenty of places to shop. For those new to Indiana, let me first introduce you to Kroger. Kroger is a Cincinnati-based supermarket with every department found in most grocery stores including produce, deli, meats, canned goods, seafood, frozen foods, flowers, bread, soda, and stationery, candy, dairy and so forth.
There are four Kroger supermarkets close to campus, the location on South College Mall Road being open twenty-four hours a day. The other major chain supermarket you will find in Bloomington is Aldi, with two locations near campus. They have great deals on high-quality groceries, organic products, and the latest must-haves at low prices.
 Fresh Thyme Farmers Market is also another option that is really more of a grocery store than a farmers market. Seasonal decorations, great produce, and weekly deals make traveling to either of their two locations a good choice.
There are three Bloomingfoods Co-op Markets in Bloomington, which includes a small store on the Ivy-Tech campus, the community college located not far from IU. Their philosophy is to use local, organic, and sustainable foods to support the local farmers and a farm to table existence while following a cooperative business model. They offer a hot bar, cold food and salad bar, and many healthy grab-and-go products. They are available for delivery with Grubhub and Btownmenus.
For more local and farm-fresh produce and prepared food, many students enjoy the outdoor Bloomington Farmers' Market. My daughter and I spent a morning sampling some amazing food when I was there for parents' weekend. The market opens for the 2020 season April 4 and is open every Saturday from 9 a.m. until 12:30 p.m. at the Pavilion in Switchyard Park.
There is a Target, which is not a Superstore but does carry a fair amount of groceries; including frozen foods. Walmart provides online grocery shopping. Have your student sign up for an account. They can keep a running list of what they want or need and when they reach $30 and can't wait any longer; they choose a pickup time. They will get an alert within a few hours when their groceries are ready, drive up to the store and someone brings it out to them and puts it in their car or hands it to them. It goes on a credit card and could not be more quick or easy.
Finally, for those students who prefer to shop in bulk as many of the students living off-campus do, there is Sam's Club in Bloomington, which is a membership-only warehouse chain store that sells a variety of bulk groceries, among other things.
If it's an Ethnic Flair You're Seeking
With such a diverse culture in Bloomington, it's not hard to find ethnic grocery stores, if you choose. If Italian food is on your menu stop by the locally owned Little Italy Market on East 3rd Street. Aside from their authentic Italian groceries, my daughter says they will make you up a pretty impressive sandwich to go. Sahara Mart is also another favorite international grocery and health food store that specializes in hard to find items, located on East 2nd Street. B-Town International Market on East Covenanter Drive has a vast selection of Asian food as well as Apna Bazaar International Market which offers a vast selection of Indian and Asian products and is located on East 3rd Street.
Get the App
Have your students download the apps for any of the grocery stores that offer them. Taking a little time to check off the coupons they may use saves them, and possibly you, some money. The rewards program offers another way to build up points and save money. If your student can't get to the grocery store, Instacart will deliver their groceries right to them (for a fee, of course).
Pass on these great tips, tell your friends and like us on Facebook, Instagram, Twitter, and Pinterest. Find out more about how to use HaveUHeard as a great resource. Sign up for other great tips at haveuheard.com.