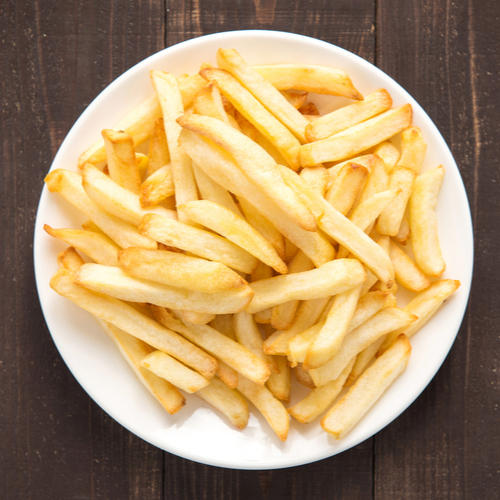 Burgers and Pizza and Fries…Oh my!
One of the many decisions you and your student will make is about the meal plan. With college right around the corner, I see you fearfully envisioning your student's diet as one of burgers, pizza, and fries, oh my! Yes, we have been making meals for our kids for as long as we can remember. (So, quite frankly, we might welcome a break.)  And yes, some of our kids have learned how to cook and even to enjoy doing so. But most have come to rely on their meals being ready the minute you yell "Dinnertime!"  NOW what will happen?
Before you get ready to go on a cooking, packaging, and labeling frenzy to send food with them, Stop.  I am here to assure you that college food has indeed changed since many of us went to college. That's not to say they won't still be tempted by the same fast foods that were our staples. And for many, there will still be those late-night temptations of deliveries and snack runs. We've all heard about (or experienced) the freshman 15 for a reason. But today's college campuses, in addition to offering burgers, and fries, also offer quite an array of healthy meal plans and options.
Freshman Ease
For incoming freshman, it's really quite easy to sign up for the meal plan. Access to do so is often facilitated during summer orientation. My daughter was very happy with her meal plan choice. It was a great way to meet other freshmen and learn to make healthy choices. Her meal plan allowed her meal options outside of the dining halls which added lots of variety.
Pick a Plan
Indiana University offers five meal plans for students, faculty, and staff. The value of your plan is on your CrimsonCard so you don't have to worry about having cash or credit on hand. All first-year students living with Residential Programs are required to purchase either a Standard, Plus, or Max I-BUCKS 60 meal plan. I-BUCKS are accepted at all IU dining locations. The Tudor room offers a student price and does not accept I-BUCKS.
To compare meal plans go to IU Dining.
I-Bucks 60 Max –  (think student-athlete size appetite).
I-Bucks 60 Plus – for healthy appetites.
I-Bucks 60 Mini – Best value.
I-Bucks 25 – this plan is not available for a freshman.
Each of these plans also comes with a special dollar amount of I-BUCKS (determined by the meal plan purchased). These I-BUCKS allow your student to eat at any of the numerous restaurants on campus including but not limited to Starbucks, Cream and Crimson, Flame Burgers and Grill, Coffee Bean & Tea Leaf, Sakura Sushi & Hot Bowl as well as two food trucks that make regular appearances on campus.  The food trucks do accept CrimsonCard accounts and I-Bucks as well as all major credit cards. Check out all the dining options. Please note that dining location hours are subject to change according to school holidays and exam schedules.
More Options
My daughter has a pretty generous meal plan but she still takes advantage of the local grocery stores which are accessible by bus or car to purchase the food she needs or wants  (see our blog on grocery stores). If cooking on their own works best for your student most dorms have room for a small refrigerator. Most also allow for microwaves (under 1500 watts). Many of the dorms have a communal kitchen, but your students will have to bring their own pots and pans.
If neither the meal plan nor cooking for themselves is working, students today can get almost any type of meal delivered to their dorms. Uloop brings all of your IU food options together in one place. Postmates, Ubereats, and Grubhub offer convenient online ordering and are all readily used.
Pass on these great tips, tell your friends and like us on Facebook, Instagram, Twitter, and Pinterest. Find out more about how to use HaveUHeard as a great resource. Sign up for other great tips at haveuheard.com.