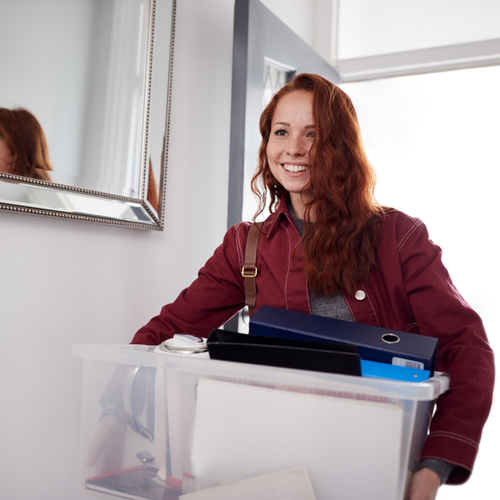 Move-In Date! Apartments and Dorms
It's time… move-in dates are set! Your student has been given their move-in date and dorm/residence assignment! Now begins the process of handling what can be a stressful, labor-intensive — and often expensive — process. (Yes, you may start by taking a deep, calming breath…)
Traditionally, female students tend to take a full-on decorating approach complete with wall décor, signs, picture frames, string lights, desk accessories, and more. Sometimes much more. Male students typically do not go quite that all-in. Usually, they just want a comfortable bed, a poster or two, and maybe a rug. It really is quite humorous after each drop-off, whether summer or fall, to see my friends' postings on Facebook and Instagram. (Yes, dating ourselves we know, but those are the social media that parents are most comfortable with.) Seeing the obvious difference between completed male and female dorm rooms is always good for a LOL.
This whole process may be a sticker-shock moment, having become a BIG business. Back-to-college spending is expected to reach $1,347 this year. College checklists now resemble the lists usually reserved for wedding/bridal and baby shower registries. And if you follow some of those college dorm move-in checklists, you may be faced with a list of items you might have never considered and may not really need. Some items, like gaming systems, seem a bit over-the-top unless your student already owns one. You are not looking to entertain your students for the next four years. The aim is to set up a comfortable room where they can study, relax, and recreate a bit of that "home" feeling they are leaving behind.
Most dorm check-in processes allow you to use their hand truck.  But I still highly recommend bringing your own if you have one, because you may not be able to actually get your hands on one (bad pun intended!) when you need it. Many hand trucks are collapsible, so it took up only a little extra space as we packed the car. I even left it for my daughter to move out at the end of the semester! A move-in bonus, and one that will get a lot of use over the next four years, I promise.
All the stuff, none of the nonsense
If your student is like mine, there just is not enough closet and drawer space to accommodate all of her clothes/shoes/dry goods/toiletries/medicines, etc. (Stuff–that's the word! And that's not evening counting her keyboard…the over-large, music-making kind.) With the help of our interns, we've also put together a New Student Shopping Guide. And if you've made it this far without the information in our Home Sweet Dorm blog, read here.
Pass on these great tips, tell your friends and like us on Facebook, Instagram, Twitter, and Pinterest. Find out more about how to use HaveUHeard as a great resource. Sign up for other great tips at haveuheard.com.