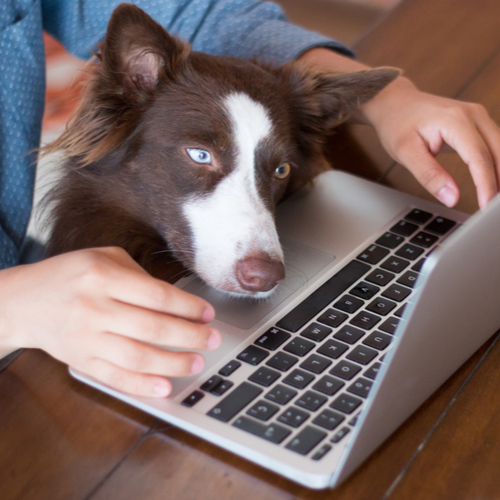 Take Your Pets (Dog Or Cat) to College!
Pets bring so much love and joy to our lives, and there's nothing like a good facetime with your dog when you're missing home while in college. My mom constantly sends me videos of my dog running around the backyard and rolling in the grass. Those videos put me right back at home, and dissipate any homesickness I was feeling. There's also nothing better than the family dog with a Hoosier bandana on so you can really represent. Clearly, I am a dog person and, while many individuals think it's totally wrong for students to get pets, I think it truly depends on the person. Animals create so much happiness and if a student is aware of the work, and wants to add a member to their family, who am I to discourage them?
College is a time where many individuals feel lonely; a dog definitely makes you feel loved each and every day. Yes, a dog is an insane amount of work, but students are smart and I believe can make a smart decision. Most students will not take on a living animal if they do not think they can handle it. I am keenly aware of the work that goes into training a pet and the expenses that come along with their lovability.  If students truly think they can maintain the floppy ears and wagging tails while also getting straight As, I say let them.
If a student does decide to adopt a pet during college, they should first check the rules for where they will live. When searching for an apartment, it is easy enough to find out which are pet friendly. Some apartment complexes have separate leases for pets. It is vital for students to inspect everything upon moving in and take pictures of any damage so that their new four-legged friends cannot be blamed for it and consequently, not fined for it. It happens. It is rather important they live in a place that is pet-friendly.
If a student is interested in getting their own adorable puppy, I personally recommend putting them to the challenge to see if they can handle it. The Bloomington Humane Society constantly has homeless puppies that are in desperate need of a loving home until they are old enough to get adopted. Throughout the foster program, students can take care of loving puppies before they get adopted. I fostered three dogs in college, and although it was an abundant amount of work, it really taught me diligence and honestly how to be a better person. I also loved waking up to an adorable Aussie fluff ball in my face every morning. The humane society often provides individuals with dog food bowls, dog beds, a crazy amount of toys, and well plenty of puppy love.
If you do end up with a puppy of your own, you may want to add some IU gear to the wish list. There are all kinds of fun leashes, collars, toys, and jerseys for our newest, furry fans.
Fostering a puppy truly is one of my best memories in college; there was also never a time where friends were not over tiring out the little pup! Not only are students saving dog's lives by fostering them, but it is also a great way to see if they can really take on all the responsibilities of a newborn! There are a number of animal adoption centers in the area: Bloomington Animal Shelter, Heartland Adoption Agency, Scaly Tailz, and Monroe County Humane Associate.
If you decide to adopt a pet while at college, make sure you check the rules for where they are permitted. The only pets allowed in the dorms and on-campus apartments are fish in up to a 10 gallon or less tank. Considering this, if you are looking to have any other type of pet, you must look into off-campus options that permit pets. If you live in an off-campus house, all pets are welcome. In addition to houses in the area, there are many apartment buildings that allow pets. Make sure to look into the specifics because some apartments charge extra fees for pets and have limits on how many you can have.
If your intention is to request an Emotional Support or Assistance Animal, there is documentation you will need to provide to the Accessibility and Disability Service including registering in person.
Dog Parks in the area: 
Pets Get Sick Too
Of course, if students do decide to have a pet, it is important to know that there are quite a few animal hospitals nearby; Bloomington Veterinary Hospital, Arlington Heights Vet, College Mall vet, Furry Friends Vet, and several others. We highly recommend having their pet chipped in case they get lost. If a lost pet is brought to an animal hospital they can be scanned and find the owner easily.
When You Have to go Away
Hopefully, when you have to be away, you can get a friend to watch your pet, but for those times that you can't be sure to find a reliable place to board Rover or Daisy. There are a few near IU- Dog House, Bloomington Paws, and Wayport Pet Resort. Be sure to book early for popular times like Thanksgiving or winter break.
Dog-friendly Restaurants
Dog-friendly Hotels
Be sure, when making reservations, you tell them you are traveling with a pet. Some have fees.
Pass on these great tips, tell your friends and like us on Facebook, Instagram, Twitter, and Pinterest. Find out more about how to use HaveUHeard as a great resource. Sign up for other great tips at haveuheard.com.