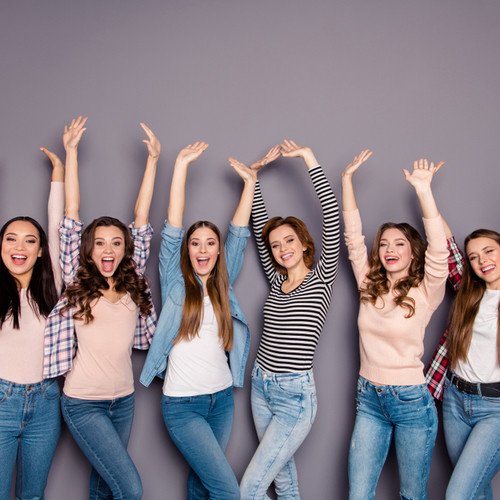 Sorority Life – It's More Than Parties
So now you have joined the sorority life, and oh is it a life to live. Being in a sorority does not only open you to new BFFs but a life full of opportunities if you network with the right people. Every sorority is a little different as it relates to living and eating meals at the house. They also have specifications in regard to academics, philanthropies, and social requirements. Chapter members are expected to attend chapter meetings, eat their meals at the house (if they provide meals, which would also be included in the fees), and participate in their sorority's events.
Sororities are paired up with a different fraternity every weekend for social events. This allows girls to meet other members of the community which can be a lot of fun! Some sororities require you to dress up for dinner or chapter meetings; others do not care if you come straight from the gym. For the most part, the only place you are not allowed to represent your sorority is in a college bar.
Some sororities may require members to live in the house with their pledge class at some point; for others it is optional. I lived in my sorority house junior and senior year. It was definitely an interesting experience, to say the least. I truly did enjoy being around friends all the time, having easy access to meals, and being walking distance to everywhere on campus. Although I did enjoy my time living in the sorority house, it was definitely overwhelming at times.
Living with fifty other girls, you never have time to yourself. I am 99.9% sure that I was never once in a room alone in the sorority house the two years I lived there. The advantage was the cost to live in the house. It is less expensive than an off-campus apartment. Some of my sorority sisters though chose not to live in the house, preferring to be there for meals, meetings, and sisterhood events.
Be prepared for a wardrobe change- members are given so many T-shirts and tank tops you will never have to buy another one again (some girls sell their collection for as little as $5 a shirt on their sorority Facebook page). Members have sorority shirts, sweatshirts, jewelry, and more, proudly wearing their sorority's letters or names (some new members are not allowed to wear the letters until after initiation). Some girls, thinking ahead, may buy doubles of their shirts (they usually have a shirt for each significant event) in order to wear one and save one to make a quilt out of the t-shirts after graduation. The quilts really come out adorable.
These local boutiques are popular shopping spots among students. Many of these stores have a big selection of sorority bags, water bottles, pillows, jewelry cases, etc.
Top It Off / 1818 Apparel Co.
Underground Printing – Custom T-Shirts & More
Indiana Varsity Shop
Indiana University Bookstore
Between Big/Little, and Bid Day, sorority members are given jewelry, water bottles, stationery, wall signs and so much more. It is a known tradition that on the first day of class, everyone wears a sorority t-shirt so you can easily find your sisters amongst all the students.
Should you decide to get a sorority member a special gift, we have some suggestions here from Desert Cactus Greek, Brit and Bee, Alexandra and Company, Go Greek Chic, Cotton Sisters, Sorority Shop, Signature Tumblers and Gild the Lily, Greek Gear, Greek Creations All that Jas BaubleBar. Even Bed, Bath & Beyond carries Greek merchandise including tumblers, pillows, poufs and more!
Being in a sorority is not just about the social aspect, although that is a big part of joining. Date functions and Semi are like the college version of homecoming. Many of the sororities require their members to participate in philanthropy. Sorority philanthropy should be something members care strongly about when joining. Philanthropy events are some of my most fond memories of being in a sorority.
Every chapter has different types of philanthropy and they oftentimes host events throughout the year to help raise money for the philanthropic cause. I was the Philanthropy Chairman for my sorority and it was truly an amazing experience being able to impact lives in such a positive way. It is also a great way to share with family members the amazing things panhellenic women take part in. Being involved in your philanthropy is also a great way to meet more members of the community.
Sorority members are expected to keep up their grades. Sororities do this to make sure every member always is staying on top of their school work. Most sororities will also help members who are struggling with school. Maintaining a certain GPA is truly in every member's best interest. Sorority sisters can be found holding positions in Homecoming, Student Government, HerCampus, Dance Marathon, and in a variety of other organizations as well. This opens the door for new members to have the opportunity to get involved on campus.
Sororities also have Mother-Daughter and Father-Daughter Weekends which typically rotate every year although any family member is typically still welcome to come. These weekends allow family members to see what you have been talking about day and night. Mom and Dad weekends give families the opportunity to see the sorority house and bond with the other families. If you're reading this because you just want to know everything there is to know about sorority life, find out more information regarding IU's rush process.
Pass on these great tips, tell your friends and like us on Facebook, Instagram, Twitter, and Pinterest. Find out more about how to use HaveUHeard as a great resource. Sign up for other great tips at haveuheard.com.