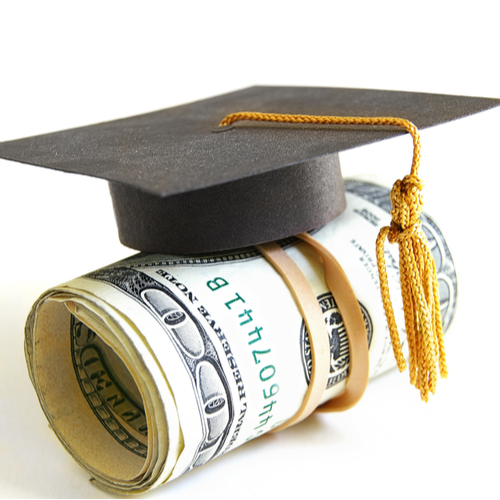 Now you'll need to pay for that college!
Scholarships can help you manage the financial pressures of starting college. Almost as soon as the first acceptance to college came in, so did the idea of actually having to pay for their tuition and room and board. When they were small, it was something I always envisioned we would do and planned accordingly. Regardless of that, additional help is always appreciated and in some cases far more necessary. Although my daughters went to different high schools, they both got support in the scholarship search from their respective high schools early on.
The notion of finding and applying for scholarships can be, and was, a bit daunting for both daughters, but well worth the hard work.  There are so many scholarships available these days; the question remains in finding the right ones that they may qualify for. Some scholarships are quite competitive, some last for four years, and some are downright silly, but pay for something. All make those bills for the next four (or more) years more bearable.
Indiana University offers a variety of scholarship opportunities for incoming students. They will receive consideration for IU Academic Scholarships and for the Selective Scholarship Application just by applying for admission to IU. But your student may also be eligible for IU scholarships awarded by specific departments and programs, course of study, and other personal factors that may apply.
Note: If you are expecting an external scholarship, advise your donor to send the check as soon as possible. Your scholarship will not be reflected on your account until they receive the scholarship check. Your donor may also want to review helpful information on when to submit funds.
I would encourage you to look for scholarship opportunities in unexpected places in your community, like public schools, nonprofit organizations, and area businesses. Have your students check with their high school guidance counselor about available scholarships in your community. Whether you're a first-year student, a student transferring to IU, a nontraditional student, or a current Hoosier, check out these links. As you will see from these recommended resources, there are lists of scholarships available and if you are willing to put in the time, you are more than likely able to get a little or a lot of money for college.
A few more resources you might want to check out include:
Timing is Everything
August 1 – The first day to apply for admission and scholarships.
November 1 – Early Action admission and scholarship deadline.
January 15 – Deadline to submit updated test scores for IU Academic Scholarships.
April 15 – Priority deadline to file your FAFSA. Many scholarships and financial aid options require you to have a FAFSA on file, so we recommend completing yours as soon as possible.
Many Hoosier Clubs and Chapters award annual scholarships to IU students from their local areas or home states. The criteria, number of scholarships offered and amount of each award varies by club and chapter.  If you are an IU student or prospective student interested in finding out if there is a scholarship available in your area.  For example, The Indiana Women in Public Finance Scholarship offers $1000 to female students majoring in finance, public finance, law, or any other closely related field.
Some scholarships require essays and believe it or not, those are the ones most avoided; therefore have the least amount of people applying. Don't steer away from these; seek help with the essay instead. It is also recommended to apply for any scholarships as early as possible and be sure to have your FAFSA form completed beforehand. There are many options for free scholarship search engines as well as campus resources. Be cautious of scams and don't pay for services that say they will find them for you or offer a money-back guarantee and never provide personal information such as bank account numbers, and credit card numbers.
Here Are the Tell-Tale Signs of a Scholarship Scam:
Guarantee of a Scholarship – No company or organization can guarantee the receipt of a scholarship, especially before an application is submitted.
Advanced Fees – There is no reason to pay upfront for a scholarship search since there are a number of free resources online.
Financial Information – Bank account or credit card information is not required by legitimate scholarship grantors.
High-Pressure Sales Tactics – No matter how much the promoter claims you can receive, don't give in to pressure to sign up for any product or service immediately. Ask for written information and then research the company and the product before committing to any contract or payment.
Dodging the Question – If you receive vague or evasive answers to your questions, this is a big red flag. Walk away.
We have found Goingmerry.com as a reliable scholarship resource website. Consider creating a separate email address just to be used for scholarships. Some scholarship websites sell your email information to third party companies. This will allow you to keep your personal email address and your .edu email address private. Finally, we have found some other great scholarship opportunities for students. If your students are lucky enough to land a scholarship (or a few), it is highly recommended that they write a thank you note to the donor.
Pass on these great tips, tell your friends and like us on Facebook, Instagram, Twitter, and Pinterest. Find out more about how to use HaveUHeard as a great resource. Sign up for other great tips at haveuheard.com.