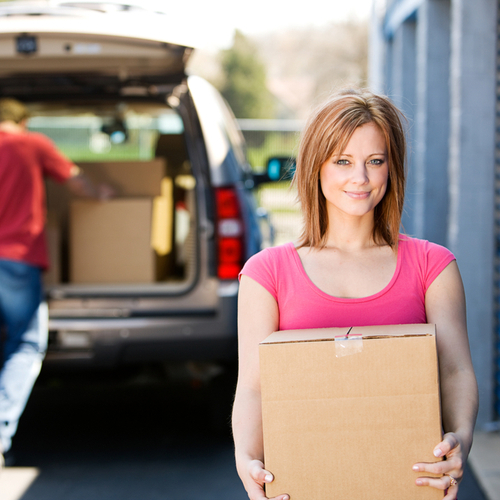 Where Will They Put All Their Stuff?
That time between semesters when they want to bring everything home for a few weeks or summer and you are wondering a) how you will get it all home and b) where you are going to store it all. This was my daughter's freshman year, and we lived out of state. I was preparing to fly to IU, help pack her dorm room then bring piles of things home for the summer because she needed everything. Needless to say, after an email from the university a few days later recommending a moving and storage company in Bloomington called Guys and Dollies, we changed the plans, hired them to pick up her packed items in the dorm room, store them in an air-conditioned space then deliver her items to her fall residence. The plan worked great and she eventually got over leaving her needed items behind. The cost was not nearly as prohibitive as thought.
The next year, I happily learned about storage facilities not far from campus in advance. There are different kinds of storage and one must consider which is best for them. For instance, you can save money by choosing a storage unit a little further from campus that is not air-conditioned (they call air-conditioning climate-controlled because it sounds nicer, but the truth is these units get extremely hot without climate control). I will list some of our favorite options below.
Storage Facts
Storage further from campus and no air conditioning cuts the cost. This means carefully identifying those items that can safely remain in the summer heat unharmed for a few weeks by packing things in secured bags filled with personal items that can withstand the heat, such as shoes, sweaters, and linens, boxed dishes and other kitchen items, and so on. Of course, you then need to factor in transportation to the unit to fill it – something else to consider – and let your student know not to go alone and after dark. (Note: Most storage facility offices close at 5 or 6 pm, but the access to the units remains open. Be sure the facility you choose has working cameras.)
Sharing a storage unit, regardless of whether you choose by way of climate control or vicinity; is also a great idea. It cuts the cost in half and someone else always has the key (yes, keys get lost.) Begin the search and place a reservation for quite a few weeks (a month or two is not unreasonable) before the end of a semester. Then have students slowly weed things out and even pack a box or bag or two. Think of it as a great study break where you get to thoroughly clear your mind of biology, accounting, or literature.
When I moved my daughter in, I carefully flattened the boxes we brought, left packing tape, and giant garbage bags hidden under their beds for future use. My daughter was thrilled when I reminded her as it took the guesswork out of having to replace those items and add that to her packing responsibilities.
The following companies are recommended:
Guys and Dollies  – This company provides packing materials, pickup, storage, and delivery. They will even pack your items if you can not be there.  They are Bloomington-based, recommended by IU, and bonded and insured and all items are stored in climate-controlled, air-conditioned units. You will also be billed for the space you use, which is nice if you have limited items.
Soft Touch Moving – This company is also recommended by IU and provides packing materials, pickup, storage, and delivery. They are Bloomington based, bonded, and insured and all items are stored in climate-controlled, air-conditioned units. Ask about The Dorm in a Box moving special.
Other students may prefer to handle it on their own. Remind them to get their confirmation in writing. We have heard of students believing they have secured a unit well in advance and then showing up on moving day and told the facility has been sold out for months.
Here are some of the storage facilities other parents and students have recommended:
All American Storage Bloomington – North  – This self-storage company offers climate-controlled as well as non-temperature controlled storage.
B-Line Storage – Convenient and secure drive-up storage with 24-hour access is available. Don't forget to check if there are any specials.
Bloomington Affordable Self Storage – This locally owned and operated self-storage company has been operating for over 50 years.
Extra Space Storage – This self-storage company offers both enclosed and climate-controlled storage.
Storage Express – Rental units with contact information available 24 hours a day, seven days a week, with three Bloomington locations.
Some students may have friends with apartments that will allow them to store a few of their items for the interval between semesters. This can be the greatest in regard to the cost factor but remember you are at the mercy of the friend and, if they intend to arrive at school after your student's return date, things can get complicated depending on what they have stored there.
Pass on these great tips, tell your friends and like us on Facebook, Instagram, Twitter, and Pinterest. Find out more about how to use HaveUHeard as a great resource. Sign up for other great tips at haveuheard.com.