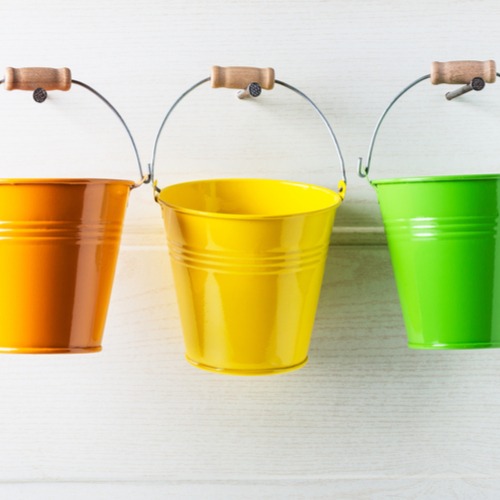 If you have committed to becoming a Knight…fill this bucket.
There are a few things that you might want to check out over your next for years at UCF. Consider them part of your Knighting-ing; sort of like your own personal dubbing. Some are just plain fun and others sort of obvious. Either way, your time at UCF shouldn't just be about studying. There is so much more to UCF and Orlando. Check out our "bucket list."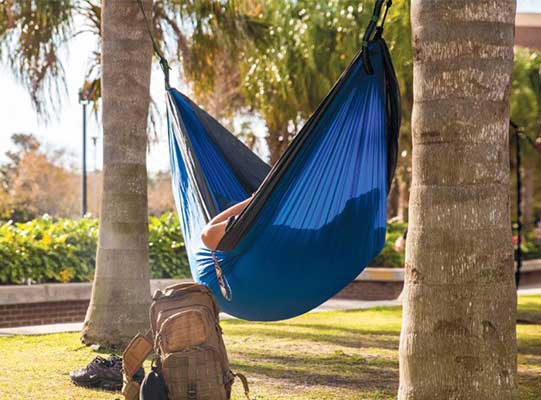 The Reflection Pond – eventually you are going to want to make a splash in the recently renovated pond. Don't wait for Spirit Splash and definitely not as far off as graduation. There will plenty of other things to celebrate along the way, but don't tell them we sent you. Def on the bucket.
Addition Financial Arena – Don't wait for graduation to first go to the arena. There are always things happening there from sporting events to concerts. Check it out.
Lake Claire Recreation Area – This is where you go when you want to relax outdoors. Located at the end of Greek Park Drive, there is something for everyone. Our favorite is the paddleboards. Oh, and rentals are FREE.
Park Avenue in Winter Park – Yes, it's shopping, strolling, and dining experience, but it is also a quaint little town and it isn't far from UCF at all.
Lake Eola – in the heart of downtown Orlando you can go for a walk or run (its .9 miles around) or rent a swan-shaped paddleboat (sounds corny, but maybe just once), feed the live swans and other birds, see a concert, or a play in the Walt Disney Amphitheater, grab a bite to eat, enjoy the fabulous view of Orlando's skyline, go to the Sunday Farmer's market or, our favorite, enjoy Sunday morning yoga from 11-12 for only $5.
Disney Springs – is an outdoor shopping, dining, and entertainment complex at the Walt Disney World Resort in Bay Lake, Florida. It's a little Disney-ish, but you should probably go at least once, for sure a bucket entry.
Disney parks and Universal – This is one of the more obvious. Be sure to use your student ID for a discount when you purchase tickets (for a lot of other local stuff like this too) at the SGA Ticket Center. And if you are really enthusiastic, you may want to get a yearly pass.
Spirit Splash – During Homecoming week this is a must. (See The Reflection Pond above.)
UCF football game/ tailgate – Yes, they can be hot, but the school spirit can't be beat. We recommend far more than once a season.
Take a picture with the O'Leary statue as you enter the Bright House Networks Stadium. It will make for great reminiscing at some point.
Nap in a hammock – You will see hammocks all over campus (my daughters is blue too) and they are truly a great way to chill between classes.
Participate in Knight-Thon – Dance the night away – literally and fund-raise at the same time. More information can be found here.
Visit the arboretum – Yes, there is an arboretum right on campus. You may even want to consider volunteering here. It is just really cool.
Orlando City Soccer game/Magic basketball game – take your pick, but if you're a sports fan, you should probably attend at least one of these.
Rock climbing in the UCF RWC – It is more than a calorie-burning activity.
Attend Pegasus Palooza- It is UCF's welcome week jam-packed with a whole bunch of events open to all students. There is a free concert, comedy knight, movie Knight, and more!
Attend Universal Knights – About 12,000 lucky UCF students will be able to visit Universal Studios' Islands of Adventure for free during Universal Knights which usually happens in April from 4 pm to 1 am. Watch for announcements so you can one of the lucky ones.
Ice skate at Light Up UCF – Yes, you can ice skate in Florida. Check it out the music, ice, and lights at the CFE Arena sometime in the fall.
Have a last night dinner with your roomies.
The last thing you should do before you graduate is to decorate your grad cap, stand on the Pegasus Seal in the Student Union, and take graduation pictures! But make sure you don't step on the Pegasus Seal before you graduate; rumor has it it's bad luck and you won't graduate if you do!
Once you complete all of these, you will officially have been "Knight-ed."
Pass on these great tips, tell your friends and like us on Facebook, Instagram, Twitter, and Pinterest. Find out more about how to use HaveUHeard as a great resource. Sign up for other great tips at haveuheard.com.