HaveUHeard.com includes links to third-party websites and advertisements for third-party products and services. Product and service-specific opinions mentioned within the content of our blogs are entirely the opinions of the HaveUHeard.com team and its staff. It is our hope that you will find value in the products and services these third-party organizations represent, and patronize these businesses. Such advertising and marketing partnerships help make our efforts at HaveUHeard.com possible. Thank you for your support and ongoing interest. For additional information, please read our full HaveUHeard.com Disclosure Statement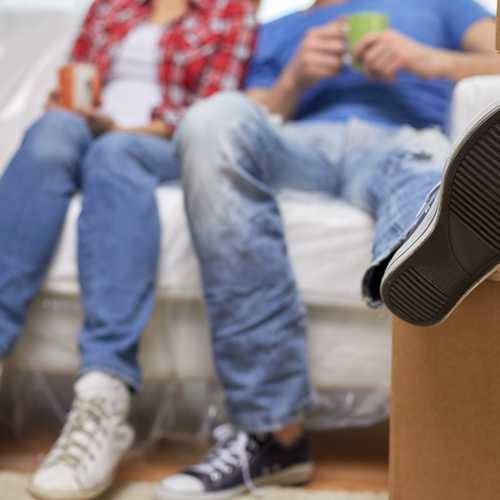 Economical to Extravagant Living
It happens before you know it. They are really living it. Literally. In about October or November of your student's freshman year, they most likely will tell you that they want to move off-campus the next year. And that they will start looking at apartments in October. This is not a joke. I know you have just about adjusted to having them leave and getting them settled in the dorm, but the good ones go fast, so when it is time to sign a lease, they want to know where and with whom they want to live. On average leases are signed as early as February for some places and sold out by the end of March.
There are many apartment complexes that cater to students; some within walking distance of campus. Some even have free shuttles to campus with multiple stops on their properties. Generally, the further from campus they go, the less expensive the rent will be. Figure rents are between $600 and $900 a month for a 12-month lease (but students often sublet for summers if they won't be there). The smaller floor plans (fewer roommates) are more expensive. Usually, rent also includes parking, cable, and the internet. Be sure they are on a bus route if this will be their main mode of transportation.
Beyond the price shocker, I was also surprised when I saw pictures and the layout of the apartment. I was being silly apparently, having lived in an off-campus house with four other girls and sharing one bathroom and thinking we had it pretty nice; I assumed there would be two students in each room. Boy, was I wrong! Not only do they each get their own locking room and bathroom, but the leases are divided that way. There is a lease per occupant, not per apartment. And yes, you will most likely have to co-sign via email/fax/scan.  Some of the other amenities I definitely never saw when I went to college that is offered at some of the more popular properties include fitness centers, computer labs, multiple pools, game rooms, movie theaters, and basketball courts. College living has definitely changed from my perspective. Take 100 pictures, then take 20 more time-stamped. You could be charged for damages to the apartment. If you have not documented everything, prepare for those charges.
Some students may choose to live in Greek housing.  This was a great alternative and far less expensive than an apartment, however; it is important to note that living in Greek housing with your fraternity or sorority means that most rooms come shared. Some fraternities have single bedrooms, but only (some of) fraternities that off-campus have this option.
Bringing a Pet? Furniture?
If your student is planning on having a pet, they should check the rules on that too. Some complexes have separate leases for pets. Yes, my son and his roommates adopted a puppy this year; that, for the record, as cute as she is, is going home with one of the other boys after graduation.  And then there is the furniture issue….many places come furnished, which is my personal recommendation as it saves a lot of time and energy trying to buy or rent, then move it in and later move it out. If not, seniors often sell off their furniture upon graduation. The problem is storing it all summer until the lease begins which is usually mid-August. This storage thing may also come into play if they should decide to change apartments the next year as this can lead to a gap in the leases. Finding a storage unit for the short term is difficult, not impossible, but if you can avoid it, that is best. (See our Moving Out blog and Storage blog for tips and storage facilities) Remind your student to inspect everything upon moving in and take pictures of any damage so they are not fined for it later.
This is the Grown-Up World
Find out about renter's insurance. Your homeowner's insurance policy may not cover them while they are living off-campus (many will cover if they are living in an on-campus residence at no extra cost).  Check the terms of your home insurance policy. Most of the large insurance companies offer separate renters policies at a reasonable rate. You may also want to look at two of the more reputable college student insurance companies recommended by UCF, rentersinsurance.net, and ucf.uloop.com/renters-insurance. Finally, be sure to find out if utilities are included in the rent. Many complexes actually do cover utilities, but some have started putting a cap on electricity (it is rather generous too) before the students will have to pay the overages. Otherwise one of the roommates will have to put the utilities in their name and collect money for the bill monthly.
Check to see if a parking spot is included in the rent. Some apartment complexes make you pay extra for a parking decal. There are a few websites to get ideas and reviews of the various options.  You may want to read our blog on student's favorite apartment rentals. Some places will help your students find roommates if need be. Some are student affiliated. UCF offers help too as they are affiliated with a number of apartment complexes.
Another option is sorority or fraternity living if your son/daughter becomes a member of one. I am a big proponent of sorority house living as it is drastically can be more affordable, comes with a house mother, meal plan (sometimes), doesn't allow boys in their rooms (old-fashioned, I know) and comes with a bunch of sisters there at all times. Fraternity houses, well let's just say I can't get the image of Animal House out of my mind. Sometimes, for either, if your student holds a board position, living in the house may be a requirement. Rent in a fraternity or sorority house is between $1500 and $3300, depending on the organization, a semester.
Pass on these great tips, tell your friends and like us on Facebook, Instagram, Twitter, and Pinterest. Find out more about how to use HaveUHeard as a great resource. Sign up for other great tips at haveuheard.com.