HaveUHeard.com includes links to third-party websites and advertisements for third-party products and services. Product and service-specific opinions mentioned within the content of our blogs are entirely the opinions of the HaveUHeard.com team and its staff. It is our hope that you will find value in the products and services these third-party organizations represent, and patronize these businesses. Such advertising and marketing partnerships help make our efforts at HaveUHeard.com possible. Thank you for your support and ongoing interest. For additional information, please read our full HaveUHeard.com Disclosure Statement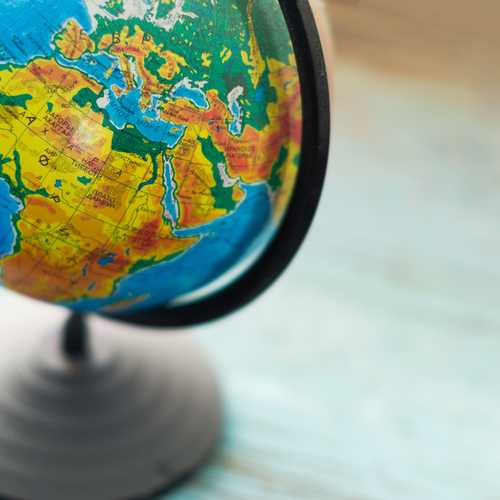 The World is your Classroom so Study Abroad!
The world is your classroom. I am a big believer in this adage. Apparently many students agree as Study Abroad programs have become increasingly popular. When researching this topic I was amused to read not only a plethora of information about the various things to look for in a program but also some amusing blogs written by students about how to convince one's parents to allow them to study abroad. Well, this parent is sold.
My oldest daughter studied in London for a summer and it was fantastic. She loved everything about it (except for the mouse that set up camp in her flat, but we have decided that was all part of the learning experience is that she never before had to deal with such a circumstance) and we took advantage of the situation and went to visit and used one of her long weekends to vacation in Paris together.
UCF makes it pretty easy to find just the right program for your students. By inputting some of the following criteria, city, country, region and/or term, an index of possible programs will come up. Your student should also decide on what sort of things they are looking for in a program.  I recommend making a list; but then again, my kids will tell you; I make lists for just about everything.
Language immersion?
Exploring the world; gaining a new perspective?
Internships?
Volunteering?
Teaching opportunities?
Budget?
Country or city of interest?
Coursework needed/accepted? (Remember to stay on the path towards graduation.)
How long to be away? (Some students would never consider doing a semester abroad during football season, so spring or summer sessions are better options.)
As they begin to look at the various programs offered; they will notice that some include internships.
Partnered Programs are approved by UCF, but administered by schools or organizations outside of UCF. (Students can go through another university's program as a transient student, go through a private company offering study abroad programs or directly apply to and register with an institution abroad, but check beforehand to be sure the credits will transfer.)
Internship programs provide jobs at companies or organizations closely matched to a student's major, career interests. Usually, students will receive credit for these internships.
Exchange programs allow juniors and seniors (only) to study abroad at another university while maintaining official registration at UCF.  Often classes are in the official language of the country of choice (which include: Australia, Austria, Brazil, France, Germany, Hong Kong, Ireland, Japan, Mexico, Netherlands, Spain, Sweden, and UK.)
Students need to apply to whichever program they are considering. This may require an interview, as well as an evaluation of their application and academic standing (which must be a 2.0 at a minimum, depending on the program).  Upon approval, they will then have to get the credits approved and arrange for financing.
Bright Futures
Financing can get complicated based on Florida Prepaid, Bright Futures, and any other scholarships one might have, but it is possible to apply some of these monies toward studying abroad. There are many scholarships available for studying abroad too. I am sorry to say that some require the dreaded FAFSA form first, but you should be an old pro at that by the time your student begins to consider an international program. Have your student make an appointment with Student Financial Assistance and they can walk them through the process.
In addition, while considering financing it is important to take note of things like housing, airfare, and tuition, but don't forget other things, like food (some meals may be provided, but others may require students preparing their own or eating out) and excursions.
When your student is serious about finding the right program the Study Abroad office holds "Basic" meetings to answer all their questions usually on the 2nd Tuesday of each month. There are so many different programs lasting from one week to two full semesters. UCF Abroad will let your student know if he/she will need a Visa, but if the program is under three months it is generally not necessary.
In addition, while considering financing it is important to take note of things like housing, airfare, and tuition, but don't forget other things, like food (some meals may be provided, but others may require students preparing their own or eating out) and additional travel. The internet keeps track of all of your searches so you may want to open an incognito window so you can avoid increasing prices (the travel site is then unaware that you already searched for a low price on their website). The best time to book an international flight is typically 2-4 months before your travel date. Another tip is to check one-way tickets each way as sometimes you may actually get a better fare than the roundtrip price.
Students who would like to apply to study abroad through the FIE foundation can apply for a scholarship which is now due September 15 for the Spring semester and Winter quarter.
Just thought this one was so unique and new that it is worth a mention: Dr. George Musambira and Dr. Ann Miller will be teaching a UCF study abroad course in intercultural communication (COM 4934C – Topics in Intercultural Communication) in Uganda during the Summer A 2020 session. If you are interested, please e-mail Dr. Musambira at george.musambira@ucf.edu or Dr. Miller at ann.miller@ucf.edu as soon as possible for further guidance since the application deadline is February 15th.
Although studying abroad in Greece for the Summer A term sounds pretty amazing too!
For housing, while UCF does offer housing through its international program, other options include Airbnb's and hostels. If someone wants to immerse themselves even more so in the local culture, consider staying with a host family.
For ease of packing, my daughter used packing cubes which were great for organizing her clothes. We went with the ultralight packing cubes from eBags.
Make certain their passport (and yours) are current. They cannot travel internationally if a passport will expire within 3 months. UCF students may renew their passports at The Spot, a designated Passport Acceptance Facility by the U.S. Department of State. In the event that you need to expedite a passport or visa renewal, try Fastport Passport. They are registered with the U.S. Department of State.
You may want to consider having your student get Global Entry which runs approximately $100 for five years but makes getting through security so much easier. Or, have them download the Mobile Passport app which is free and helps to speed you through U.S. Customs (officially authorized by U.S. Customs and Border Protection). They will still need their passport but it saves them time.
Consider purchasing an unlocked phone that works on international networks. By purchasing in advance, your student can add their contacts and download their apps ahead of time.
And maybe think about purchasing student travel insurance for emergencies, which we pray they don't need. HaveUHeard recommends Allianz Travel Insurance.
Will they be traveling around and staying at hotels, which my daughter and her friends did on occasion, HaveUHeard that students can find access to special rates through StudentUniverse.  Click here for more information. Or, they can consider staying at a hostel. Hostels are not all so shabby anymore. Check out HostelWorld to see how nice (and inexpensive) some of them are.
Finally, when prepping and packing be sure to find out if they will need an adapter and/or converter. There can be varying prong set-ups from one country to the next and if they intend to travel (which they will) they should be prepared. Encourage them to keep a journal as well. It will be priceless in years to come. If they need to take any medications with them, be sure they travel with a prescription for documentation as some medications are illegal in other countries.
Looking for a list of items students heading abroad need or want?
To learn more about the various programs UCF offers students should attend a Study Abroad 101 session.
Students love to travel to different destinations while abroad. GetYourGuide gives them guides to unique and unmissable things to do in their destination.
Pass on these great tips, tell your friends and like us on Facebook, Instagram, Twitter, and Pinterest. Find out more about how to use HaveUHeard as a great resource. Sign up for other great tips at haveuheard.com.