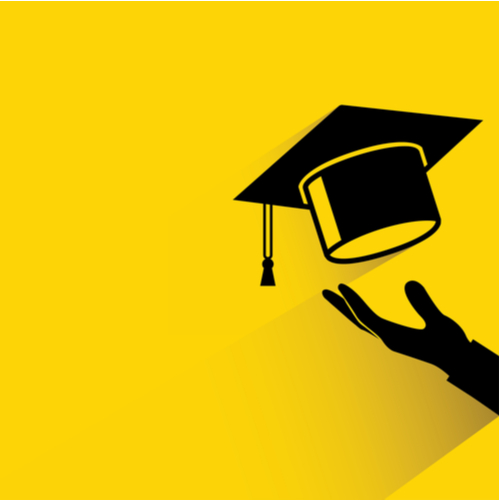 Alumni Networking, Perks, and More…
Before you know it, you are walking across the stage at graduation, and with that last step, you are officially a Knight alumnus. The question is, what does it mean to be an alumnus? Certainly, you will wear your Knight pride for years to come, but there is more. Right from the start, you will find that Knights want to help each other. Encourage your students to join the Alumni Association for a variety of reasons, but first to network with other alumni when looking for jobs. HaveUHeard that all UCF alumni have free access for up to three months after graduation to the many services offered by UCF Career Services and Experiential Learning? Should your students move to another city, they may find alumni activities there as well. It is also a great way to meet people and find a realtor or a roommate. Check social media for group pages. There are quite a few including the UCF Marching Knights on Facebook.
After graduation, should your student visit or live in Orlando, they will find that the Alumni Association often have events for their graduates. Their alumni tailgates are rather popular, but by being a member of the Alumni Association, they just need to bring a driver's license or valid ID and an alumni keycard for expedited entry. On-campus the UCF Fairwinds Alumni Center hosts many of these sorts of events.
Knights take great pride in their football team even after graduation. When they are no longer able to tailgate on campus, they can check out the Watch Parties in cities all over the country – another great way to meet people when they are new to a town. The Association has many chapters and clubs; another excellent avenue to stay connected with alumni wherever you are. Clubs vary based on special interests, the different colleges within UCF (i.e.: Engineering & Computer Science or the Burnett Honors College), or differing locations throughout the country (although there is also a chapter in Saudi Arabia).
Some alumni may want to become a mentor to current UCF students or volunteer by bringing their ideas and talents to help others. More information on volunteering and mentorship programs. UCF Alumni Engagement and Annual Giving provide alumni access and discounts to UCF Continuing Education programs and exam preparation courses. Along the same lines, students still at UCF may want to check out some of the many scholarships the alumni support.
UCF Alumni and UCF Career Services also want to help you find your dream job, whether you're a new grad or a seasoned professional looking for something new. Check out MyPlan.
Students can even celebrate their lifelong connection to their alma mater by purchasing an engraved brick to be placed on the Knights Terrace, adjacent to Memory Mall. The first thing your graduate will probably want to do is order a UCF Alumni license plate frame for their car. My son preferred cufflinks to wear when he started his new job.
Being an alumnus provides benefits in many ways. There are too many to list and I would imagine, many alumni don't take full advantage of these discounts simply because they aren't aware. Credit cards, insurance (Geico offers special rates to UCF alumnus), and one of my favorites, car rentals and CheapAirportParking comes with discounts for Knights. There are discounts at optical stores, on various computers, and SGA tickets to many venues and events, as well as discounts on things like flowers or storage units. Some discounts require a code.
Leave your mark…by purchasing a brick. Each brick is laid into the beautiful Knights Terrace, located behind the UCF FAIRWINDS Alumni Center. No matter what memory you choose to pay tribute to, your brick is the perfect way to display your UCF pride and forever leave your mark at your alma mater.
Once a Knight, always a Knight.
Pass on these great tips, tell your friends and like us on Facebook, Instagram, Twitter, and Pinterest. Find out more about how to use HaveUHeard as a great resource. Sign up for other great tips at haveuheard.com.