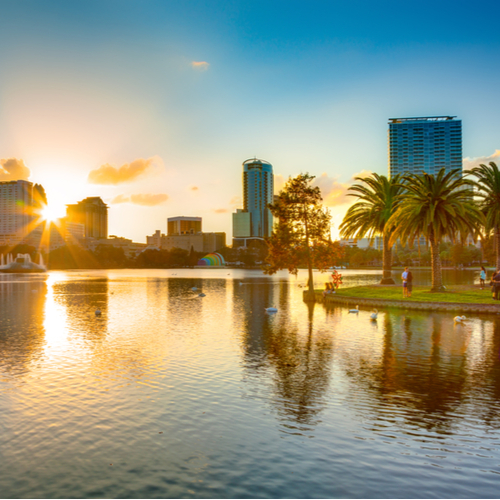 What You Need to Know About Downtown
My major is actually one of the main majors that are moving downtown. I believe I will be taking my last Human Communications course at the main campus. I had the opportunity to tour it this past semester and while it is not 100% completed; it is beautiful. There are three main industries moving downtown as of Fall 2019. They are all in digital entertainment and communication, public service, health-care technology, and administration. Here is a full list of all of the undergraduate and graduate programs moving downtown.
There are a few construction projects taking place:
Dr. Phillips Academic Commons: classrooms, library, tutor spaces, moot court, and academic offices.
UCF Center for Emerging Media: has academic programs like Florida Interactive Entertainment Academy, The Center for Research and Education in Arts, Technology, and Entertainment (CREATE), and flying horse editions.
Parking Garage: Four stories with license plate recognition and security cameras. The ground floor will have a Barnes & Noble
Student housing: UnionWest at Creative Village which will have more than 600 beds. The lower level will have the culinary arts program. At last look, spaces were still available.
Getting Around
There will be three main parking garages, for now, with 1,800 parking spaces for faculty, students, and other guests on campus. UCF sells parking decals online through the UCF Parking and Transportation services which can also be used for the UCF downtown campus. That way you only need to buy one permit. Here is where you can purchase a permit.  Students who live at UCF's downtown UnionWest community must lease a space from the UnionWest garage since it is the only overnight-parking option on campus. This parking lease must be paid on a monthly basis and will provide students with a UnionWest permit. This permit will also be valid in all green D parking lots and garages at the main campus. Students who lease a parking space in UnionWest do not need to purchase a UCF parking permit.
There will also be a UCF shuttle or the LYNX bus if students have no car. If students choose not to take the free UCF shuttles, then they must buy a parking permit to park in the UCF lots and garages. The Amelia I Parking Garage (PG3) is the primary parking garage for students with "D"(green) and "R"(orange) decals. The UCF parking permit is valid at the downtown campus as well. You may want to take a look at our parking blog to get the full story.
Students have the ability to drive, bike, or use the downtown shuttle options provided. There will be a shuttle service going directly to the campus from the main campus. They also have a service called LYMMO that is like a bus system. Students are able to be dropped off anywhere downtown, they just have to drive and park downtown and then LYMMO can drive them anywhere. Here is more information on the LYMMO service. Students are also able to sign up for the Downtown Campus Pass to ride SunRail for free up until September 30th, 2019.  Sign up here.
Be safe…..Lymmo buses are constantly moving in and out of the transit center inside the Amelia I and II Parking Garages. Please use caution when entering or exiting the garages, always use crosswalks and wait for signals when crossing near buses. While driving on the surrounding streets, keep in mind that Lymmo buses have their own bus lanes and their own signaling system – pay close attention to not only the color of the stoplight but whether the stoplight indicator is for vehicular traffic or bus. Remember, never walk, bike or drive in bus lanes. Alexander Place, which runs parallel to the Amelia I and II parking garages, is a one-way street. To avoid illegally driving in a bus-only lane or down the street the wrong way, you must use Ronald Blocker Avenue to enter and exit the Amelia I garage.
UCF Student Government has partnered with Lyft to provide you with reliable and free* transportation around downtown Orlando. This code will take you around downtown Orlando in December 2019, valid on Friday and Saturday nights from 8 p.m. to 3 a.m. Code: DTCDEC19
Students must have a knights.ucf.edu email address associated with the Lyft account for the code to be activated. If you have any questions about using codes, please email sgatransportation@ucf.edu.
Living Downtown?
Student housing is available for UCF and Valencia College at Union West at Creative Village. Apartments open in August of 2019 (Want to follow the countdown?). This housing is a 15-story building with restaurants, classrooms, and other amenities on the bottom floor. If you are a Valencia or UCF student moving downtown due to your program study, then it is recommended to live here. If students are deep in their area of study and know for a fact that they will not be taking any more main campus classes, then moving downtown would be a good option, however, it is important to remember that most of UCF's students still live near the main campus. If you would like to meet with friends or go out around campus then it may not be the best option.
Some students are worried that moving downtown is unsafe, but UCF assures its downtown students that it is very safe. It has its own police force available 24/7 to its students. There are patrols, surveillance, phones, and emergency alert systems. There are many restaurants available on and off-campus, however, there are also dining options available. Valencia College's Walt Disney World School of Hospitality and Culinary Arts will be at the downtown campus. This will provide students with a restaurant lab inside their housing tower.
UCF Downtown confirmed that they are on track to open the new campus in time in August. This is such an exciting time for both students and parents! There are many opportunities Knights. They will have many of the resources students at the main campus have including health services, student success services, counseling services, career services, and academic advising. Students can move into the housing tower Aug. 21, and classes begin Aug. 26.
As we are very close to the opening of the downtown campus, new information has been popping up. For instance, the campus will have its own Learning Support Center that will have things available for students to check out. There are materials like laptops, TI84, and TI89 graphing calculators, textbooks, expo markers, headphones and more! It will also include tutoring services. The campus will have its very own writing center, much like that on the main campus.
When students add classes to their shopping cart and would like to have classes downtown, they should follow these steps:
Log into MyUCF
Select "Fall 2019" as the semester and "UCF downtown" as the location
Here are the abbreviations of the buildings:
Center for Emerging Media: CEM
Dr. Phillips Academic Commons: DPAC
UnionWest at Creative Village: UWCV
Students must get the updated UCF ID card to access downtown buildings. Students can turn in their old ID to receive a free new one.
And the downtown library is now open! Located in suite 265 in Dr. Phillips Academic Commons, the library offers services like:
Check out of books, DVDs, and course reserves
Access to electronic databases, books, and journals
Copying, printing, and scanning
Research assistance and more
Also open are Testing and Accessibility Services which provides disability access, accommodations, and testing services to students on the downtown campus. The office is located on the 2nd floor of UnionWest at Creative Village, Suite 210. The SAS accommodation process is mostly the same as on the main campus with some changes to the Testing Center Rules. This Testing Center also facilitates the following standardized tests:
UCF Math Placement Test
Accuplacer"
To learn more about Student Accessibility Services go here.
Lastly…not that we recommend choosing a major based on where the majority of one's classes maybe, but you may want to be aware. We have recently found that many freshmen were surprised to find that many of their classes were downtown, rather than on the main campus.
Note: UCF Downtown students who are returning to campus this fall 2020 can register to ride SunRail for FREE from Aug. 17 – Sept. 30, 2020 and receive a reloadable SunCard. This is a limited-time promotion. SunRail's LYNX Central Station is walking, bikeshare, and scooter share distance from the downtown campus. For more information and to register, visit the SunRail website.
Pass on these great tips, tell your friends and like us on Facebook, Instagram, Twitter, and Pinterest. Find out more about how to use HaveUHeard as a great resource. Sign up for other great tips at haveuheard.com.