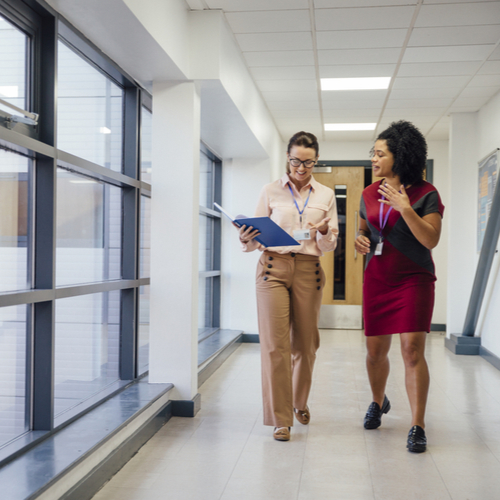 A Tour Can Help You Make Your College Decision
'Tis the season for campus tours.
Yes, we know. Many of you have already visited a LOT of schools. But now that the verdicts are in, decisions have to be made. That alone makes this tour different as you scout for and specifically identify the things that will help your students make their final decision about which school they want to attend. Both of my daughters love(d) being a Gator, but neither of them started with UF as their first choice. Like mine did, your student will have specific things that will help them not only define their pros and cons for each college, but will allow them to see themselves there, on the UF campus, living the Gator life.
Go with a list of questions! I don't mean the kind of questions that you can just google up an answer. Make them personal and pertinent, and don't be shy about asking them of your tour guide, a financial advisor, the representative from a specific department, or even students hanging out at the Reitz or on the Plaza. Other students can be your best — and sometimes most relatable — resource.
Common — and Uncommon — Questions
Some of the more common questions our interns found important to prospective students are:
What is the size of the overall campus?
What is the size of the dorm rooms and how many people live in each room?
What food options are available to a freshman? What does the meal plan cover and will it fit your diet?
Where are the locations of your "majors" classes?
What type of technology is used or available in the classrooms/libraries?
How many printing locations are available? Is it free to print or does it cost money?
How clean is everything: the campus, the different buildings, even the restrooms?
How many gyms are on campus and where are they located?
How safe is the campus? What about the surrounding neighborhoods?
What is the transportation system like? Are there frequent bus stops? Available parking spaces?
What safety precautions are on campus?
Perhaps Greek life is important to your student. I always recommend that students try to tour a sorority or fraternity house if they envision themselves rushing when they get to college. In order to do so, they will have to find someone-who-knows-someone that can get you in. Perhaps you have a friend whose daughter or son is a member of a sorority or fraternity. We happened to have a sideways connection to a Sorority House Mother. But be sure to reach out to them before going. This is the kind of visit that needs to be prearranged. And there are not "Greek Life Tours," but you can certainly take a quick drive down Sorority or Fraternity Row.
As a side note, do not let the condition of some of the frat houses scare you. The guys tend to be much happier than their living conditions may reflect…or more comfortable because of them! (A mother is allowed a quiet sigh, once removed from the premises.)
Call Ahead, Plan Ahead, Look Ahead
If your student has a health condition that makes it important to have specific health center facilities nearby, by all means check it out! Please do call in advance to arrange a tour of the facility. (PS. There is a pharmacy there as well.) Additionally, UF has a designated dorm to accommodate students with special needs. Click here to learn more about that dorm. Learn more about their Student Accessibility Services here.
UF does not give dorm tours unless you visit during Florida Days, when you will tour designated dorms. If you are not able to visit during Florida Days, perhaps (again, use your connections!) you know a freshman who lives in a dorm and can show you around their building. Make sure you check out our Insider's Guide to Dorm Living to give you a head start on the inside skinny.
UF's official campus tours are offered Monday through Friday (two per day). They start with a 30-minute info session and then proceed to a 90-minute walking tour led by a current student. To take this campus tour led by a UF ambassador, you can sign up here.
If your student has an interest in a specific field (or fields) of study, we definitely recommend taking a tour of that college or program. Tours are led by current student ambassadors that are in that specific program. (My daughter is an ambassador for the College of Journalism and Communications and conducts some of their tours). Learn more here. You can also take a Virtual Tour of many experiences that UF offers.
If the practice of their faith is important to your student, this is the time to check out the related student organizations around campus. HaveUHeard offers information about the on and off-campus religious organizations here.
You may want to visit the Registrar's Office to be sure that your student's credits can transfer from any AP, IB, AICE, or dual enrollment classes, as well as understand how best to handle FERPA. Or perhaps the Honors Program appeals to your student. UF's program ranks among the national leaders in Honors and you will surely want to include an exploration of their program when visiting. They offer a unique challenge to scholars both accomplished and curious, so an information session and tour will help your student assess whether it could be a good fit for them. UF students already in this program participate in sessions to share their experiences and answer questions.
UF Athletics is a big part of campus life. From football to basketball, soccer to softball, gymnastics to golf, from tennis to track, lacrosse to baseball, and across volleyball nets and beyond, UF has it all.  If your student is interested in competing at the club level, there are over 50 sport clubs looking to recruit your athlete for some competitive fun. Click here to learn more.
There really is no better way to get a sense of how you connect with a college than walking, breathing, and feeling the campus. And, while I loved UF as much as my two daughters ultimately did, it is important that YOUR student loves UF enough to make it THEIR college choice. For even more student insight and perspective, there is a website called Campus Reel that addresses topics from a student perspective. See videos about specific topics such as dorms, food, class size, dorms and more here.
Pass on these great tips, tell your friends and like us on Facebook, Instagram, Twitter, and Pinterest. Find out more about how to use HaveUHeard as a great resource. Sign up for other great tips at haveuheard.com.