HaveUHeard.com includes links to third-party websites and advertisements for third-party products and services. Product and service-specific opinions mentioned within the content of our blogs are entirely the opinions of the HaveUHeard.com team and its staff. It is our hope that you will find value in the products and services these third-party organizations represent, and patronize these businesses. Such advertising and marketing partnerships help make our efforts at HaveUHeard.com possible. Thank you for your support and ongoing interest. For additional information, please read our full HaveUHeard.com Disclosure Statement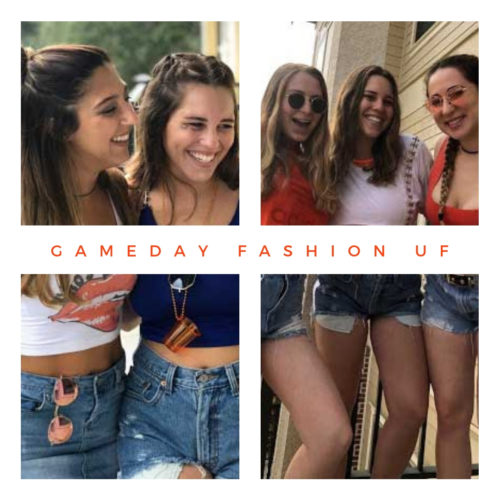 Get ready for the big game with these attire tips!
The best feeling for any college student, especially if you're a Gator, is waking up knowing it's game day! There is so much preparation that goes into game days: where to tailgate, who to squad up with, and what to wear. Showing up to tailgates and games is more than just rocking your school colors. It's showing your spirit and how much you love your school. It almost feels like a school-wide competition – who can get the most spirited? With this list, you'll be sure to come in first!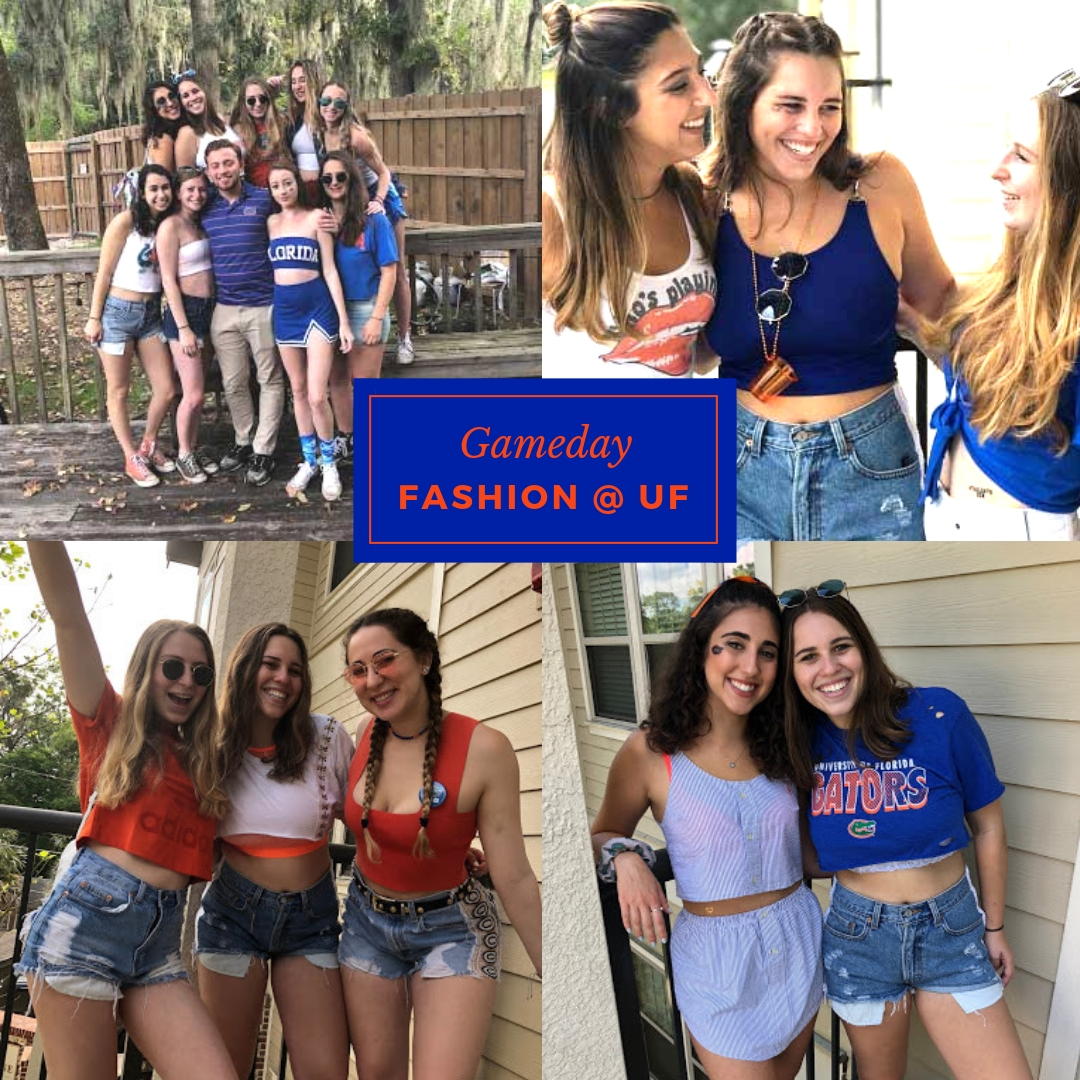 It is important that whenever you are shopping for game day attire, you look specifically for your school colors. You don't want to stick out like a sore thumb, wearing the one color that doesn't match everyone else's gear. As Game Day gets closer, UF will announce what colors students are expected to wear. For example, they may announce that a game will have a "blue-out" or a "white-out." This means students should wear a gator blue (royal blue) or white outfit! If you are on a budget, then definitely stick with the basics: plain colored tank tops and t-shirts that match your school colors. Denim is always a good mood for game days, especially ripped shorts or overalls from American Eagle. Whether you choose denim or black and white, pair it with any blue, white, or orange top.
DIY your Game Day…
Equally as popular is a white jean skirt with a tight tank. If you want to get a little more decked out in spirited gear, then you can choose from face stickers, headbands, and fun socks to layer on the fun. Wearing colorful, tinted sunglasses has been really popular, so pick up a pair that sports your school colors! Your t-shirt is one of the things people notice the most, so use that to make your statement. Many girls like to show off DIY, cut-up t-shirts. You can turn t-shirts into crop tops, tank tops, halters, and more! The options are endless and always make a fun outfit. Hit up the YouTube tutorials for all the ways to DIY a cut-up t-shirt.
If you decide to test out your DIY skills, you can get awesome shirts from places like Target or Walmart at a great price. If you are confident in your DIY skills, you can take the next step and try acid-washing your shirts! You can also totally just leave it to the professionals and order your custom cut or dyed shirts.
Get your CHEER on!
Of course, the best way to cheer on your team is to be the cheerleader! Not literally, but looking like one grabs the vibe for sure. Cheerleading skirts have been super popular lately. Match the skirt with a cute crop top and you have yourself the perfect game day outfit. If you're feeling more like a team player than a cheerleader, then we have something for you, too! Wearing your team's jersey is one of the best ways to show off your love for the team. Girls are often seen wearing an oversized jersey so it looks like a dress! You can get a jersey with your favorite number or even get a personalized jersey with any name and number you like.
Some other favorites for tailgate outfits include Tailgate Tailor, By Gabby, Custom University and Gameday Couture Social House.
For more repping of the school's colors, we love Show Me Your Mumu's line of cute and trendy gameday outfits. Or wear your fandom proudly with a customizable Game Day Bracelet! Opt for your team's colors and each bracelet comes with 8 chic gold letters for mixing and matching to create your favorite slogans and phrases that make it clear who you're rooting for. (Please note, this bracelet will arrive unassembled.)
Or check out Hype & Vice for some game day tops, cheerleading skirts, and accessories all in the colors you need to show your Gator spirit.
Top off your look.
Accessorize with a clear bag from Score Gameday bags. Use the code HUH15 for a 15% discount. Most stadiums mandate a clear bag policy, so why not have a clear bag that still has style? Students also love to wear fanny packs from your basic clear one to gator-colored ones. Or try a clear Gator Women's Clear Envelope Purse.
Guys have it a little easier and stick to a more simplified look. Dry-fit and polo tops are the go-to for most – as long as it has the school logo. You can check out a bunch of options on Fanatics. To protect from the hot sun, guys also love to sport a school baseball cap. Regardless of your style, don't forget sunscreen and lots of water. Game days are long and often hot so be sure to stay safe and hydrated.
For us girls, the Florida sun can be brutal. Along with lots of sunscreen (including in your makeup), our interns recommend wearing this bucket hat or a pontoon hat.
Locally, you will find plenty of places that sell all things Gator, including the recently re-opened Copper Closet at Oaks Mall.
When it starts to get a bit cooler in the season, a lot of fans wear school-spirited sweatshirts. And tailgate leggings in team colors are absolutely the deal when there's finally a chill in the air – the crazier the pattern, the better! Or try an orange and blue striped jumpsuit. Football season brings so much anticipation and excitement, you need to enjoy it while it lasts!
Deck yourself out in all the things that represent you and your university. Show off your colors all day, every day! Your team will thank you!
Go Gators!
Rebecca Strauss & Stella J Fedele, UF Interns
Pass on these great tips, tell your friends and like us on Facebook, Instagram, Twitter, and Pinterest. Find out more about how to use HaveUHeard as a great resource. Sign up for other great tips at haveuheard.com.