HaveUHeard.com includes links to third-party websites and advertisements for third-party products and services. Product and service-specific opinions mentioned within the content of our blogs are entirely the opinions of the HaveUHeard.com team and its staff. It is our hope that you will find value in the products and services these third-party organizations represent, and patronize these businesses. Such advertising and marketing partnerships help make our efforts at HaveUHeard.com possible. Thank you for your support and ongoing interest. For additional information, please read our full HaveUHeard.com Disclosure Statement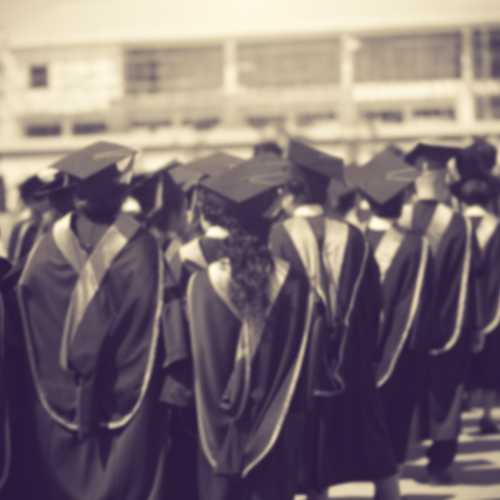 Remember When…
Remember when our kids were little and we couldn't imagine them ever leaving us and going off to college? Now, if you're anything like me, you can't believe how quickly the time has passed. As time continues to rush by (because it doesn't even wait for a mother's heart to catch up), college graduation will be here before you know it.
I'm really not trying to shock you. But I do want to give you a head start, at least on making those hotel reservations. (I'm not sure we can help you with the guard-your-heart prep.) If you've been to The Swamp for a football weekend, you know just how difficult and pricey it is to nab yourself a hotel room for the weekend. Graduation weekend may even take that up a notch. People book them a year out. No joke. I literally booked my rooms a solid year before my first daughter graduated. (If you don't know where to stay, check out our blog on Hotels.)
Expect the Unexpected
Most of the helpful information you'll read below comes from years of experiencing both the ongoing traditions and evolving modifications of graduation at UF. But 2020 has inserted a very large "Just a Minute" wedge into all of our well-laid plans. So, as noted by UF in their official statement, more commencement details will be available as each semester progresses towards its culmination. It's a great idea to check the UF Commencement page regularly. That way, you can keep yourself up-to-date on graduation announcements because, like life, 2020-21 continues to be full of changes. All this just goes to reinforce how important it is to stay both on your toes and well-informed so you can plan for your student's graduation experience, no matter the plot twists. And that's why we're here…so glad you are, too!
Now, on to…
Reservations and More Reservations!
Be sure to check the policy of whichever hotel you choose when selecting a place to stay. If possible, book more rooms upfront and cancel any you don't end up needing later (when Granddad decides he isn't up to the four-plus hour drive). It is far easier to cancel an extra room reservation than to try to find a room in February for May graduation. Here's a helpful tip for booking those multiple rooms: put each room in a different family member's name. If you have them all in your name and you need to cancel a room, the hotel may — per policy or accidentally — cancel the entire reservation. (This actually happened to a friend of mine.) And Airbnb can be a great extended weekend and family option, too, offering you confirmed space with flexibility.
Reservations for August and December graduations may be a tad easier, but there will more students attending graduation then than you may expect. AGAIN, don't hesitate to book early. UF lists the diploma dates, which also marks the weekend of graduation. As of today, the next graduation date is the weekend of December 18-19, 2020. Check the website for the specific day and time of your student's commencement, as it goes by degree level and their specific college. Also, look for the list of the dates and times for each specific college. This is especially helpful for parents who have other graduations or just need to make hotel and restaurant reservations.
Remember to make restaurant reservations as well. Generally, restaurant reservations cannot be made as far in advance as hotels but, due to the crowds, you'll definitely want to make them as soon as you can. Check out our blog for Graduation Restaurant Reservations.  Some of the restaurants allow reservations on Open Table (although not for large parties), but some also require a non-refundable deposit that will be then applied towards your bill.
Ahhh…the pomp of it all!
Graduation weekends usually begin on Fridays. In the past few years, after trying different formats, UF held University-wide commencement at Ben Hill Griffin Stadium on Friday evenings with individual ceremonies held indoors at other times during the weekend.
Ask your student to make sure that they have met all of the requirements. There would be nothing worse than heading up to UF for graduation only to find out that your student has not fulfilled ALL requirements. See the checklist here. Honestly, it couldn't hurt to encourage them to go over the checklist now if they are anticipating a graduation date any time in 2020-2021. A little extra time to find and resolve issues could buy a lot of peace of mind.
Speaking of peace of mind, what if you have two family members (siblings, cousins, married couple) graduating at the same time? Happily, UF does allow you to fill out a waiver so that one of the students can request to walk in the other's ceremony. That way, both family members can see each other walk across the stage, and the visiting entourage doesn't have to choose which ceremony to attend. You may request that waiver by emailing uf-commencement@ad.ufl.edu.
Handicapped/Special Needs Graduation Info
For handicapped guests and those with limited mobility, we recommend you arrive early and enter through Gate 1 at the stadium. Guests should seek the attention of an usher, wearing a yellow tee-shirt, for additional assistance and directions upon arrival. There are approximately 90 wheelchair spaces, in the south end zone, which are available on a first-come, first-served basis. Due to the limited space in this area, only one able guest is allowed to sit with the disabled guest. Additionally, there are easy-access seats available for those with mobility limitations who are unable to maneuver the steps. Motorized scooters are allowed for guests with mobility limitations.
There are handicapped parking spaces in the O'Connell Center parking lot that are made available for commencement parking. These spaces are, again, available on a first-come, first-served basis. Additionally, GatorLift will have a shuttle that runs from the commuter lot located on South Gale Lemerand Drive to the stadium. This shuttle is for guests with disabilities and operates for all four ceremonies at the stadium. The drop-off location will be at the Southeast corner of Gale Lemerand Drive and Stadium Road.
Gator Lift vehicles can accommodate ten passengers, up to two wheelchairs, and are equipped with lifts for easy access. All drivers are trained to provide boarding assistance. Passengers with disabilities receive priority seating. Temporarily disabled individuals also may ride Gator Lift. All other guests are requested to ride the school buses that provide shuttle service to and from Ben Hill Griffin Stadium. Even general parking is quite difficult.  Be prepared and plan ahead by checking out commencement parking information.
Get Your Seats Here!
HaveUHeard that you will need to go through a metal detector before entering? The lines are extremely long if you have a purse or bag and, YES, the clear bag policy will be enforced. If you don't have a purse or bag, get in that quick-entry line and go save seats for your party. Please note, however, that cell phone service is unreliable inside the stadium and limits communication. Again, have a plan.
Seating is on a first-come, first-served basis with special accommodations, as I mentioned, for those that need it. To take advantage of special accommodations, you will need to contact the ceremony venue (O'Connell Center, 352-392-5500) at least two weeks in advance. Finally, if family and friends cannot make it to the ceremony, UF airs a live webcast of graduation. I'm still able to pull up my elder daughter's graduation ceremony from 2014.
Keep your water bottles, balloons, and wrapped gifts at your hotel or in the car as they are prohibited at graduation (as are the more obvious weapons, alcohol, and air horns). Flower bouquets are available for sale inside the O'Connell Center for $10, $20, or $30 depending on the size, but there is only a small selection. Our recommendation is to pick up flowers in advance. You may get them from Publix or any other local supermarket. We were very pleased with our purchase at The Flower Shop located at 3749 W. University Drive. You can also consider sending them ahead of time with an order from Bouqs. We love their flowers, coming from eco-friendly farms, along with the convenience of checking that off our graduation to-do list before we get to town.
Graduation Cap & Gown Are Extra
Wondering how much your student will need to pay for their cap and gown? It is required attire if they are walking. Bachelor's (cap and gown) and Master's (cap, gown, and hood) regalia are purchased as a bundle. A Bachelor's bundle will cost about $45 and the Master's is about $60. For a Doctoral Degree, you will want to rent the regalia because it is custom and not inexpensive. All doctoral candidates must wear a hood. Graduating candidates will need to first apply for graduation. Once approved, they can order their regalia online through Gator1 or by obtaining an order form from the bookstore. Payment must accompany the order.
The Extras
Of course, you are going to want some great photos of this milestone occasion. That's why we have a blog full of suggestions along with recommended Photographers. We'll send you off now with some great Graduation Gift suggestions including diploma and tassel frames. Diplomas are mailed to students. HaveUHeard how many get damaged when opening the package? It happens but you can order a replacement.
See you at graduation!
Pass on these great tips, tell your friends and like us on Facebook, Instagram, Twitter, and Pinterest. Find out more about how to use HaveUHeard as a great resource. Sign up for other great tips at haveuheard.com.