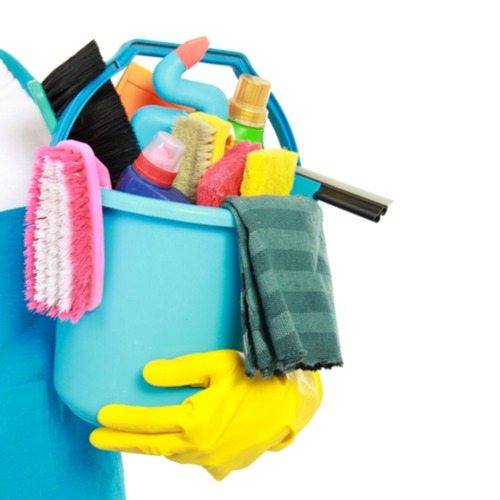 Cleaning Maid Services Needed?
I never thought I would be saying this, but sometimes it is a good idea to hire a cleaning service for your students' apartment or dorm. Hear me out…I think most kids are perfectly capable of keeping a clean room. Growing up, my daughters knew I was not their maid and they certainly learned how to clean their rooms. But, recently I had a friend whose daughter was extremely sick with the flu. The mom began a search to have the entire apartment disinfected. With flu season and virus' going around; wouldn't it give you peace of mind to know those nasty germs have been eradicated and may lessen the chances of your child catching what their roommate has or the roommates catching what your child has? Of course, this is my strongest point, but having seen my daughter's apartment after a few months of living, I have others. Some students simply don't have the time and are often searching for affordable cleaning help. Here are few cleaning services some of our Gators have tried.
UF Cleaning Services
Student Maid – Residential cleaning services start at $65/hour for a two-person cleaning team, with a one-hour minimum. There is a trip fee associated with each service. They also offer a move out cleaning service with rates from $85. Just give them your property manager's move-out checklist, and they state they will follow it to a tee. 352-672-0038
KD's Cleaning Service – Their pricing is based on size and square footage but dorms usually start at $80 and 1/1 apartments start at $100; while 4/4's would start at $180.  They mainly offer move in and move out service, but also offer one time deep cleanings and per room services which are quoted based on the services needed. UF students and faculty receive a $10 discount with ID. Kelli 352-213-0954
Joyce cleaning – Joyce was highly recommended by several parents we know. I personally spoke with her about the services she offers for UF students. – prices vary, priced from $25 for room/$30 with bathroom. Dorm rooms, apartments – single dorm rooms $15- $20. 352-359-6656
LaZdorm – I'll admit that dorm rooms are fairly small so hard to imagine not being able to keep such a small space clean, but this company was recommended not only for dorms but also for off-campus apartments.
A Personal Elf -Offering various services from one time cleaning to maintenance cleaning to move-in, move out.  Call 352-271-1111. Monday through Friday 8 am – 5 pm.
Gainesville Shine Only – Offering one time, weekly, biweekly and monthly cleaning. Call 352-225-8439. insured and bonded
Splee Cleaning Services- Occasionally will offer a 10% discount with student ID
One might also check out Thumbtack's website or app for reviews. Locals post about their business, expertise, and services offered. There is a page specifically for house cleaning in the Gainesville area. You will need to know the zip code of the area you are searching for.
Finally, there are some students that like to clean (not my daughters) and will do so to make some money. Some will do laundry for a fee too. Students can look at social media for posts or post what they are looking for.
Pass on these great tips, tell your friends and like us on Facebook, Instagram,  Twitter, and Pinterest. Sign up for other great tips at haveuheard.com. Are you new to HaveUHeard? Here is how to best use the site.