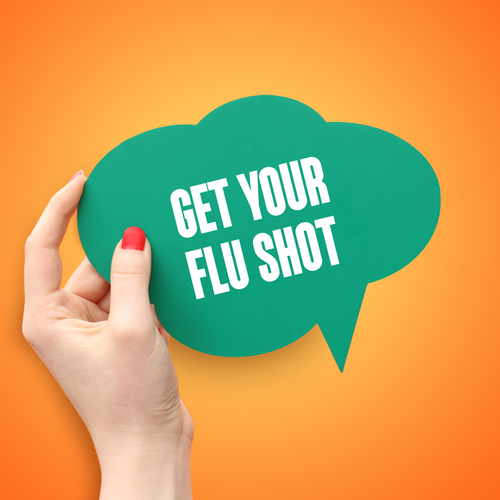 The Flu ends with "U"
It's that season again – and I don't mean hurricanes. Flu season is generally from October through May; peaking in December. Given that the flu is easily spread by coughing, sneezing and close contact – and what gets closer than dorm life and classrooms – your student may want to consider getting vaccinated. UM makes it incredibly easy and it is free too.
UM's Student Health Service in Miami is open Monday, Tuesdays, Wednesdays, and Fridays from 8:30 a.m. to 5 p.m., Thursdays from 9 am to 5 pm and Sundays during Fall and Spring semesters 11 a.m. to 4 p.m. During summer, Thanksgiving, Winter, and Spring Breaks they are open Mon- Fri from 8:30 am to 5 pm and closed on all University holidays. Students can walk in for a flu shot or make an appointment by contacting the center at 305-284-9100 or UM's Student Health Services online appointment portal. Bring a valid student ID.
They can also check out the dates, times and various locations around campus. The vaccines given on campus do not contain any live influenza virus and take about 2 weeks for protection to develop. UM will have flu vaccine clinics taking place at campus locations. Click here to see the schedule.
Another option to get a flu shot is at:
CVS Minute Clinic – if you go on the CVS Minute Clinic website you can find the one closest to you as well as the wait time so you don't have to sit around for too long. The vaccine can cost between $50 and $70, but chances are insurance will cover it.  Check first.
Walgreens – there are quite a few stores near campus. Walgreens website will help find the one closest and many are open 24 hours. There is no cost with most insurance. Appointments are not needed, but we recommend calling beforehand to find out what the wait time is.
Publix Pharmacy – There are at least 2 that are not far from campus. Students will get a $10 gift card just for getting vaccinated.
Wherever students go for a flu vaccine they should stay around about 15 minutes afterward to be sure they do not have any adverse reactions.
I generally am not one to rush right out and get the flu shot, but then again, I wash my hands constantly, don't stay up way too late most nights and don't sit side-by-side in a classroom each day.  I have suggested to my kids over the years that they consider getting vaccinated, but generally, as most college students do, they choose not to. Some, like two of my three kids, just hate shots. Good news; some pharmacies carry FluMist, a nasal spray that works like a vaccine. In the end, they are college students, so there is not much we can say beyond that, but I assure you, if they got the flu, we are their first call.
Of course, there was the year that my daughter called crying because she felt like crap. She felt so sick, I even asked her if she needed me to drive there, something out of character for me to do. There is little worse than being hours away from your students and not being able to take care of them.  Here is our blog on being Sick at School.
Typical symptoms students can watch for at the onset of the flu as early detection can be beneficial are:
Sudden onset of high fever
Headache, muscle aches and joint pain
Dry cough
Chills
Sore throat
Nasal congestion and runny nose
Fatigue – which may last for a few weeks after the flu
If students do get the flu they should know that they can get a doctor's note so they don't feel compelled to drag themselves out of bed and trudge to classes. Professors not only appreciate the heads up but also are grateful that students don't come and share their germs. The flu is highly contagious. Every school has different policies on this, but generally, students are covered with that doctor's note.
As parents, we can hope they never get sick, but if they do, the next best thing might be to send a care package to help them feel better. Check out our blog Care Packages for When They Get Sick.
For more ways to prevent the flu, view here. Wishing all our Canes a healthy semester.
Pass on these great tips, tell your friends and like us on Facebook, Instagram,  Twitter, and Pinterest. Sign up for other great tips at haveuheard.com. Are you new to HaveUHeard? Here is how to best use the site.