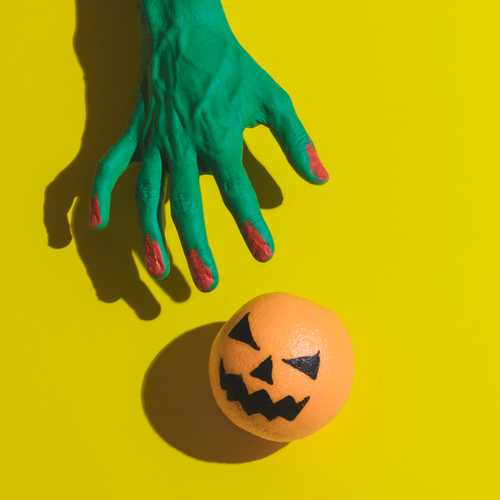 Spooky Fun! 
Trick or Treat

That Was Then…
I would race home from school so my mom could put together some sort of costume for me then rush to meet my friends to go trick-or-treating. Somehow, by the time I had my own kids, Halloween included much more; carving pumpkins, putting up decorations, more formal costumes, and, of course, trick-or-treating throughout our neighborhood, but not without a parent escort.
This is Now…
Halloween traditions in college are, well, a far cry from the pumpkin carving, candy apple making gatherings we had in our driveway before the kids started their trick-o-treating. Many places, including frats, will have parties – all week. Halloween week, I'm not going to lie, gives a whole new meaning to the BOO in Booze. Keep in mind this is Orlando and there is a lot of Halloween-themed partying going on in general.
It may not be a bad idea to remind your students of all the nice parts of Halloween and to keep their good judgment about them. A hint to be sure they have all their work done before they go out is wise too.
On a Lighter Note….Going to UM, students have plenty of Halloween events to choose from.
Saturday, October 20: Halloween Bar Crawl
Scary good time! Club Sport is launching a new Halloween Bar Crawl in Wynwood! Get your costumes ready for a spooktacular event!
Bars include The Deck, Wynwood Brewing, Shots, The Butcher Shop. Specials TBA
Time: 6:00 PM – 11:30 PM
Tickets (tiered pricing): First 50 – $15, 51+ – $20, day of – $25

Saturday, October 20: Haunted Hauteness Halloween Party
Join us for Haunted Hauteness, Miami's hautest and hottest model hosted Halloween warehouse party, on Saturday, October 20 from 9 pm – 2 am at Macaya Gallery in Miami! Tickets and costumes are required to attend! Guests will be treated to an open bar, appetizers, and desserts during the event! Don't miss out! The organizer of Haunted Hauteness will be donating 20% of ticket proceeds to his Miami Model Citizens charity's annual Thanksgiving food drive.
Macaya Gallery Wynwood at 145 NW 36th St. Miami, FL 33127
Time: 9:00 PM – 2 AM (Sun, Oct 21)
Tickets: General Admission – $75
Wednesday, October 31: Haunted House for Halloween
Prepare to be scared! Hosted by the City of Coral Gables. 405 Haunted House – if you dare! Tour their haunted house and hope that you don't get spotted by the creepy crawlers that dwell in it.
War Memorial Youth Center on 405 University Drive
Time: 6:30 p.m. – 10:00 p.m.
Tickets: $5 (starting October 5)
Friday, October 26: Halloween at The Biltmore
Join them for the BEST Halloween party in town! Open Bar, buffet dinner and costume contest hosted by our celebrity panel of judges!
Biltmore Hotel Country Club Ballroom at 1200 Anastasia Avenue
Time: 8:00 PM – 12 midnight
Tickets: Early Bird – $135, After October 22 – $150 (members receive discount)

Saturday, October 27: Pirates of The Wharf – Halloween Weekend Special Event
Calling All Scoundrels, Scallywags & Strumpets!
This Halloween Weekend put on your best costume, & join us for an evening of pillaging and plundering as The Wharf transforms into a pirate fortress! The ships are in & the moon is high, are you ready for what's inside?
Come drink like pirates & dance like mermaids as we celebrate Halloween on the Miami River!
The Wharf Miami at 114 SW North River Dr
Time: 12:00 PM noon – 3:00 AM (Sun, Oct 28)
Tickets (tiered pricing): Complimentary entry before 8 PM with ticket, open-bar VIP tickets may be purchased – Tier 1 $125

Send a Little Halloween Love… by checking out our Halloween gift guide here.

For more great tips, read through our other blogs at haveuheard.com, follow us on Facebook and Instagram and share with other parents you know.

Happy Halloween from HaveUHeard
For more great tips, read through our other blogs at www.haveuheard.com, follow us on Facebook and Instagram and share with other parents you know.
[templatera id="6142″]