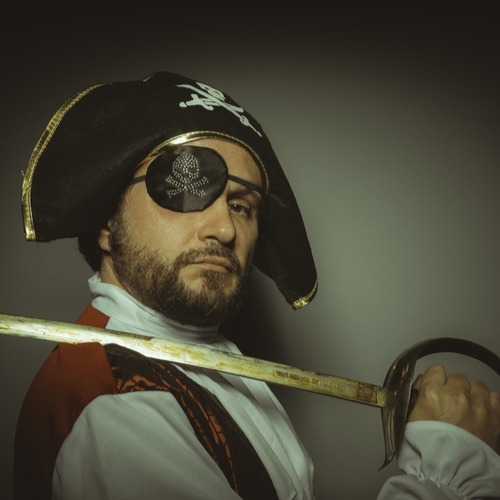 Gasparilla
Aaargh! It's An Invasion!
Being that we live in the same city as our college kid, there is one part of Tampa's life that I must tell you about. Since 1904, Tampa's annual Gasparilla celebration is a time just as exciting as any other holiday. As soon as holiday decorations are taken down, Gasparilla decorations go up. It all starts in January and events run through March. It is likely that your USF student will take part in at least one event, so I will fill you in on the main ones.
It all started when Jose Gaspar and his crew of pirates terrorized the coastal waters of West Florida. There is great debate as to whether he was even real or a made-up character in historical writings. A "krewe" of men dressed as pirates staged a mock invasion of the city in the early 1930s, based on the lore and the people of Tampa loved it so much, that a yearly celebration continued.
Today, Ye Mystic Krewe hosts the events. A krewe is a sort of fraternity/sorority (non-school related) of members that participate in various philanthropic things throughout the year, leading up to Gasparilla. There are a ton of krewes and each has its own themes, costumes, parade floats, and fun. There are over 750 pirates on board the pirate ship "Jose Gaspar" and once ashore, they "take over the city" with a four-mile-long parade.  To see the invasion of the ship, along with hundreds of other boats following it into the Tampa Bay, is something, unlike anything we've seen before. The Gasparilla Pirate Fest kicks off the season, so be prepared to don your own pirate gear as well. The parade is the 3rd largest in the country with 300,000 onlookers catching beads and coins. Think Mardi Gras… but during the day. That night, the Street Festival continues with live music, food, and entertainment.
The Gasparilla Children's Parade is on another weekend and is much more family-friendly. There is no alcohol allowed during this parade, so little pirates can have their fun too. A night-time, much more "adult" parade is held the next weekend. The Sant' Yago Knight Parade route is in Ybor City and it can be a little crazy. It's not the most family-friendly but is a fun night-time experience. Be prepared to walk away with TONS of beads.
The last weekend in February is the Gasparilla Distance Classic. These are fun races with beautiful routes along Bayshore Blvd. near downtown. Lots of USF kids enter either the 15k, 5k, half marathon, 8k or the Michelob Ultra challenges. The coveted finishing medals are awesome, and the fees all go to various charitable youth organizations in the area.  If you'd rather watch, it is fun to cheer on the racers with some, even in costumes.
March brings the Gasparilla Festival of the Arts in downtown Tampa. This is one of my favorite things to attend each year. Curtis Hixon Waterfront Park turns into a giant outdoor art show with some of the world's best artists.  It is a competitive art fair; not a craft fair. There are food vendors and it is just a beautiful setting. Our entire family enjoys seeing all the amazing talent each year. Lastly, the Gasparilla Music Festival celebrates local emerging artists as well as nationally recognized headliners.  It is held over two days with four stages. There are great food vendors and it is kid-friendly.
Some Advice…
We all worry about our kids, so if you hear that they are taking part in anything Gasparilla, remind them to plan for parking (south Tampa is very strict on the parking regulations), to use a ride-sharing company like Uber, and to be smart. If you happen to be visiting your Bull during January-March, be sure to join in the festivities. You won't be disappointed. And don't forget to wear your beads!
For more information on the events.
Pass on these great tips, tell your friends and like us on Facebook, Instagram, Twitter, and Pinterest. Sign up for other great tips at haveuheard.com. Are you new to HaveUHeard? Here is how to best use the site.