HaveUHeard.com includes links to third-party websites and advertisements for third-party products and services. Product and service-specific opinions mentioned within the content of our blogs are entirely the opinions of the HaveUHeard.com team and its staff. It is our hope that you will find value in the products and services these third-party organizations represent, and patronize these businesses. Such advertising and marketing partnerships help make our efforts at HaveUHeard.com possible. Thank you for your support and ongoing interest. For additional information, please read our full HaveUHeard.com Disclosure Statement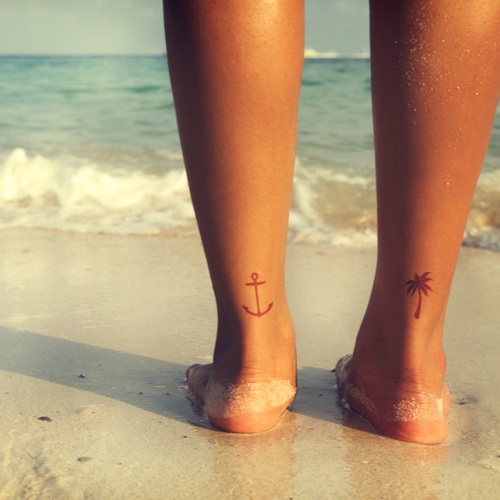 Tattoo's you either love 'em or hate 'em.
by Michelle Balaun
They are a symbol, a representation of a generation, of experience, personal expression. College students usually have a few, right? I'm a branding mentor and I think the best way to explain branding to college students is to explain why it's like a tattoo. Here we go, as a kid, this generation has grown up with the internet, social media, and all the positives and negatives that brings. They aren't bothered by it and certainly are not afraid of it. They have been working at getting into college, studying and worrying about where this earth is going. And now someone is telling them to get a brand. Whether they are intending on going into a traditional type of job, or want to do something unique, both paths benefit by having a brand.
Just like a cool tattoo, it makes you easy to remember. And just like a tattoo, you can go full sleeve or just a tiny little butterfly, hidden where it's not so obvious. A brand is like a tattoo, a personal statement. In this world where competition is worldwide, having a personal, memorable brand is a leg-up on anyone who doesn't.
Personal Brand Checklist
Domain
Claim your name as a domain, use your full name, but if that is not available then just use your nickname and last name.
Why? By using your name as a branding tool, you can go in any direction however, exercise consistency in your personal branding and align your domain name across all of your social channels. Makes it easy for folks searching for you across platforms. Just be sure the username you choose reads professionally. Think- PhoebeTHound across everything instead of MissP2009, FeeBee2020, and PTH2009.
Website
There are tons of sites where you can create an easy free website, Wix, Squarespace, Canva, Mailchimp, or if you are a bit techy WordPress. This is a digital "business card" and makes it easy to contact you.
Why? Credibility. A website is a credible source to document your brand. Build out options, blogging, loading your resume there for potential employers to download. Show your creativity.
Professional Photos
Yes, you can have someone use your expensive new iPhone, instead of a real professional, there will be a difference, as always, you get what you pay for. Headshot – don't use a photo where you look like a tiny little dot in the background or a picture of your coffee mug or cat. Watch your background, try to keep it simple. Choose an image that is clear, and sized appropriately. Displays your personality. Try out different backgrounds, make it simple, don't get a partial door frame or light switch in the shot. You don't have to wear a suit unless that is your style. There are a million YouTube videos on ways to shoot a headshot.
Why? Use the same profile image across all social media for consistency. You want to be easily recognizable and easily found by potential employers.
Social Media
All of them. Facebook, Instagram, LinkedIn, Twitter. Start working on your connections. When you become an older person, and you will, you will find out who you know is the path to getting what you want. Connect with your teachers, connect with business people, pretend you are an adult trying to get a job because this is really what it's all about. Connect with industry leaders on LinkedIn and Twitter, start a USEFUL conversation, Don't ask right away, first compliment, comment, wait a bit, get a relationship going. Then if you feel it is ok, you can ask for a lead or a contact. Think of your Facebook and Instagram accounts as business accounts. What would you like a future employer to know? If you have a personal page, keep it private.
HaveUHeard that LinkedIn has a version specifically designed for students looking for their first jobs? The LinkedIn Students app is free and lets you research jobs, view companies where alumni from your schoolwork, and connect with more people. You can create an account and get started right away without spending a dime.
Why? This is about getting a job, creating a brand of you as a reliable, employable person. Social Media is a form of advertising.
Reputation Management
Clean up your act. Google yourself, and start scrubbing, if there are images or other things you think would impede possible employment then delete it or start doing social good to get that google result to move down a page or two.
Why? Yeah, this feels like selling out. It isn't, it's about getting a paycheck and moving out on your own.
Of course, this is just a very general light brushing over on this very deep topic. But at least it's a start… just like getting that little tattoo that no one could see, you've started getting bigger more prominent tattoos. Your personal brand is about your personality, who you are, what you can do, and why you can do it. Backing up your personal confidence with social proof like a website and social media and getting it in front of someone who can hire you. THAT is branding.
Pass on these great tips, tell your friends and like us on Facebook, Instagram, Twitter, and Pinterest. Find out more about how to use HaveUHeard as a great resource. Sign up for other great tips at haveuheard.com.
Michelle Balaun, branding, and confidence coach with a DIY plan to launch your brand whether you are an entrepreneur or an employee. If you don't create your brand, one will get created about you, without your input.