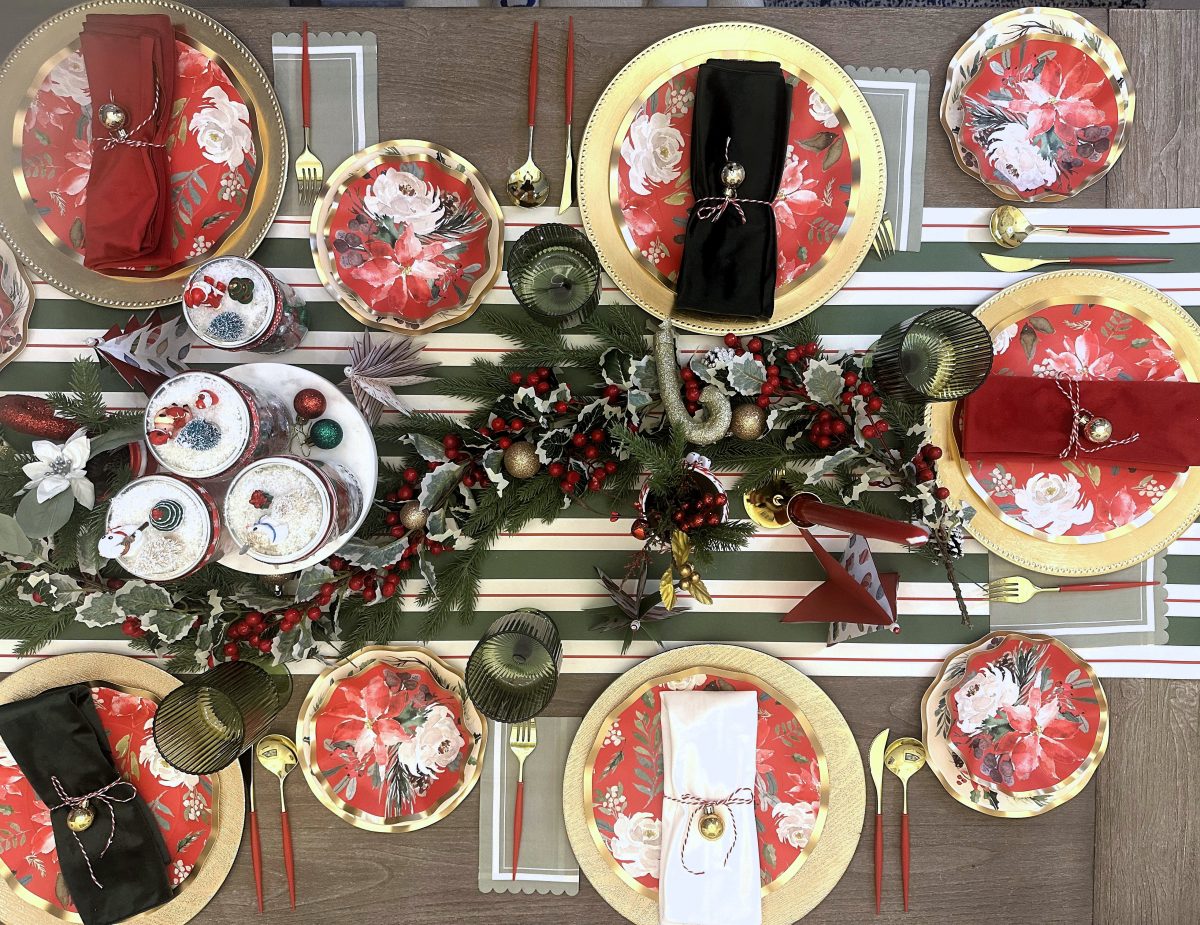 A Jewish Girl's Guide to Setting A Christmas Table
I know, it's August. Why am I posting my Christmas table decorations? I'm late. Typically, I decorate for Christmas in July. This is my second attempt at Christmas table decorations.  I grew up in a Jewish home and loved the Christmas decorations in the stores, my friends' houses, and even my Aunt and Uncle's. My vibe is a Jewish Girl's Guide to setting a Christmas table. There was such joy for a few weeks in August while working on the table decor and doing my DIY'ing.
Christmas Table Vision
My vision for this year's table was to incorporate some whimsical DIY items. I started with a green and red striped disposable paper table runner. The runner goes well with the disposable dinnerware I picked for this year's holiday table. Next, I placed a red berry garland down the center and added Christmas ornaments, artificial pine needles, and red berries.
Finally, a fun and straightforward diy was the decorated candy canes. I used gold and red glitter washi tape wrapped around plastic candy canes.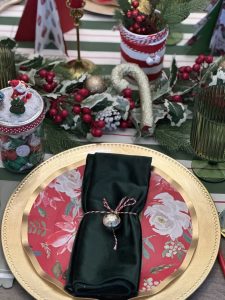 DIY Centerpieces
Most of my inspiration comes from Pinterest and Instagram. I also search my house to see what I have on hand that can be adapted to the table. One of those items is Mason Jars. They are the best items to keep in stock. You can use them for salad dressings, storing tomato sauce, making ice cream, etc.
They are also great for crafting. I purposely searched Mason Jar crafts on Pinterest. A few DIY pieces caught my attention, and I immediately knew I had found my centerpiece decorations.
Candy Cane Mason Jars
The candy cane mason jar idea came from the blog Mason Jar Crafts. Painting on Mason Jars can be tricky with the embossed letters. I'm improving each time I use them for crafting. When it says use washi tape, use washi tape. Fill them with pine tree branches and some artificial red glitter berry stem ornaments, champagne glitter berry stem ornaments and twigs. Those I had from last year.
I can only imagine the scent in the house if there were fresh-cut pine needles. Living in South Florida, that is not an option. You could buy some branches from a fresh tree, but even that's complicated to get in Florida. That's where Amazon comes in.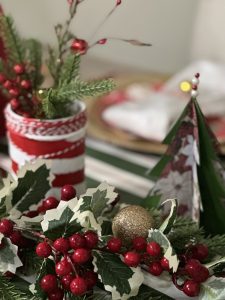 Christmas Mason Jars
I get so excited when I find a fun craft idea that ties in with the vibe I am going with this year. You know, the vibe… A Jewish girl's guide to creating a Christmas table setting. I digress. The inspiration comes from The Farm Girl Gabs.
This was simple to replicate. And I'm not mad that I got my Christmas-colored kisses and M&M's early. The toppers are so adorable. Remember, I did not grow up with any of this Christmas decorating. It makes me feel like a kid in a candy store.  And these make great gifts for your guests.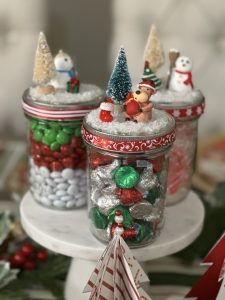 Christmas ribbon – I'm all about upcycling. I bought mine at Joanns or Michaels last year. Here are some you can grab now since not all the holiday ribbon is out yet.
The Top
According to Pinterest, this looked much easier than I thought. I started with the glue gun, but patience got the best of me. I switched over to Gorilla Glue Clear to speed up the process. Check out the instructions on Farm Girl Gabs blog or below.
Instructions
Unscrew the lid from the Mason Jar.
Glue the metal ring to the inside lid. Glue the metal ring to the lid. Let it dry for a while. If you don't wait long enough, the weight of the topper may break the adherence. At least, that was my experience.
Put some artificial snow on a plate.
Glue the top of the lid and turn it onto the snow. Put more on when you lift it. Let dry for at least 3 hours.
Glue the figurines on top
Glue the trees
Wrap the ribbon around the outside lid with the red twine and tie a bell onto it.
Fill the jar with candy
Screw the lid onto the jar
Christmas Craft Paper Trees
From the blog, It All Started With Paint, I made Christmas trees using craft paper. I love her black and white trees. However, I opted to go with holiday-themed paper. The blog gives you the templates for both styles.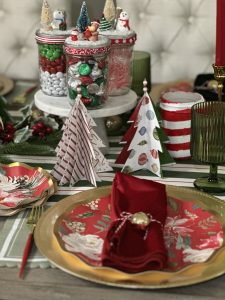 Table Setting Pieces
If you follow my blogs, you know I am a big fan of Sophistiplate. The tableware I selected for this year is their Winter Blossom table setting.  If you are unfamiliar with this company, they sell sturdy, sophisticated table settings for many occasions and themes. You can purchase quantities of 8, 16, 32, and 48. Everything is disposable, making clean-up a breeze. The cutlery is reusable, too. Full disclosure: I receive a small commission. The reviews are my own, and I purchase the product myself.
For aesthetic purposes, I chose to add velvet napkins, tied them with red twine, and added a small gold ornament. Twine is a great item to have in your arsenal. It's great for decorating and gift wrapping.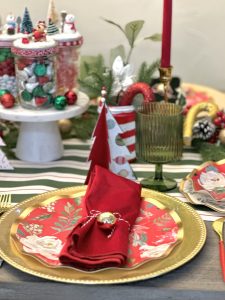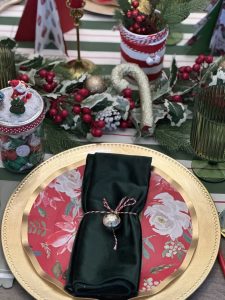 Did Someone Say Christmas?
I love crafting, and the Christmas table decorations were fun! Even though I am Jewish, it is not complicated for me to decorate for this holiday. Like I said, I grew up spending Christmas with friends and family. I celebrate the joy of the holiday.
Now Bring On Christmas …
Many people do not feel great about Christmas decorations on the shelves in August. Walk into any store or scroll through TikTok, Instagram, or Pinterest. You'll see, it's beginning to look a lot like Christmas.
Recently, a news segment reported that some retailers are starting to bring out their Christmas merchandise. According to a Google search, more than a quarter of Americans were already shopping in July. The thought process is that inventory may be tight this year. I don't think anyone wants to create an artificial rush, but you could get a great deal now than waiting for the holiday shopping season.
I am one of those people who start my holiday shopping in August. It's more of a passive approach that when I see something, I buy it. And I am trying to take advantage of any sales going on.
What are your thoughts about Christmas decorations already on the shelves? 🎄🎅🏻
Pass on these great tips, tell your friends, and like us on Instagram,  TikTok, and Pinterest.