HaveUHeard.com includes links to third-party websites and advertisements for third-party products and services. Product and service-specific opinions mentioned within the content of our blogs are entirely the opinions of the HaveUHeard.com team and its staff. It is our hope that you will find value in the products and services these third-party organizations represent, and patronize these businesses. Such advertising and marketing partnerships help make our efforts at HaveUHeard.com possible. Thank you for your support and ongoing interest. For additional information, please read our full HaveUHeard.com Disclosure Statement
Isn't Christmas Six Months Away?
It's summertime, and while most of us are enjoying the sunny weather and outdoor activities, I can't stop thinking about Christmas (and Hanukkah). That's right, it's time to celebrate Christmas in July! This quirky holiday tradition has been around for decades but has gained popularity in recent years. Many people love the idea of celebrating the holiday season twice a year, especially when it means breaking out their favorite festive events and indulging in some wintery treats during the hot summer months. I'm diving into the history behind Christmas in July and exploring some fun ways you can join in on the festivities.
The History Behind Christmas in July
Apparently, I was misguided in my belief that my uncle came up with Christmas in July. The first Christmas in July dates back 84 years according to legend. It took place at a girls' camp called Keystone Camp in Brevard, N.C. On July 24th – 25th, the camp co-founder gave the names of the cabins tied into Christmas. The Jr. and Sr. campers were called Elves and Pixies.
The event included carolers, a tree, Santa Claus, and fake snow made of cotton. Campers made stockings out of their laundry bags. Years later they added a gift exchange.
My aunt and uncle celebrated Christmas my entire life. It was more for joy and not in a religious sense. Long before we moved to Florida, we would visit them in Fort Lauderdale every December. My uncle had his office party. He would dress up as Santa and decorate his office with a Christmas tree and lights. Of course, he also included a charitable component and had his guests bring non-perishables to donate to a local food bank. Because everyone's calendars were full, he moved it to July. Thus, Christmas in July.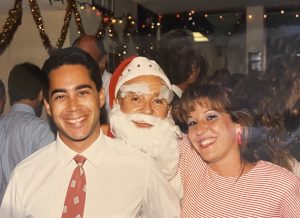 What I Love About July
Hallmark Christmas movies
My daughter's birthday is in July
Nordstrom Anniversary Sale
4th of July
Hallmark's Christmas in July
It must be official when Hallmark runs their annual Christmas in July with releases of their most popular Christmas movies. For those who love Hallmark movies, it's like Christmas all over again. Hallmark channel runs a lineup of classic holiday films as well as new premieres. And clearly, I am not the only one who enjoys this annual event. Many of the movies saw record-breaking ratings with an average of 3  million total viewers per night.
Hallmark's Christmas in July begins on July 1st with Undercover Holiday at 10 am and Three Wise Men and A Baby, one of the highest-rated Hallmark original Christmas movies. You'll be able to watch Christmas movies from 10 am-midnight every day in July. Two new movies airing in July are A Royal Christmas Crush on July 8th and Take Me Back for Christmas on July 15th.
My Daughter's Birthday Celebration
It is certainly easy to be cynical about the commercialization of Christmas in July. I get it; I used to hate when the stores would put out decorations right after Halloween. Truth be told, these days, any reason to celebrate and bring some cheer into our lives is always welcome. But I have a daughter whose birthday is in July. Tbh, she used to hate it because school was out, friends were away on vacation or sleepaway camp, making a birthday party complicated.
That changed as she got older. She threw some of the most fun-themed parties for herself including an ugly Christmas sweater party. If you have a child whose birthday falls in July, you can plan a themed party complete with floating pool lights, a wreath pool float ring, and even artificial snow powder. You can add in games like a snowman toss cornhole game too. Throw in some photo props. If it's an adult party, you can make candy cane shots (1 part Rumple Minze, 1 part whipping cream, and Rose's Grenadine) and play beer pong but using green and red solo cups and racking the cups in the shape of a Christmas tree.
Nordstrom's Anniversary Sale
July is when I start my holiday shopping. Getting to the commercial aspect of the month could give you a jumpstart on holiday shopping by taking advantage of some great sales.  I've been putting away cash each week toward holiday shopping. Between inflation and a market downturn, it is a great time to try to save on the items you already know you are buying for the holidays. Sales will be continuing throughout the rest of the year as many retailers start unloading inventory.
My favorite Christmas in July sales events is:
Nordstrom's Anniversary Sale – This is my favorite Nordstrom event. I used to go with my mom and sister. They would have the anniversary sale items behind white curtains and pass around hors d'oeuvres. This is the opportunity to save on new arrivals, typically for the fall. Credit cardholders get early access. You can preview the sale starting July 3rd. Your card member level may give you early access starting July 6th. Icons on July 11th- 16th, Ambassadors July 12th-16th, Influencers July 13th-16th, and open to the public on July 17th. The sale goes through August 6th.
Nordstrom has put together some tips to make the most of the sale.  If you already have an idea of gifts for friends and family (or yourself),  they recommend putting together your wishlist in advance. Who knows, it may be on sale. I will say that the higher level cardmembers and social media influencers buy out a lot of items so you may find certain items sold out in your size. Request to be emailed when the item becomes available.
I've put together a list of recommendations because who has time to go through thousands of items?
4th of July Celebration
What better way to celebrate America's independence than with a sparkling tablescape? The Red, White & Beautiful theme is perfect for creating a patriotic ambiance that will show off your American spirit. From classic Americana motifs to modern twists on traditional designs, there are endless possibilities when setting the table for this holiday. I'm sharing tips and tricks (and links) for creating a jaw-dropping Red, White & Beautiful Fourth of July Tablescape that will have everyone talking long after the fireworks. So grab your sparklers, and let's get started!
Christmas in July is a fun way to bring some holiday cheer over the summer. From hosting July 4th parties to July birthday party celebrations, getting a start on your holiday shopping and spreading out the expense, or indulging in Hallmark's holiday movies, these are fun ways to beat the heat.
Pass on these great tips, tell your friends, and like us on Instagram,  TikTok, and Pinterest.