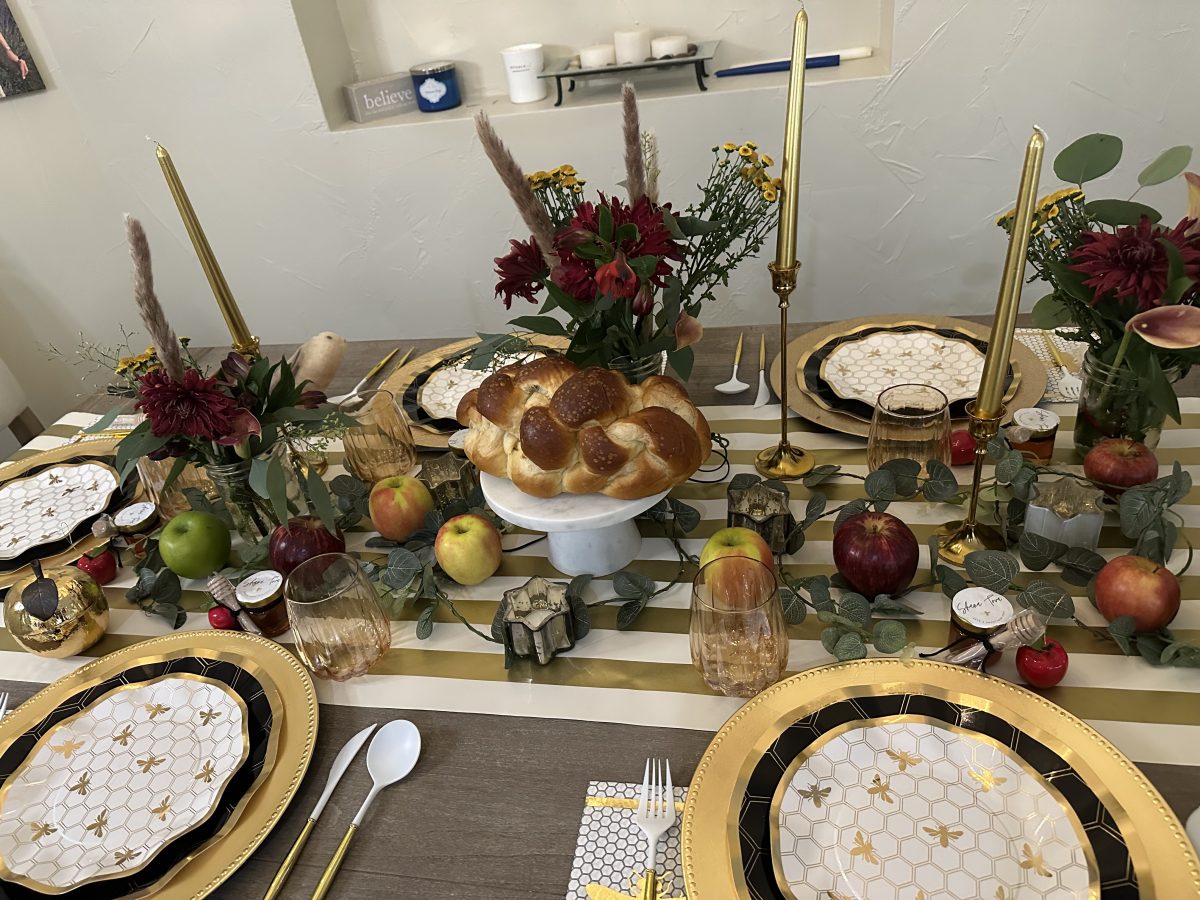 As the Jewish New Year approaches, it is the perfect time to gather with loved ones and celebrate this holy occasion in a way that resonates deeply with our traditions and values. Setting a meaningful high holiday table goes beyond the aesthetics; it creates an ambiance that enhances the spiritual experience for all attendees.
Many prepare for festive gatherings and delicious meals with loved ones. But beyond the culinary delights and traditional rituals lies an opportunity to create a significant experience at your high holiday table.
Symbolism and Tradition
Whether you're hosting family or friends (or both), here are some tips and creative ideas to help you curate an environment that sets the tone for these sacred days. Every element of my table is infused with intentionality and symbolism – because it's through such attention to detail that we can elevate our holiday experience.
Honey – It is customary to wish Jews a  sweet year (S'hana Tovah).  Honey was the most available sweetener.
Apples – Symbolizes plenty, abundance, and hope for a sweet new year. They are dipped in honey.
Shofar – On Rosh Hashanah and the end of the Yom Kippur fast, the shofar is blown first to announce the New Year and then to conclude the New Year.  It is blown on the first of the ten days of penitence to stir our conscience, confront our past errors, and return to God, who is ready to welcome the penitent. There are other symbolic meanings it represents.
Challah – symbolizes the circle of life.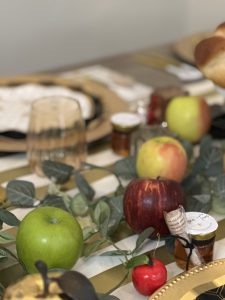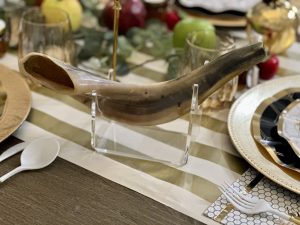 Sharing The High Holidays With Non-Jewish Friends
When describing the High Holidays to my non-Jewish friends, I often compare it to their Easter. Like Easter, Yom Kippur is a solemn holiday. It starts with Rosh Hashana, the celebration of the Jewish New Year. And it is the first day of the ten days of repentance and reflection.  The high holidays conclude with Yom Kippur, the holiest and most solemn day of the Jewish year.
I continue to explain that it is our version of confession. We spend the ten days asking God for forgiveness for things we've done wrong during the past year. It is a time of reflection and repentance. Jews who may not go to synagogue all year typically show up during the High Holidays.
My Traditions
First and foremost, the centerpiece of any meaningful High Holiday table is undoubtedly the food. Incorporate traditional dishes that hold significance for this season, such as chicken soup, brisket, apples dipped in honey and challah bread. For Yom Kippur, we grew up breaking the fast with bagels, lox, tuna fish, egg salad, and lighter fare.
Most healthy Jews will fast from the eve of Yom Kippur until sundown on Yom Kippur. The sweetness of the challah, apples, and honey underscores our wish for a sweet New Year for other Jewish families and friends.
Set Your Table for a Sweet New Year
Creating a meaningful High Holiday table also involves curating a visually meaningful ambiance.
A beautiful and thoughtfully crafted centerpiece is an essential element to include on your table. Incorporate symbolism into your design, such as a vibrant floral arrangement representing growth and renewal. To emphasize the symbolism of the honey, I've incorporated Sophistiplate's Honeybee collection for my break-fast although it could also be used for Rosh Hashanah. Adding personal touches, like mini glass honey jars with wood dippers that your guests can take home, is a meaningful way to wish your guests a sweet New Year.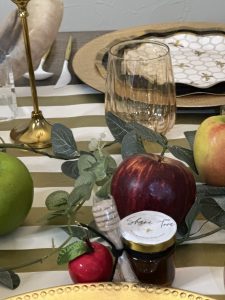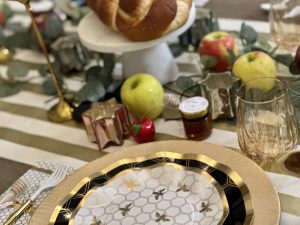 I've also included my husband's Shofar to honor him, even though he is not with us anymore. There will be apples displayed along with lots of honey. We dip the challah and apple in honey with a blessing that translates to "May it be Your will to renew a good and sweet year for us."
To Bee or Not To Bee
I added Michael Aram's Gold Apple Honey Pot with a spoon. It is the perfect vessel for the honey.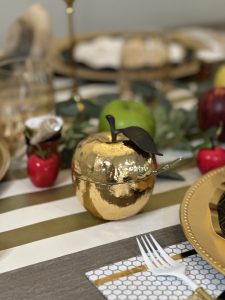 I love trying a variety of honeys. This year, I purchased my honey from Huckle Bee Farms. They infuse their raw honey with fruits and vegetables. I got the Bourbon & Honey, Apple & Honey, Mint & Honey and Garlic & Honey. The owner of this business is a pleasure to work with. He is so enthusiastic about their infused kinds of honey. You even get to adopt and name the bees with your purchase.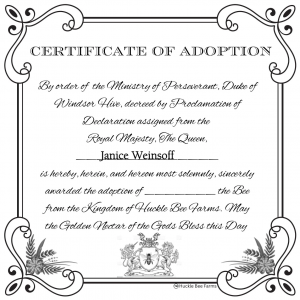 Simple and Sweet
Creating a meaningful high holiday table is more than just setting out suitable dishes and decorations. It's about infusing your gathering with intention, tradition, and love. By incorporating personal touches, honoring family traditions, and embracing the spirit of gratitude and reflection, you can transform your table into a powerful symbol of connection and celebration. Remember to create a welcoming atmosphere by adding thoughtful decor elements.
May this year's celebrations be filled with joyous memories that will last a lifetime. 🍯🍎
Pass on these great tips, tell your friends, and like us on Instagram,  TikTok, and Pinterest.