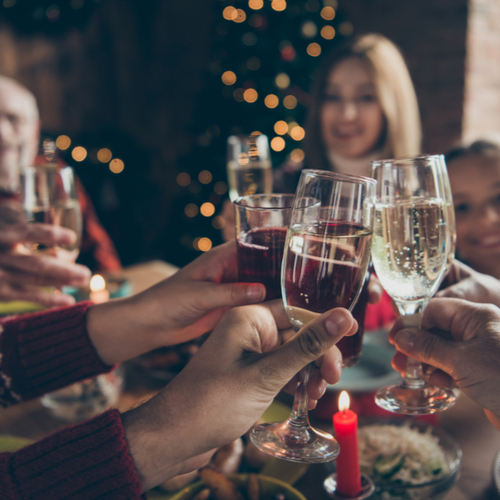 Finding Joy During The Year of Craziness – 2020
We are approaching what is considered the happiest time of the year…Thanksgiving, Christmas, Hanukkah, Kwanzaa, other holidays, New Year's… for many of us, it is a time of joy, reflection, and family. Holidays can also be a very difficult time for those who are alone and those who have lost someone. I was raised in a family that always welcomed friends to share in our family holiday time. Now, facing the holidays while trying to balance protecting our matriarchs in the family is forcing us to redefine how we celebrate.
November and December have always been my favorite months of the year. From the meal prepping for Thanksgiving (we typically have well over 28 people, so meal prep is a must) to having almost the entire family together (even though we are loud and it is challenging to follow any conversation) to go out shopping in the wee hours of the morning on Friday (another tradition with my two daughters, sisters, and nieces – it's a girl thing), to my fave college football rivalry games on Saturday. That's not to mention watching the Thanksgiving Day parade on tv (seeing it in person has been on my bucket list forever).
And then we have December… more holidays, more family get-togethers, my birthday, and our family vacation to a snowy destination complete with fireplace, roasted marshmallows, skiing, snow tubing, and other winter traditions; for a Florida girl, it just does not get any better.
This Year is Different
I know this year's holidays will be different than the holidays past. But we will find a way to make this as joyful as possible. Thanksgiving symbolizes a time to be grateful for all the blessings in our lives. Having my daughters, my family, shelter, food, and relatively good health is plenty to be thankful for. Like many families, we will reduce the number of guests so there will only be 8 of us instead of 28. The rest of the family that usually drive in for the weekend will also have small family gatherings. We will schedule a family Zoom call and be thankful to be in the company of my healthy 89-year-old mom and 92-year-old aunt.
One of our other traditions has been going out on Black Friday, but even that tradition will change this year. HaveUHeard how Black Friday got its name? Its first recorded use applied to the U.S. gold market crash on Friday, September 24th, 1869. I never heard that story; I related it to the day that retailers went into the black because holiday shoppers spent so much money. It was stated that stores operated at a loss almost the entire year up until that day. Many of us have the story behind this tradition wrong. The actual story behind Black Friday has more to do with the Army-Navy football game in Philadelphia.
Between Black Friday, Small Business Saturday (love supporting small businesses), and Cyber Monday, we will do most of our shopping, if not all of it, online. I don't know about you, but I have already seen stores promoting holiday shopping. I aim to finish shopping for the holidays before Thanksgiving since there will be delays in shipping and even being able to get what I want to buy. Since I have adult daughters, it is not that difficult to find gifts for them – but I will make my dollars go further by using points from my credit cards, taking advantage of the early sales, and shopping smart.
Find Joy
I believe we all need to find some joy this holiday season. Here are some suggestions:
Decorate your home –  I love decorating for the holidays. Every year, I try to add an additional item. One of my finds this year was a Blue Galileo Thermometer with Floating Balls. It fits into our color scheme, but I had no idea it was a thermometer. Learn how to read a Galileo Thermometer. I also found these fun reversible woodblock signs, which you can switch up for several holidays – Thanksgiving & Christmas, Thanksgiving & Hanukkah, Christmas & Valentine's Day, and more.
Take a family photo in matching pajamas – We typically have taken pictures when we head out skiing, but since we are not doing that this year, we will still take a photo. There are some really fun sets on Etsy and Gap.
Plan a driving trip – Many more people I know are traveling to places they can get to by car. The most popular destinations are beaches or mountains – somewhere not overly crowded and where you can get outdoors while social distancing. I recommend GetYourGuide to book some of the local activities.
Local events- We have several places nearby that are doing drive-through light shows. And some retailers will still have Santa, but he will be behind plexiglass and wearing a mask, as will the elves. If you are not at high risk, try to let young ones still partake in this tradition. Check your local city website, Eventbrite.
Cooking – Nothing says the holiday more than the scent of baked cookies or a holiday meal. Take a holiday virtual cooking class. I plan to sign up for the vegetarian cooking demonstration by Sur La Table. Make a Gingerbread House or holiday cookies.
Volunteer – If you are not at high risk, many local charities could use a hand, from packing food baskets to serving Thanksgiving Day meals to buying a holiday gift for a child – check your local charities to see which ones are in need.
Donate- If you are not a family that has been financially impacted this year, please consider donating to a charity that holds meaning. I have my favorites which you can read in this gift guide.
Pick-A-Word Project- Many years ago, I saw a feature on a company called My Intent which takes any word or phrase and hand stamps it on a bracelet. The idea is that the word you pick will remind you of something that gives you strength or inspires you. I have been buying a bracelet for my girlfriends as my gift to them for the past five years. Their bracelets are great for any gender. If you want something more feminine and trendy, you can also check out Little Words Project.
May the holidays bring you many blessings!