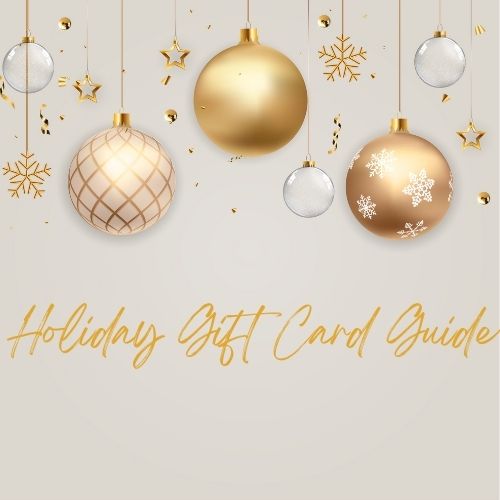 Why Gift Cards Make Great Gifts
While there is still time to find gifts for those on your holiday list, between low inventory, and shipping delays, it makes shopping a little complicated. And, I don't know about you, but not only are the wishlists filled with more elaborate requests, but I find it very difficult to pick out the exact item they want. There are many great reasons to buy gift cards.
You can shop from home.
They may appreciate it more because they can choose exactly what they want to get
It's the gift that keeps on giving because they can spread out their purchases.
If it is a business that is financially solvent, the gift card does not typically expire. Check the fine print
Less stress trying to find the right gift
They can be used for gifts they feel guilty splurging on.
Whether you pick out a gift card for every night of Hanukkah (that's 8 gift cards) or follow a Christmas advent calendar (that's 25 gift cards), you can include a variety of options in denominations that fit your budget.
If you forgot someone or are running out of time, you can easily download a digital gift card.
I already have all of the gift cards in my possession. Some I ordered online and some I had to physically go to the store to purchase. I also used points on my credit cards in exchange for gift cards.
Suggested Gift Cards
Simply click on the logos below to be taken directly to the website. In full disclosure, I do not receive any compensation for the purchase of gift cards.
Be Creative With Your Wrapping
I'm a DIY-er wannabe so I always try to find a way to create a custom gift card display. And trust me, I've had my share of Pinterest fails when it comes to execution. But the Capricorn in me does not give up.
This year I did a spin on a prior one, adding in more texture and the leftover Decorative Crystal Wire Ornament Hook Hangers I used for my tablescape.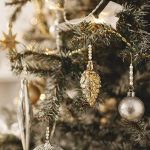 This can easily be adapted to your faith. This entire display came to around $25.00 (with my coupon).  If you were doing one for Christmas, maybe using 25 days, then I would either get three of the rectangular wood pallets or the 12 pack one. I've included links to digital Christmas-themed stickers, red glitter clothespins, and Christmas mini gift bags.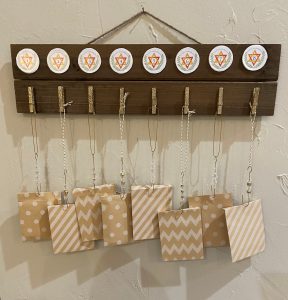 Shopping List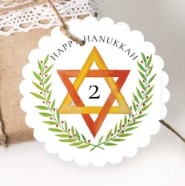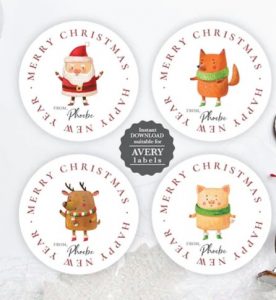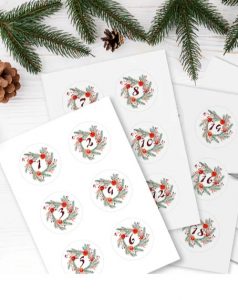 The digital gift tags come with guides so it was easy to cut into a perfectly centered circle. I glued them onto the smaller round wooden embellishments. Next, I glued on the clothespins. Finally, I put the gift cards in each of the mini gift bags, and voila, I had my gift display. It's relatively easy to make and I mean that sincerely.
From my home to yours, I wish you all a holiday filled with light love, and laughter