HaveUHeard.com includes links to third-party websites and advertisements for third-party products and services. Product and service-specific opinions mentioned within the content of our blogs are entirely the opinions of the HaveUHeard.com team and its staff. It is our hope that you will find value in the products and services these third-party organizations represent, and patronize these businesses. Such advertising and marketing partnerships help make our efforts at HaveUHeard.com possible. Thank you for your support and ongoing interest. For additional information, please read our full HaveUHeard.com Disclosure Statement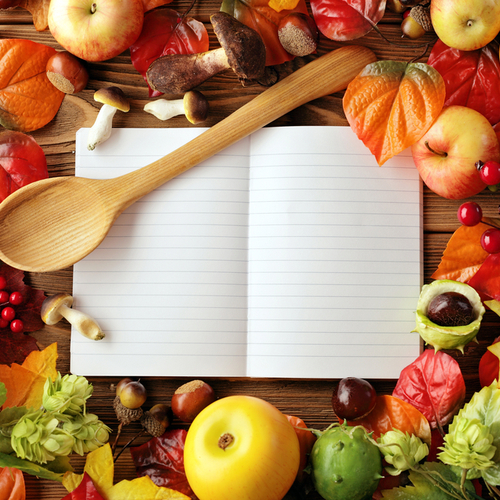 You Will Fall in Love With These Flavors
Ahh, it's fall. Fall is my second favorite F-word. Food is my first. But, don't fret. I'm sharing my favorite fall recipes that you can enjoy even when there is no Autumn chill.
It's All About The Season
There's a change in temperature. Leaves are starting to change colors. Pumpkins are ready to be harvested. Wait! Who am I kidding? I live in Florida, where the fall season is something we're lucky if we remember from childhood. That's if you were raised in another state.
No matter where you live, it's time to switch up your ingredients to those most popular this time of year. They include many of the root vegetables (carrots, parsnips, beets, turnips, sweet potatoes). The fruits that are in season are apples, blackberries, cranberries, grapes, oranges, dates, and figs.
The vegetables we think of for fall are broccoli, Brussel sprouts, cabbage, cauliflower, mushrooms, peppers, shallots, acorn squash, butternut squash.
Comfort Foods
Our neighbors to the north and west of Florida tend to feel a chill in the air come September, October. That's when you'll see comfort food recipes popping up everywhere. Plus with Halloween around the corner, anything pumpkin-spiced is in demand.
But here in Florida, while certainly a drop in humidity, our high temperatures do not lend themselves to heavy foods. It just means being a little creative in our meal plans that incorporate autumn ingredients.
You'll Fall For These Recipes
During the fall season, I definitely take advantage of the seasonal vegetables. I love the rich, earthy flavors. Comfy foods work year-round so even when temps hit 85°, I don't find many of these fall recipes too filling.
This recipe comes from Minimalist Baker. It is fairly easy to make and refrigerate overnight. The next morning,  I top mine with Kitehill vanilla yogurt and the pecan, maple syrup, pumpkin pie spice topping.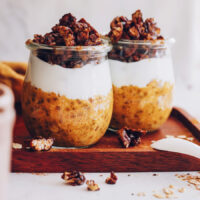 photo by Minimalist Baker
This vegan recipe came from Eat Figs, Not Pigs. I would categorize this as more time-consuming. It uses oyster mushrooms, dried chiles (the recipe uses four different ones but I could only find two at Aldi's), onion, garlic, cloves, cumin, oregano, cinnamon, allspice, mozzarella shreds, cilantro, and lime. The first time I made it, it took me a while to shred the oyster mushrooms but trust me when I say it is well worth it!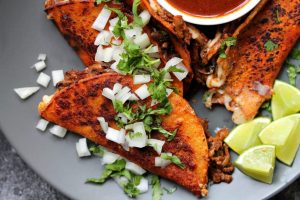 photo by Eat Figs, Not Pigs
I love salad whether as a side or a main dish. Sometimes a salad is my main dish and this brussel sprout one is filling and delicious. I'm partial to using a mandolin to shave the Brussel sprouts but you can use a sharp knife or food processor. Add in dried cranberries, sunflower, or pepitas (the Spanish name for pumpkin seeds), parmesan cheese, and top with a maple mustard dressing. I used this recipe from two peas & their pod.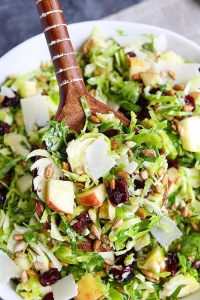 As a pescatarian, I have fish 2-3 times per week. I use Lakanto which is sugar-free and sweetened with monk fruit. Epicurious is a great resource for many recipes, including this one. You'll want to toast whole pecans until golden. Once they are cool to room temperature, you chop them. The marinade consists of butter (I use Earth Balance vegan butter), maple syrup, Worcestershire sauce, ground mustard, salt & pepper. This is a simple recipe that can be prepped in advance since the salmon needs to be marinaded in the maple sauce for at least 30 minutes but you can go up to 4 hours.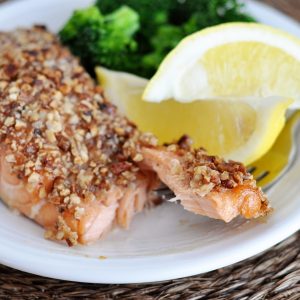 I love acorn squash. Whether I am making an acorn squash soup or roasting it, this is a carb I can get used to. It is rich in so many nutrients and a part of my plant-based leanings. Fiber, Vitamin C, potassium, magnesium. I always have the produce department cut them in half (or slices). This recipe from Half Baked Harvest is fairly easy and the amount of time it takes is mainly cooking time.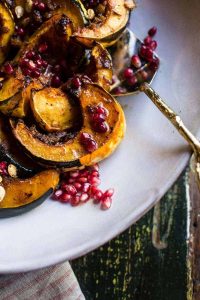 Even though it is still warm out, I love a good tortilla soup. The original recipe comes from a local restaurant. I made adjustments using dairy-free cheese. I also will substitute the all-purpose flour for whole wheat or white rice flour. And, you can also make this vegetarian by using vegetable stock and Better Than Bouillon Vegetarian No Chicken Base.
Making homemade pizza is a fairly new process for me but I bought a pizza stone so I am all about making pizzas now. Tbh, I typically will buy the ready-to-bake frozen pizza dough from my local supermarket, Trader Joe's, Fresh Market, or Whole Foods. This is another Half Baked Harvest recipe. I leave off the bacon but it's a great way to leaf behind (see what I did there) summer pizzas and bring in autumn flavors. Add in homemade pesto and rosemary herb seasoning mix. The recipe uses the seasoning mix from Pampered Chef which I have as well as their pizza stone.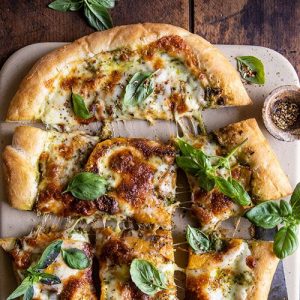 Personally, I can eat chili all year round. There are so many different recipes, some that use vegan ground meat. One of my favorites is a recipe from J. Kenji Lopez-Alt on NYTimes Cooking. You do need a subscription (well worth the annual $40 price). For starters, the chili paste is made from scratch using a few different dried chiles. You can grab them at Aldi's or another local market that sells them. The chili uses vegan butter and vegan ground meat. The spice flavors are what you'd expect from chili … chipotle peppers in adobo sauce, cumin, chopped tomatoes, dark kidney beans, and tomato paste. Other ingredients that help to develop its taste are soy sauce, apple cider vinegar, and whiskey, vodka, or brandy (optional). Top chili with your favorite garnishes. I add in diced onions, shredded vegan cheese, tortilla strips. Other suggestions include pickled jalapenos, black olives, cilantro, and vegan sour cream.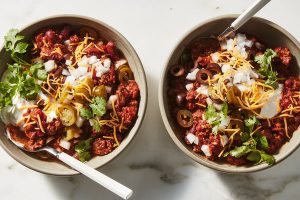 If you've read any of my food blogs, you know I am a huge fan of Middle Eastern recipes. I came across Tan France's recipe and it was simple to make and so comforting. If you aren't familiar with Tan France, he is a fashion expert for Queer Eye.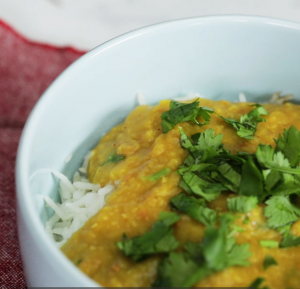 The first time I made it, I did not have red lentils so used traditional lentils. But a second batch made with red lentils had a subtle change in flavor. Red lentils traditionally have a nutty flavor compared to their green lentil counterpart which has more of a peppery flavor.
Make sure you rinse the lentils until the water runs clear. Next, after it comes to a boil, add in all of your spices, cover, and cook for about 45 minutes. You will need to stir it regularly. This lentil mixture is the daal. The final step is to make the tarkha which is simply melted butter with garlic. Babysit the garlic because it can burn rather quickly. You add this to the lentil mixture and garnish with cilantro and garam masala. The recipe recommends serving with plain rice but I used basmati. You can always skip the rice altogether and serve it with naan.
What fall recipes are your faves?
Pass on these great tips, tell your friends and like us on Facebook, Instagram, Twitter, and Pinterest. Sign up for other great tips at haveuheard.com.