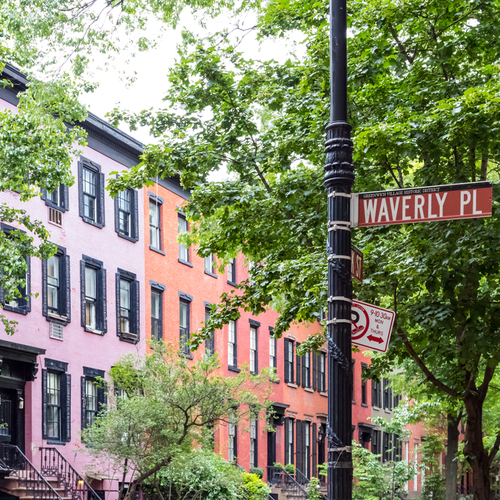 Moving My Daughter Back to NYC
In September 2019, I moved my youngest daughter to NYC. Her sister moved up three weeks later. When they came home in March 2020, none of us would know that they would give up their apartment and put everything in storage 7 months later. Fourteen months later, I just returned from helping my younger daughter move to New York City Take 2.
She lived in Gramercy the first time around, which is a great area. When her sister and she came home in March 2020, none of us would know that they would give up their apartment and put everything in storage 7 months later. Their dream of living in the city came to a crashing halt.
Moving In for the Second Time
I will say that this move was way easier than the first time. The first time was stressful trying to figure our way around the city to buy items for her apartment. The apartment was small so finding ways to utilize the space became our goal. In Flatiron, you can hit up TJ Maxx, Bed, Bath & Beyond, Marshalls and We hit up Home Goods, TJMaxx, Marshalls. We took the water taxi over to Ikea to get kitchen and home items. We hit up Home Depot to get a thinner closet rod because the bars in their closets were too thick to hold hangers.
When I left four days later, I felt like my daughter was unsettled but she was starting her first job. This time around was quite different.  For one, the move for New York City Take 2 went much smoother. We arranged to have her storage items delivered on June 1, 2021.  They used Clutter. Feel free to use my daughters' code J37PFM to get a $100 discount. We were very pleased with their services. There was a small misunderstanding over the mattress but that got delivered a few days later.
West Village Living
For New York City Take 2, she would not be living with her sister who stayed behind in Miami. My daughter found her roommates on the Sweats & The City Private Apartment Group on Facebook. According to my daughter, many young ladies use this group to find roommates. She is now living with two other young ladies, one of which she knew from college. They at least have a couch, coffee table, dishes, pots & pans, a Swiffer, bathroom towels, a blender, and a coffee maker plus plenty of utensils.
My daughter also has some decor which they can all decide if they like as a group.  My daughter is so excited to live in the West Village. Walking around with her I get it. The vibe here is very cool. The streets are lined with beautiful tree canopies, charming brownstones, great shops, restaurants, and cafes. I can see why she wanted to live in this area.
Under normal conditions, the area is considered to be expensive and not for renters on a budget. Post-pandemic they were able to get a three-bedroom, one-bath apartment for a relatively good price.
Nearby Greenwich Village Hotel
I picked the Walker Hotel Greenwich Village to stay while helping her move in. It is a boutique hotel with an art deco feel. The staff was extremely accommodating and gave us great recommendations for a restaurant nearby. It tends to attract guests who have students headed to NYU which is close by. This was about a 7-minute walk to my daughter's apartment so it was perfect.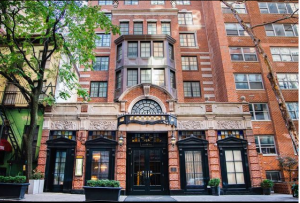 Photo by Walker Hotels New York IG
Our One Day of Wandering Around
We lucked out on the weather. NYC had most of their Memorial Day rained out but by Monday, our one day to go exploring, it was beautiful.  We headed toward Hudson River Park for a scenic walk toward Hudson Yards where there were a few shops we wanted to go to that would be less crowded than their other locations. The scenic pathway along the Hudson River is beautiful this time of year. There are multi-use piers that will open either later this year or next year in addition to those already open. The path was filled with young and old, couples and families as it was beautiful weather. It was great to see NY coming back to life.
We could see the newly built and opened Little Island from our vantage. I did not think we would be able to go in without tickets but at least we could see what all the talk was about. It is free to enter but for crowd control and due to COVID 19, they are issuing timed tickets. Our luck, between the hours of 6 am and noon, you do not need tickets.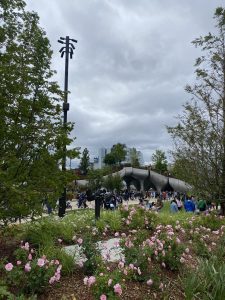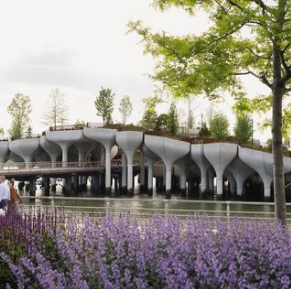 Restaurant Recommendations
If this is the first blog you are reading of mine, you should know I Love NY.  For New York City  Take 2, this is my first visit back. I love what the restaurants have done to accommodate outdoor seating. Yes, there are a lot more one-way streets but, barring inclement weather, I would love to be able to see them continue to offer streetside dining. For one, these owners I am certain have spent a fortune building these structures. They were built to help these restaurants survive and it would be a shame to have them remove them.
I share many restaurant recommendations for foodies including adding the ones we went to on this visit:
Chama Mama – My daughters and I are always searching for interesting cuisines to try and this Georgian restaurant did not disappoint. We went with Georgian staple Khachapuri and paired it with their wine flight. The Megruli Pie is amazing but there are several khachapuri's to choose from including the traditional open-faced option. We also tried their Mushroom Khinkali which are Georgian dumplings and their selection of Pkhali and vegetable dishes which was an amazing assortment of various dips.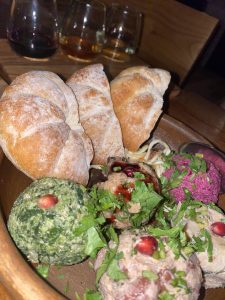 E.A.K. Ramen – Our hotel concierge recommended this to us recently on an unseasonably cold, rainy night in June 2021. I'd go whether it was hot or cold because their ramen was great. We also loved their homemade cucumber kimchi.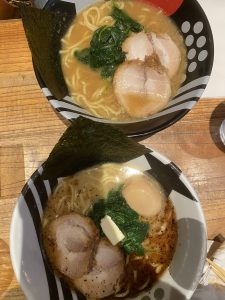 Roey's – This is one of the newer Italian restaurants from the owners of Rosemary's, Claudette, and Bobo. We literally went back and forth on whether to go to Roey's or Rosemary's for our Italian fix and ended up choosing Roey's. We shared their Burrata Pizza and asparagus paired with the house red.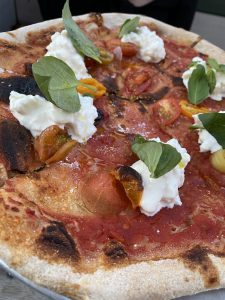 Waverly Diner – This 24/7 diner is a staple for those in the West Village. My daughter had heard of it so we started our day having a classic egg breakfast. Perfect if you want a quick diner meal with great service and of course iconic vinyl booths.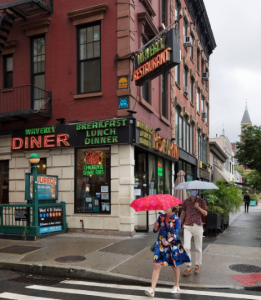 Photo by Instagram #WaverlyDiner
The Grey Dog Flatiron location. We stopped in for lunch, but would also be great for breakfast. I had the Spicy Kale Caesar Salad with chickpeas, almonds, parmesan, & bibb lettuce and my daughter had the Citrus & Arugula Salad.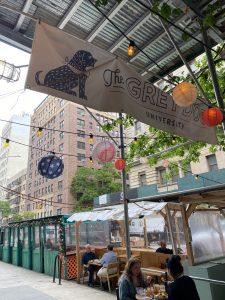 Pass on these great tips, tell your friends and like us on Facebook, Instagram, Twitter, and Pinterest. Sign up for other great tips at haveuheard.com.