HaveUHeard.com includes links to third-party websites and advertisements for third-party products and services. Product and service-specific opinions mentioned within the content of our blogs are entirely the opinions of the HaveUHeard.com team and its staff. It is our hope that you will find value in the products and services these third-party organizations represent, and patronize these businesses. Such advertising and marketing partnerships help make our efforts at HaveUHeard.com possible. Thank you for your support and ongoing interest. For additional information, please read our full HaveUHeard.com Disclosure Statement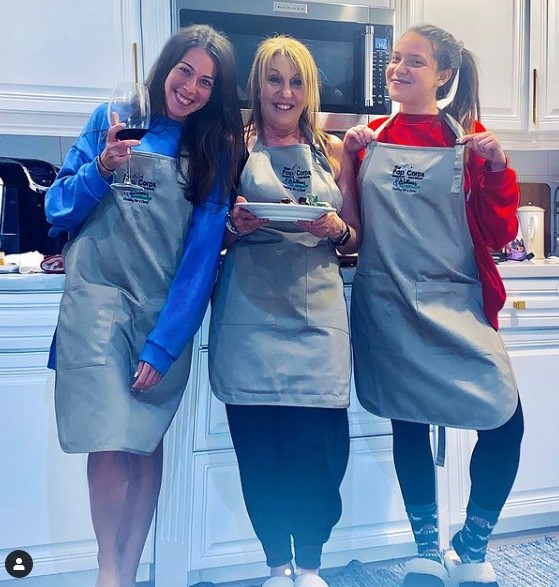 What It Was Like Living With My Adult Daughters
Empty-nesting to re-nesting to empty nesting again and back to re-nesting. The amount of times my living situation changes is dizzying. With each shift back to empty nesting, there is that tug on my heartstrings as they leave again. I recognize that grown children are supposed to move out and move on. In fact, I am grateful that my daughters are comfortable with adulting. But, I never would have scripted a world where life would come to a complete standstill and young adult children would move back in with their parents. And, almost 15 months later, there is that all too familiar tug.  In a few weeks, I am closer to empty nesting.
A Weekend Visit Extended
As each month rolled into the next, with no end in sight, we had to accept that we'd be living together for a prolonged period of time. But the dynamics were different. I have one daughter who is WFH and one whose industry came to a complete halt. She lost her position and all of the hopes and dreams she had of working in the music industry.  What could I say? It was better to say nothing.
I think that is one of the most difficult balancing acts. As moms, giving suggestions or offering advice comes naturally. Certainly, we had glimpses of our opinions or advice not wanted during their teenage years. Back then, it took me time to recognize the difference between venting and asking for advice. This time, I stepped on the brakes a lot and followed their lead. There was no sage advice to impart.
We sat on the couch one night for a discussion. I explained that the best way to get through this would be to recognize this would be the only time in our lives that we would be living together as adults. Deep down, I felt their loss. One had the loss of a job. Both of them had only been living in NYC for five months so there was the loss of living in an exciting, new city and going out with friends. Not to mention the loss of opportunities they had worked hard to achieve.
Boundaries
We definitely needed to set physical and psychological boundaries.
WFH boundaries – Is the door closed? That means a Zoom meeting, a private call, or just some self-time. Sometimes I forget and yell across the house. I did install a door to my office for even more privacy and quiet.
Morning boundaries – Is it 10 am yet? My daughters are not morning people. For that matter, neither am I. But I wake up before 6 am so by the time they wake up a few hours later, I have morphed into Chatty Cathy. When that happens, I'll get a text saying "There are loud humans in the house."
Privacy – Everyone needs some self-time now and then. I learned not to read into their need for privacy. It did not mean anything was wrong.
Protection boundaries – How would we handle protecting ourselves and those we were around? I help my 89-year-old mom and 92-year-old aunt so it was important to limit my exposure. That meant they had to be just as careful.
2020 Favorite Moments
Getting to know them as young adults – It has been such a joy to listen to them (most of the time), learn about their hopes and future aspirations, their concerns, and beliefs. And, honestly, I love getting their advice. Just as our kids learn from us, we can certainly learn from them too.
Cooking amazing meals – We cooked A LOT. I did most of the cooking because I love to cook but they help me out, make recommendations and even take over.  Many times they planned the meal. Oftentimes it paid homage to the cuisine from countries we visited… Italy, Spain, and Greece. I hope they realize that they are great cooks, far better than I was at their age. They've made gazpacho, grilled octopus, sardines, Pan con Tomate, Patatas bravas, anchovies, Greek salad, to name a few.
 Being introduced to some great food bloggers and to healthier, newer foods. From Whole Foods to Publix to  Trader Joe's, they have me eating dairy-free, making pasta sauce from cashews, replacing pasta with alternatives like Banza or artichoke pasta, and drinking Kombucha.
I learned about beauty products and treatments- This generation is so knowledgeable about skincare and make-up. I have to admit I am impressed with how much attention they give to the products they use. As a result, I've learned about new beauty products and treatments.
Drinking wine together – There is something really pleasurable about being able to share a good red wine over dinner or while hanging out.
Watching and talking about shows they watch. Some of the reality shows we've watched have really opened my eyes to how I communicate with people I care about.
Sharing fashion tips -I admit that we did need to re-wardrobe them since they came with nothing. We spent the better part of the year in workout leggings,  joggers, and tanks. Now that we are re-emerging, we've started to buy some new clothes. I won't always wear some of the clothes they wear but I'm not ashamed that we have rediscovered shopping at AE.com, Zara, and even Abercrombie.
Decorating for the holidays. When Hanukkah was coming around, they asked for a tree. At first, I was hesitant but after giving it some thought, I conceded.  That decorated tree brought so much joy and happiness.
They taught me so much about the importance of normalizing mental health and how to address anxiety and stress. Before I would ask "Why are you anxious?" I now understand that most of us do not know why we feel anxious. Being balanced and living a centered life used to come easy to me. Now I too suffer from anxiety and stress. Being asked why is annoying.
Re-Nesting 4.0
I am blessed to have quarantined with them. At the same time, I am excited for all of us to move on and have our lives resume. They are in their twenties and should be enjoying that time of their lives.
We have learned that life does not always go smoothly. That the road is filled with twists and turns. I have a saying on my desk about strength. It reads "strength doesn't come from what you can do. Strength comes from overcoming the things you thought you couldn't." I hope they are as proud of themselves as I am of them. We all got through a very difficult period that impacted the world and I feel like we will all be okay.
Pass on these great tips, tell your friends and like us on Facebook, Instagram, Twitter, and Pinterest. Sign up for other great tips at haveuheard.com.