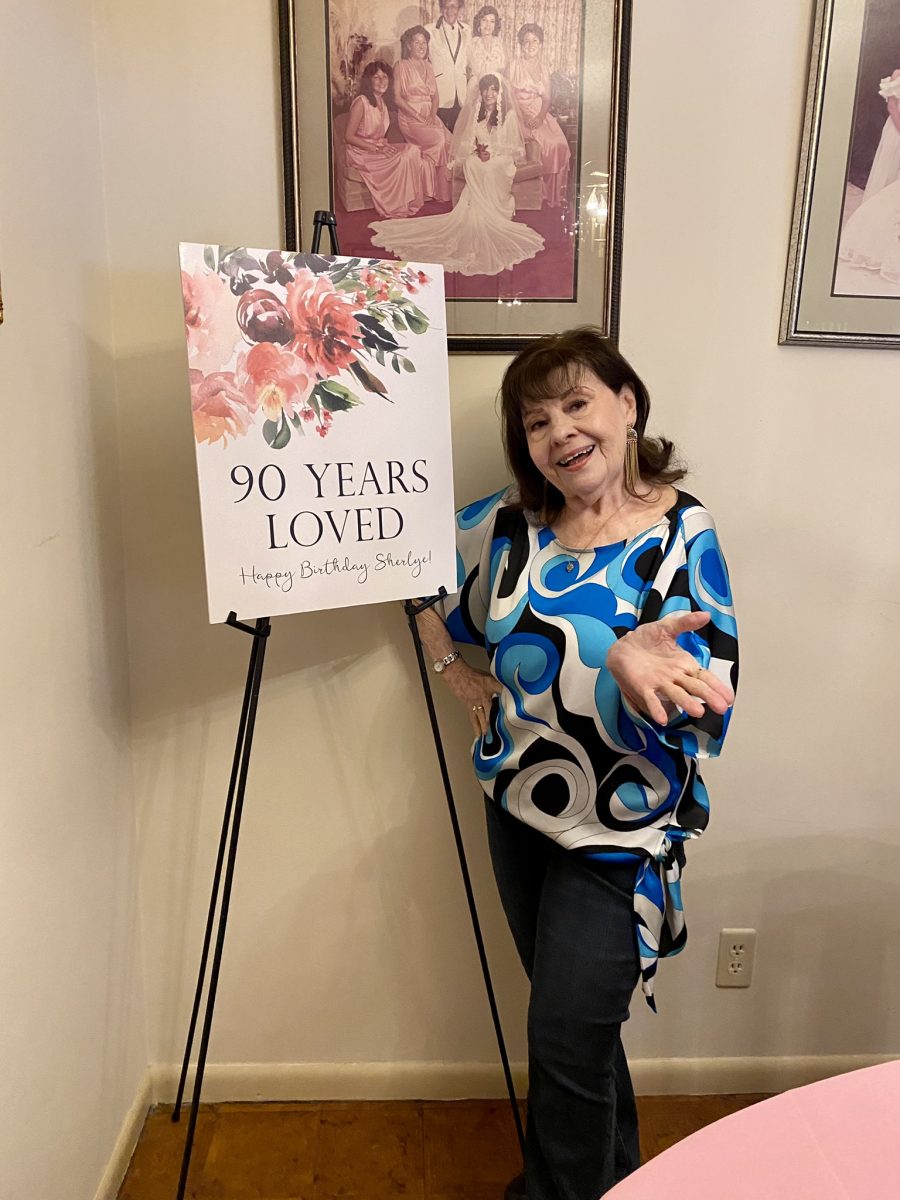 Queen For The Day
Our mom turned 90 on February 21st. Her four daughters, eight grandchildren, and three great-grandchildren had been looking forward to this day all year. We threw her a 90th birthday par-tea.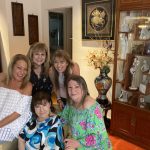 Every 90 year old deserves a special celebration. Our mom is the matriarch of the family. She deserved to be queen for the day. The theme was easy from there… a High Tea. One of her favorite experiences has been going to high tea. She's experienced it in London and the United States.
Planning a tea party does not have to be complicated. A large part of throwing a special tea party is all in the planning. To explain, aside from the menu, the presentation and decor are equally as important to make a memorable experience. Here is how it went.
Making Mom Feel Like Royal-Tea
First, she was given a crown. We kept it to just immediate family and her two sisters (75 and 93 years of age) due to COVID protocols. A custom 90 Years Loved sign was made to set the tone. It came as a digital file so you can print it anywhere. We had ours printed at Office Depot. Luckily, I saved my coupons so a 16 x 20 custom poster mounted on foam-core came to $24.87. I also purchased a collapsible easel stand.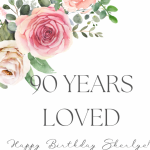 We even made a photo frame and got tea-party photo booth props.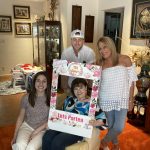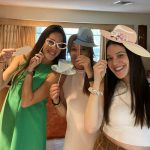 What Food to Serve for a High Tea
A traditional British high tea menu includes scones, tea and croissant sandwiches, mini quiches, and delectable desserts. We decided to forgo the traditional tea and croissant sandwiches and elevate the food for my mom's favorites. Of course, we had to factor in the vegetarians, pescatarians, and dairy-free diets of many in the family. And, we wanted to include some of her favorite items as well. This was probably the most challenging part of our planning. Our ultimate goal was to make her feel like royal-tea.
I made labels using the same design I did for the tea party favors. They were easy to make on Canva- I just did a search for watercolor flowers.  It was fairly easy to find flowers close to the ones on the poster.  To distinguish between the dairy-free and regular menu items, menu labels were designed using the same floral creative. They were inserted in menu stands.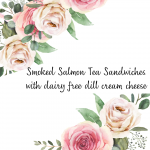 The Menu
Quiche – Cheese and bacon https://acrobat.adobe.com/link/review?uri=urn:aaid:scds:US:d9d4ee93-63f9-3bc8-979e-eb1a3779ce8a–
We also made dairy-free scones substituting vegan butter, dairy-free plain Greek yogurt for the heavy cream, and Vegan cheddar cheese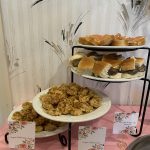 Smoked salmon & cream cheese tea sandwiches
Mini Lamb sliders– with gruyere and dairy-free
Flank steak crostini with chimichurri– we used the crostini's from The Fresh Market, Boar's Head Horseradish sauce, and homemade Chimichurri
Fruit skewers
Some of the recipes came from Taste of Home and others came from Martha Stewart. To save time, the quiches and scones were made in advance and frozen.
Naturally, we had champagne mimosas to toast our queen. I found a great deal on champagne flutes at Michael's and saved money with my coupon. Ironically,  my daughter created a mimosa bar the day prior for a bridal shower. She designed the tags on Canva.  The design she went with utilized boho watercolor flowers. We both love working in Canva because it is fairly simple to manipulate the creative, rotating and placing it wherever you want.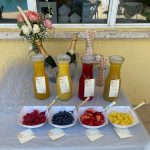 Food was arranged on tiered servers including this 2-tier ceramic tabletop plate that matched the decor perfectly. I own some but here are similar ones: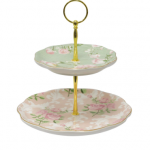 Linlins Elegant Bone China Rose Pattern 2-tier Cake Stand/ Cupcake Stand/ Pastry Serving Cake Stand In Gift Box (Rose B)
Iron Works 3-Tier Metal Dessert Plate Rack Party Food Server
3 Tier Serving Stand with 3 Ceramic Serving Platters
Pièce de Résistance
The pièce de résistance of the meal was the customized crown birthday cake from Frudeco Bakery. A crisp shortbread-almond tart with a creamy filling makes up the base. Macaroons, chocolates, and countless other surprise tastes topped the base. Some of these included white chocolate peanut butter cups, snickers, Ferrer Roche wrapped chocolates, and other treats. Not only was it beautiful but it was also so fun to eat. Additionally, we added a heart-shaped one for my sisters, one who shares the same birthday with our mom.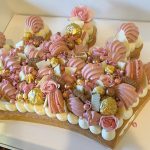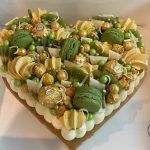 The  Decor
Since we were having it at her house, we went with a tea-riffic chic decor.
Tea  Time Whimsy Party Cups (Kate Aspen) $12.96 (amazon)
Floral Tea Time Lunch Napkins -$7.99 30 ct.
Blue Floral Tea Time Dessert Plates – $6.99 16 ct.
Tea Time 9"  diameter Lunch Plates – $6.99 8 ct.
Pink tablecloth– spillproof and washable  – $18.99
Gold plastic cutlery set – $25.87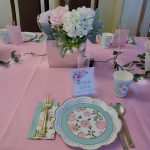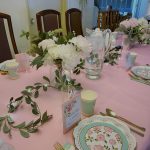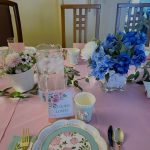 Floral Decor
I love that I can upcycle the florals I had from Valentine's Day and Hanukkah. Most of my florals are from Michael's. For instance, belonging to the rewards program gives you discount coupons. As a result, you will often get 20% off retail prices. The prices listed are before the 20% discount I used.
LED string light banyan leaf garland – $15.99
Rose Bush flowers – $11.99
Artificial Peony Silk Flowers Bouquet
Blue & White Peony & Hydrangea Bush – $10.19
Pink & White Hydrangea & Peony Bush – $11.99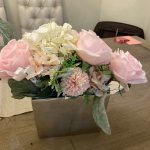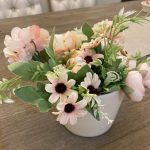 Gifts for Everyone
For tea party favors, I created labels using a similar design to the poster on Canva. They were used to seal mini pink paper bags that contained two teabags.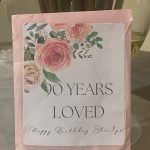 Tea Party Themed Events
This theme would work well for a bridal shower, a birthday celebration, a baby shower, and more.
Pass on these great tips, tell your friends and like us on Instagram and Pinterest. Sign up for other great tips at haveuheard.com.