HaveUHeard.com includes links to third-party websites and advertisements for third-party products and services. Product and service-specific opinions mentioned within the content of our blogs are entirely the opinions of the HaveUHeard.com team and its staff. It is our hope that you will find value in the products and services these third-party organizations represent, and patronize these businesses. Such advertising and marketing partnerships help make our efforts at HaveUHeard.com possible. Thank you for your support and ongoing interest. For additional information, please read our full HaveUHeard.com Disclosure Statement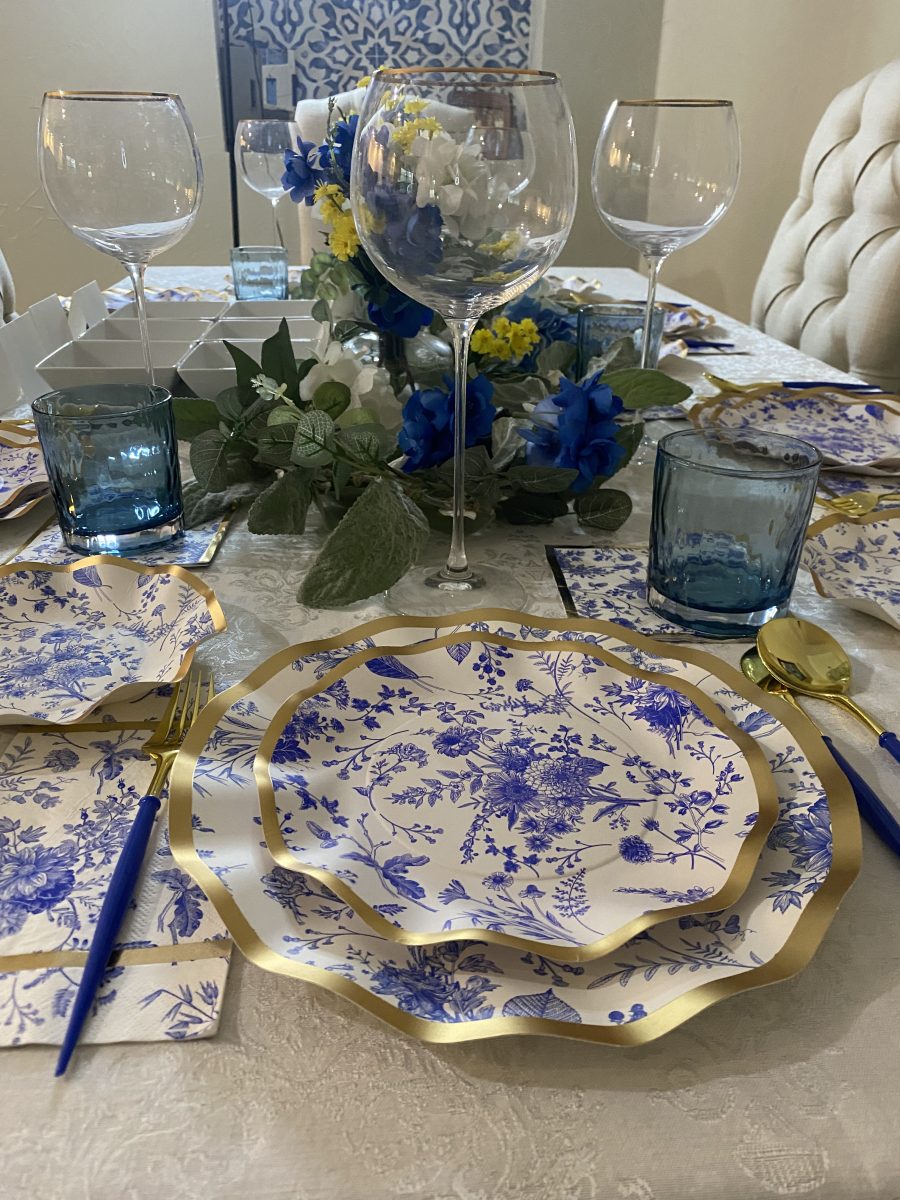 Formal or Elegantly Easy
For this year's Passover Seder table, I decided to put together two different tables. The first is a  formal setting for a smaller gathering. The second incorporates nicer disposables for larger gatherings.
Passover Seder Tables of the Past
Until about 5 years ago, my mother would have us pull out her finest china, silver and crystal wine, and water glasses. The china and silver were passed down from her mother and mother-in-law. I love a beautifully decorated table as much as she does, made especially meaningful because three generations have shared it.
But, as our family grew, get-togethers included as many as 30 people. Cooking itself is a mammoth job. The prospect of washing dishes and pots and pans was daunting. My sisters and I somehow convinced my mom that we could still maintain an elegant table using disposables for larger gatherings.
Hosting My First Seder
I remember hosting Passover Seder for the first time. Both sides of our family were coming. That was about 35 people. We did not own china or silver. Even if we wanted to use formal dinnerware, I would have had to purchase it. Instead, we used gold rim disposable plastic. We even used plastic wine glasses.
It made cleaning up so much simpler. Sometimes I love simplicity. But, if you have not already figured it out, I also love a decorated table. Disposable plastic can look nice, but I love the newer elegant disposables.
Color Scheme
Initially, my idea was to go with blue and white, using the florals and dinnerware I have at home. But this year, I  am including yellow florals to pay homage to Ukraine.
My formal table setting includes dishes and glassware I have used for Hanukkah and Valentine's Day. I'll include those links as well. I have a seder plate but do not love it, so I've taken inspiration from Designthusiasm using a non-traditional DIY seder plate with cards I made on Canva.
Formal Table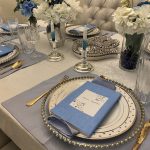 Caiden Elegance Damask 60-Inch x 84-Inch Oblong Tablecloth in White – $19.99
Clear Acrylic Chargers with Gold Beaded Rim – $19.99
Sky Blue Linen placemats – $9.25 for 6
Sky Blue Linen napkins – $5.70 for 6
BH&G 5" square appetizer bowls – $14.88 for 6
Porcelain Serving Tray – I've had mine for years, but here is a similar one –  $12.68
Bunny Williams Gold Star Dinnerware – $252+ for 24 piece set (on sale now for $234.60)
Olivia & Oliver Madison Gold Red Wine Glasses – regularly $99.98 for a set of 8 but we all have those coupons.
Gold Cutlery Silverware Set – $39.58
Blue Hydrangea Bush – $8.00
Blue & White Peony & Hydrangea Bush – $11.99
Spring Daisy Spray– Yellow – $2.99
24 in Daisy spray – $2.99
Sunflower stem – $3.49
Elegant Table Using Disposables
The only items I am changing are the dinnerware, silverware, and napkins.
Sophistiplate Premium Disposable Table Setting Set– Sold in sets of 8. Sign up for emails and get $20 off. A set of 8 is $67.50 (not including a discount). Includes 8 10" dinner plates, 8 salad plates, 8 appetizer/dessert bowls, 20 cocktail napkins, 20 guest towels, 24-piece blue & gold plastic cutlery, and large paper baking cups.
Bee & Willow™ Short Textured Glass Tumbler in Blue – make sure to use your 20% off coupons. The total comes to $24 excluding tax
Cleaning up is uncomplicated with disposables.
Spiritual Passover Additions
Finally, I am excited about a few new items I purchased this year. I was raised in a conservative Jewish home. But I have a more spiritual faith-based belief. When I saw these two items, it is exactly what I wanted on my table.
Matzah Cover – From Love and Latkes, it is currently sold out, but they have other beautiful items. I follow them on IG too. Embossed with gold foil lettering, Shabbat Shalom in the shape of a ✡️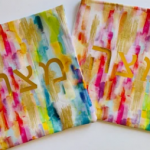 Blue Hamsa 7 Piece Hand of Fatima – Made of one large plate and six smaller serving or dipping plates. The plates create a bright, colorful hamsa hand that symbolizes peace, prosperity, and protection when placed together. Local women make each piece for a fair wage in Nabeul, Tunisia, a city that's been making renowned ceramics for centuries. And it will be perfect when used as a seder plate.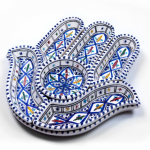 What about the Food?
Traditionally, my family's Passover meal is old school. Matzoh ball soup, gefilte fish, brisket, chicken shufra, potato kiegel, and spring vegetables.
I'll be changing it up for our Passover seder meal this year. I'm not opposed to tradition. I'm thinking of a more modern take on the holiday.
Happy Pesach!
Pass on these great tips, tell your friends and like us on Instagram and Pinterest. Sign up for other great tips at haveuheard.com.