HaveUHeard.com includes links to third-party websites and advertisements for third-party products and services. Product and service-specific opinions mentioned within the content of our blogs are entirely the opinions of the HaveUHeard.com team and its staff. It is our hope that you will find value in the products and services these third-party organizations represent, and patronize these businesses. Such advertising and marketing partnerships help make our efforts at HaveUHeard.com possible. Thank you for your support and ongoing interest. For additional information, please read our full HaveUHeard.com Disclosure Statement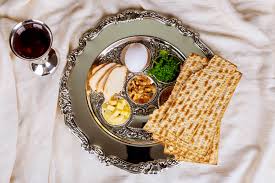 Old Traditions
Traditionally, my family's Passover meal is old school. Matzoh ball soup, gefilte fish, brisket, chicken shufra, potato kiegel, and spring vegetables. This year, I'll be changing it up for our Passover seder meal. I'm not opposed to tradition. I'm thinking of a more modern take on the holiday. The one caveat is having a strategy of preparing entrees ahead of time for large gatherings and freezing them.
My First Passover Meal
I remember hosting my first Passover seder. Thirty-plus family members were coming over. This was my first time making brisket. The brisket was cooked and I jumped ahead of myself, not following the recipe. Using a very large, sharp knife, the knife sliced across the top of my finger. Fast forward to a trip to the hospital. Ten stitches later, with Passover the next day, I had to call in some backup.
To say I always do a read-through of all recipes before beginning is an understatement. And, I always cut away from my hands. Valuable lessons learned.
What Foods We Are Keeping
Passover meal would not be the same without matzah ball soup. The chicken soup is made ahead of time and put in the freezer until the night before. Matzah balls are made on the day of the seder.
Most of my family does not like gefilte fish but we do make it available. Serve with horseradish and sliced cucumbers and tomatoes.
We also make the charosis using my grandmother's recipe.
And, because it is always a great hit, I am going to make the Chicken Shufra.  Shufra means "the best" in Hebrew, so when you want to serve the very best, combine the best-tasting chicken with this recipe. It is adapted from the famous Chicken Marabella in the Silver Palate cookbook. You can absolutely make this in advance and freeze it. But, it does require overnight marinating in the refrigerator so take that into consideration.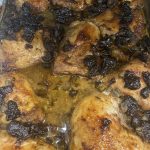 You say Potato, I Say Po-Tah-To
Maybe it's a midwest thing, but our family recipe for potato kiegel is pronounced kee-gull. My friends have laughed at that pronunciation. They correct me all the time calling it potato kugel. Kiegel or Kugel, it is delicious.
New Passover Meal Entrees
This year, I am making Braised Short Ribs and Honey Garlic Butter Salmon. The short rib recipe is courtesy of Anne Burrell. It is fairly easy to make. As a pescatarian, it is complicated to cook beef and chicken. But, my daughter and mom are always willing to taste test. I dropped off my short ribs and they all loved them.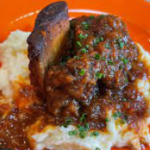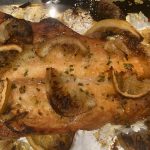 Dessert
Being that we give up flour on Passover, the desserts can be somewhat bland. Sure there is matzoh bark, flourless chocolate cake, macaroons, and the like. But today you can make desserts using almond or coconut flour. I am sure there are those that would believe you are not observing the spirit of the holiday which is no flour. But, I have seen many new items like potato chips, that were not available in years past.
I am making Almond flour cookies. Another dessert that will go over well with my family is Brown Butter Glazed Almond Butter Blondies which has been adapted from Half Baked Harvest's Brown Butter Glazed Peanut Butter Blondies.
Let Someone Else Cook
What if you are not a cook and the idea that preparing a Seder meal is stressing you out? Or, perhaps some of your family is unable to make it in. Just keep it simple. You can have it catered by a local restaurant or grocery store. Whole Foods is offering a Brisket, Salmon, and Roasted Chicken Meal. It includes the main protein, a vegetable, Tzimmes, Charoset, Kugel, Gefilte Fish and Matzah Ball Soup. Or try, Goldbelly's. They have complete dinners or just desserts from the more well-known places across the country.
Setting The Table
For this year's Passover Seder table, I decided to put together two different tables. The first is a  formal setting for a smaller gathering. The second incorporates nicer disposables for larger gatherings.
Happy Pesach!
Pass on these great tips, tell your friends and like us on Instagram and Pinterest. Sign up for other great tips at haveuheard.com.